Kyoto, Japan is the last of Japan's original ancient capitals. It's a truly historic place with a rich history of appreciation for the arts and the beauty of its natural assets. Although Kyoto has been destroyed several times over the centuries, its historical and architectural value was so renowned that it influenced US decision-makers to remove the city from their list of targets for the atomic bomb during the Second World War.
Today, Kyoto is still an elegant and romantic city with Buddhist temples, traditional culture, museums, theme parks, festivals, and unique shopping opportunities.
This guide will explore what makes Kyoto such a special and unique destination in Japan.
The Spirit of Kyoto
The architectural and cultural heritage of Kyoto illustrates its long history as the capital of Japan's cultural and political heartland. It escaped destruction during World War II, and today it is busier than ever. The modern city bustles with the energy of tech, modern amenities, and convenience, yet her cultural charms of tranquility and simplicity linger on.
The Best Time to Visit Kyoto
Every season highlights a different side of Kyoto. Fall brings spectacular tawny and reddish hues to the trees. Snowy winters make the ancient buildings look like a fairy tale – a sharp contrast to the fresh clean green of summer. But everyone agrees: the sight of the cherry blossoms in spring from late March to early April is a visual spectacle not to be missed.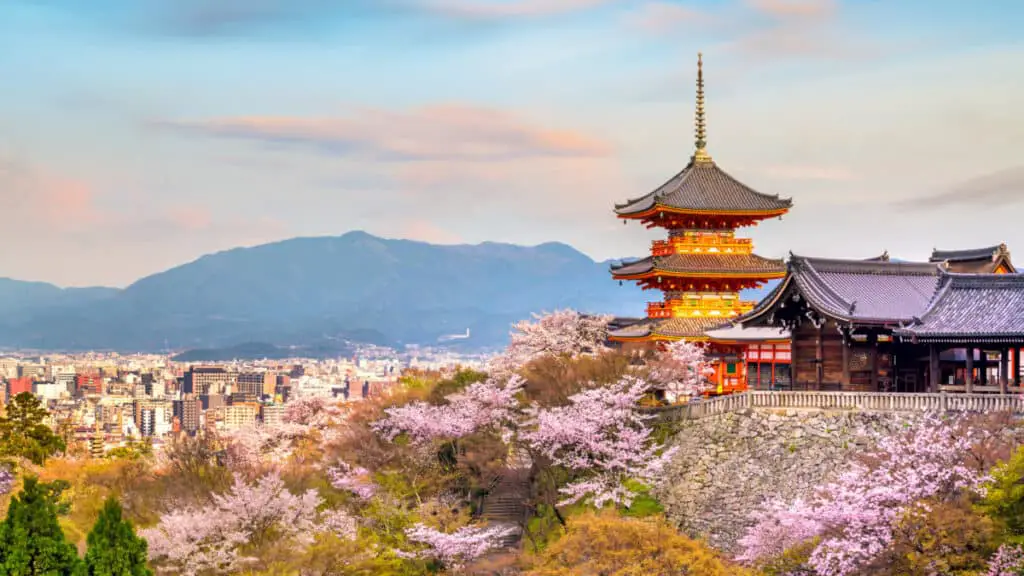 The Best Hotels to Stay in Kyoto
You'll find more traditionally oriented places to stay in Kyoto than in some of the most modern cities. There's a range of prices to suit every traveler.
If you budget for around $220-250 per day, you can stay in a range of excellent traditional or modern Japanese accommodations, eat at nice restaurants, have a couple of drinks, and pay for a few guided tours. If you prefer staying in international hotels, you should add around $50-100 a day to your budget.
A good example of a nice 4* hotel in central Kyoto is the Hotel Hanra, its vibe is a good blend between traditional and ultra-modern, much like the city of Kyoto itself.
Budget hotel prices start from about $55 per night for a two-star hotel. Mid-range three-star hotel prices start from around $75 per night. Chains like Hotel MyStays are scattered throughout Japan and of course, have a hotel in central Kyoto and you can usually get a good deal if you shop around!
APA is also a great chain to check out if you want an affordable but surprisingly comfortable hotel to spend the night in Kyoto. There's even one in the Gion district, check it out here.
But hey, this is Japan! You really should try a capsule hotel, which starts at around $37 for a tiny pod that contains, essentially, just a bed, but is a marvelous testament to modern design in a country that values open space more than most.
There is so much to see that staying in a centrally located hotel is important to maximize your travel experience. Fortunately, many of the main sights are concentrated in one area, so you can spend more time enjoying the culture that makes Kyoto world-famous. The downtown area is conveniently located for walking around or taking short bus- or taxi rides to recommended sights, and there are many hotels, restaurants, shops, convenience stores, and bars in close proximity.
The Best Places to Eat in Kyoto
This is the country of sushi, ramen, and tempura, and Kyoto packs a punch in the culinary department with everything from Michelin-starred restaurants to chic cocktail bars, cool cafés, and sushi spots. Go on a tasting tour to sample fresh produce in food halls and old-school workmen-style noodle joints, and don't miss out on visiting a few of the shoe-box-sized izakaya (Japanese pub-eateries).
Nishiki Market
Traditional values are important: At the heart of Kyoto's culinary reputation is Nishiki Market, affectionately known as 'Kyoto's kitchen'. This is where Kyoto's restaurateurs and food fashionistas do their fresh produce and food shopping, although the market is evolving from being strictly a local food market to a tourist attraction. Nowadays, you'll find Kyoto-style souvenir shops cheek-to-jowl with exotic food stalls. A variety of delicacies like soy milk donuts, egg rolls, hand-baked bean crackers, and takotamago (small stuffed octopus head) are available here. Traders are proud of the quality of their wares, and many allow you to sample their products while you browse.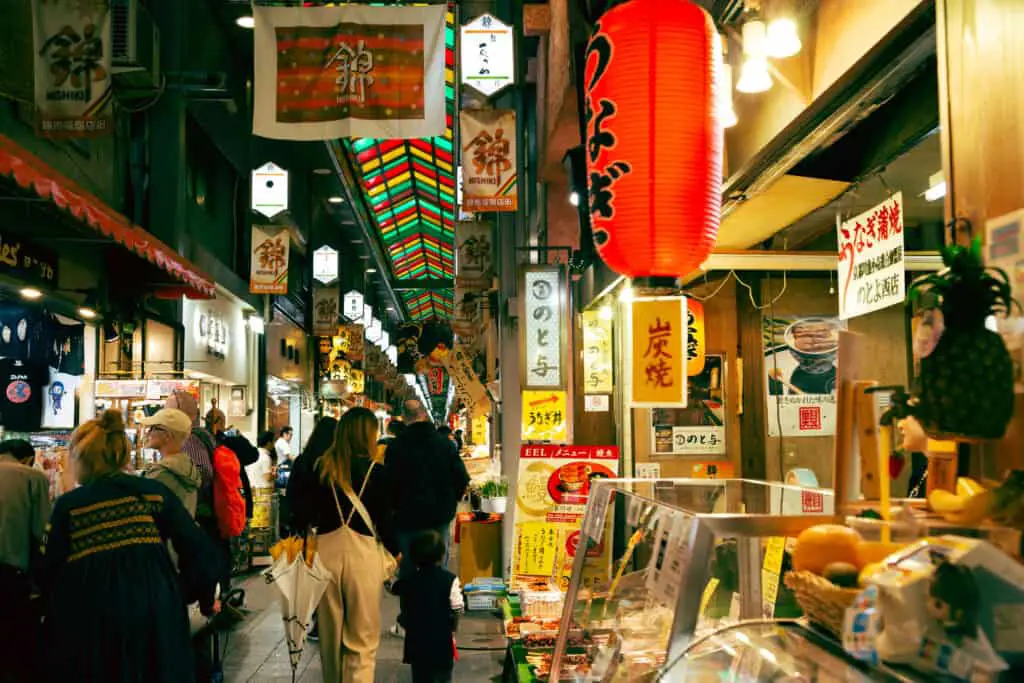 Food and Entertainment in Gion, the City's Famous Geisha District
Plan to do an evening stroll along the narrow lantern-lit streets with their low wooden houses. Here, you'll find multitudes of 17th-century traditional restaurants crammed close together, and it's the premium spot for traditional tea houses – ochayas – where geisha keep traditions alive with ancient ceremonies. Try to attend one of the traditional Kyoto dances of maiko (apprentice geiko or geisha) and other traditional performing arts at Yasaka Hall's Gion Corner.
Kyoto Beer and Sake
Japan is home to several world-class artisanal craft masters, and Kyoto is quite the hotspot for makers of traditional and craft beers. In fact, Kyoto is the second-biggest sake producer in Japan, and most of the local breweries are located in the Fushimi district.
There's more than one bar where you can combine sake-hopping with restaurant-hopping, and we recommend a visit to Fushimi Sakagura Kōji. Restaurants in the complex take orders for each other's food, so you can sit tight and test different food pairings while you work your way through a tasting set of sake from 18 different breweries in Fushimi.
Japan's tradition of standing bars is comparable to England's traditional pubs. They are tiny, pleasantly crowded, and buzzing with life. Another big difference is the snacks – fresh sashimi and sushi rather than pork pie!
What Can You Expect From Kyoto Eateries?
Like everywhere else in Japan, in Kyoto's restaurants, you can expect impeccable service, portions that are somewhat more manageable than the outsized popular meals in the US, and a range of somewhat delicate, simple, fresh traditional food served in stunningly pleasing arrangements.
In many contemporary restaurants, the cashier is stationed by the exit, so you can pay for your meal on your way out. However, in fast food joints or low-fuss eateries, you may be met by a vending machine where you just place your order and take a seat.
The Best Ways to Get Around Kyoto
All cities in Japan are easily accessible by train, and you can save a lot of money if you get a Japan Rail Pass before you start traveling around this fascinating island.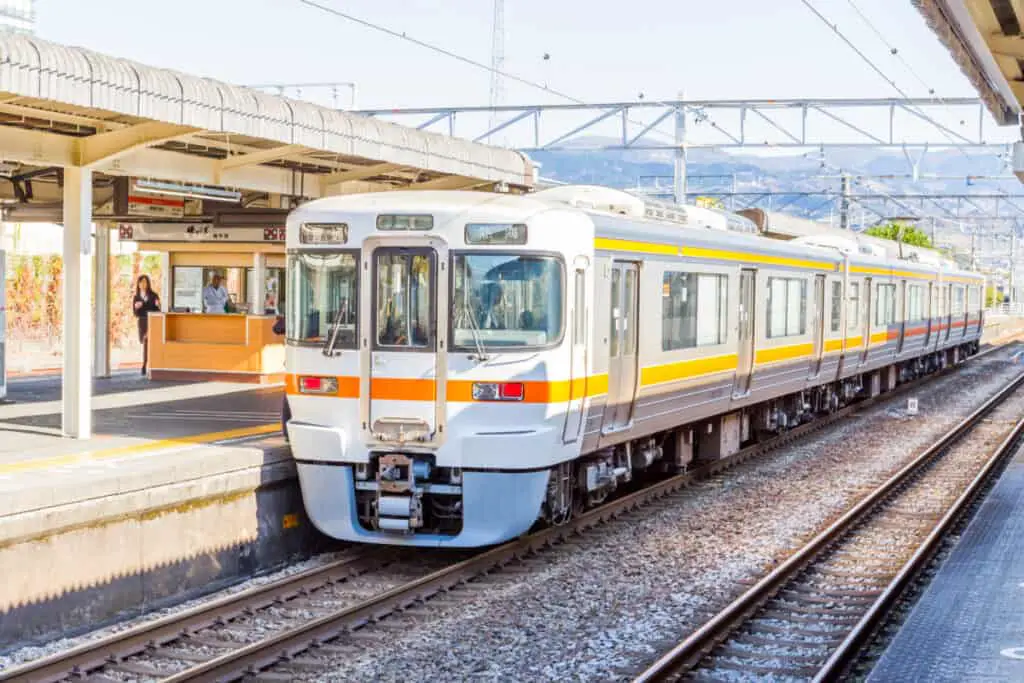 The Japan Rail Pass covers you for all non-bullet JR trains in Japan, plus all bullet trains except for the Nozomi and Mizuho services. It's something I always recommend getting for peace of mind, and if you want to visit more than one city in Japan it's a no-brainer. Click here to check them out. I still have the first ever one I got as a memento. Ahh, the memories!
Once in Kyoto, you can buy one of the IC cards or passes to use the peerless public transport system of subways and buses to reach almost all of your destinations. You can also rent a bike from your hotel or hail a spotlessly clean taxi.
Still, remember to pack a pair of sturdy walking shoes. One of the City of Kyoto's main attractions is the lingering aura of peace and tranquility. Kyoto's motto is "Kyoto, the Walkable City", and there is ample space and provision for safe walking among tranquil surroundings.
Many of Kyoto's major sightseeing spots are concentrated in one area. This compact section of about 10 square km is easy and quite cheap to navigate by taxi or is within walking distance of hotels and other districts.
Shopping in Kyoto
Save your big-label fashion shopping for Tokyo or other more cosmopolitan cities. Kyoto is a great place to look for handicrafts and fine Japanese art.
Here, you'll find textiles printed using natural dyes according to the Shin-Manyozome method from 1500 years ago, or some of the highly ornate handmade "Kanamono" metal fittings to replace soulless modern handles and hinges.
Also look for Nishijin-ori silk fabric, which is woven from dyed silk threads spun from silkworm cocoons. It is renowned for its three-dimensional appearance and vivid colors. Nishijin-ori silk fabric is used to make kimonos, the mounting material for scrolls and paintings, and fabric for doll clothing in the traditional Hina doll style.
The downtown area bustles with shops of all shapes, sizes, and themes, and you should look out for small shops in historic streets selling local specialties like Kiyomizu-yaki pottery, okashi (traditional candy), and extraordinary pickled foods, handicrafts, and other souvenirs.
For any purely practical needs, there are many 100 Yen shops in Kyoto. These ubiquitous national stores offer groceries, drinks, toiletries, and household items at very reasonable prices. Store names vary by region, so ask your hotel/hostel reception where the nearest "Hyaku En" shop is.
For any of you who'd like to watch a bit of a virtual walking tour through Nishiki Market and Teramachi Kyogoku shopping street, the video underneath should satisfy all your needs!
Places to Definitely Visit in Kyoto
Among the more than 2000 temples and shrines in this city, there are true masterpieces of religious architecture where robed monks shuffle between temple buildings, prayer chants echo through stunning Zen gardens, and the faithful meditate on tatami mat floors.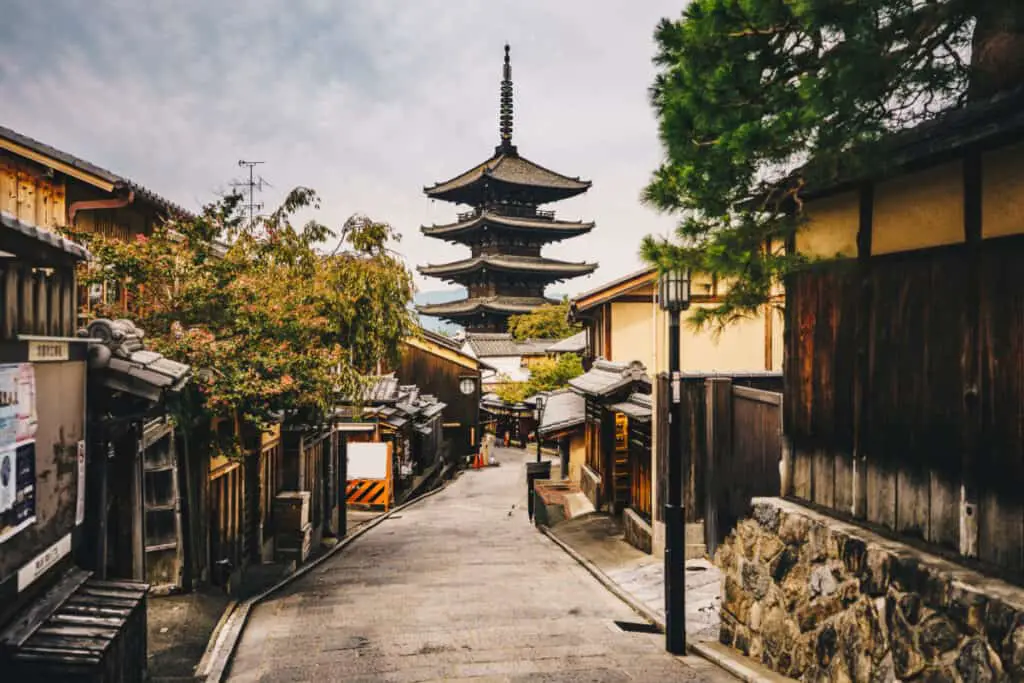 Ryoan-ji is a Zen temple famous for its intriguing rock gardens that date from around 1500. Although there are 15 small boulders, they are arranged in such a way that only 14 of them can be seen at one time from the verandah.
The Nanzen-Ji Temple is located near the Nanzenji Suirokaku, the remains of a massively impressive aqueduct that fell out of use a long time ago.
Tofuku-ji is famous for its spectacular traditional gate dating to 1425. The nearby Tsutenkyo Bridge is also worth a visit, especially in autumn.
The verandah of the Kiyomizudera Temple is an iconic, gigantic wooden stage deck on a steep hillside. It was built in 1633 as a faithful reproduction of the 798 original. While you're there, visit the Otowa-no-Taki waterfall. There are three separate streams. One stream promises success, the other promises love, and the last one, longevity. Drink only from two, because it is bad luck to take a sip from all three streams.
Fushimi Inari Shrine and its vermilion row of gates that stretch all the way up one of Kyoto's mountains is a must-see.
One of the most famous attractions in Kyoto is the gold-leaf-covered Kinkaku-ji Temple or Golden Pavilion, a UNESCO World Heritage Site.
Take a Kyoto Tea Ceremony and Kiyomizu-Dera Temple walking tour with a local guide. Other than traditional tea and sweet shops in this area, your local guide will teach you about Japanese religion and Kiyomizu-dera's significance in local culture.
The iconic Arashiyama Bamboo Grove, also known as Sagano Bamboo Forest, is the perfect photo setting in tranquil surroundings within a 30-minute bus or train ride from Kyoto station.
You can practice Zen by fully applying yourself to an activity, even something like walking or cleaning, but at the Taizo-in Temple, you can focus your awareness on candy as a meditation aid!
The Meiji Shrine, was built for Emperor Meiji, who was the first emperor of modern Japan when Japan's feudal era came to an end.
The Higashi Peace Pagoda was built by the efforts of Nichidatsu Fujii, the founder of the Nipponzan Myōhōji sect of Nichiren Buddhism. He devoted his life to the promotion of non-violence after an inspiring meeting with Mahatma Gandhi.
The Central Kyoto Station, a bullet train station, is probably where you'll arrive in Kyoto, and this futuristic station is well worth some time for exploration. The Kyoto Railway museum is just a few minutes away, but there are also regular displays at the Museum Eki Kyoto in the Isetan department store in the station.
More Tips for Tourists in Kyoto
One of those things you hear about before you go is how friendly the Japanese are. Well, it's true. The Japanese are famously punctual and unfailingly courteous, friendly, and helpful.
Tipping is not expected nor widely practiced in Japan, and in certain situations may cause the recipient some embarrassment.
Kyoto's inhabitants celebrate traditional culture, so be ready to slip your shoes off at the entryway of some hotels, most traditional restaurants and museums, and some select boutiques. Slippers are usually provided, but keep a pair of roomy socks handy, especially in the cold winter months.
Shops and stalls offer free samples of their delicacies in many places. It's polite to show your appreciation but refrain from snatching a piece and walking off. It's also considered impolite to eat or chew while walking.
Some stores and their staff would rather not have visitors storm in and start taking photos, so it's a good idea to ask before you hit that record button. It can also be considered impolite to take a photo of a traditional geisha. Most won't mind if you get their permission first.
Takeaway
It is easy to dismiss the cultural experience and history of Japan because it is one of the most modern and developed countries in the world, but in Kyoto, you'll learn more about the ancient Japanese culture that produced modern Japan, a global technological giant.
If you enjoyed this post and would like to learn more about what makes Japan unique, please check out my post here!