Fukuoka is one of the biggest cities in Japan and it is rapidly growing. With the city offering Startup Visa's to foreign entrepreneurs, the speed of that growth is likely to increase. The city's dedicated to art and culture, which makes it a hotspot for tourists from all around the world. 
But if there's one thing this city is really famous for, it's the incredible street food scene!
If you're planning on visiting Fukuoka, this post should help you get to know the city and a few of its hidden gems! After all, there's usually no smoke without fire so here are the best points of Fukuoka in my opinion!
The 5 Main Reasons Why Fukuoka Is Famous
1.      Its Lively Food Scene
Fukuoka is the best city to experience Japan like a local, thanks the wide variety of local dishes. It is especially known for its incredible tonkotsu ramen, which is a dish of noodles with pork broth. Even within this local favorite, you have varieties such as Hakata and Nagahama ramen.
Tonkotsu ramen is genuinely my favorite food. You can find it anywhere in Japan and I definitely recommend you check it out.
While you can get tonkotsu from regular ramen shops or even vending machines, there's an even better way to savor it… At the "yatti" or "yatai" – the local food stalls. Start your night at the Nakasu area with a bite to eat from the yatai stalls and a beverage of your choice!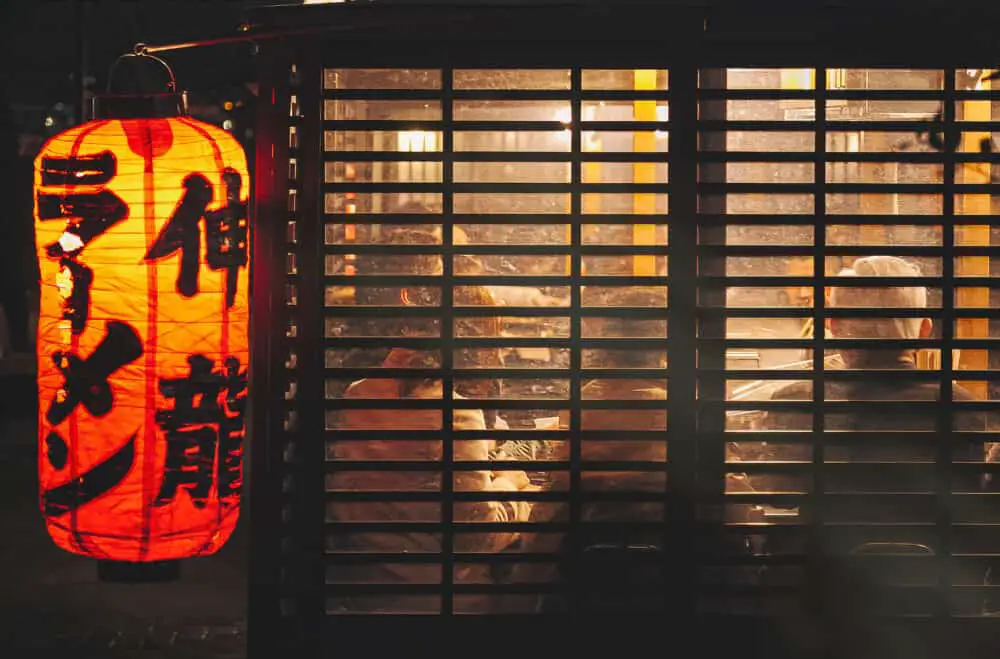 However, if you're in the mood for something traditional, vegan or even fast food, Fukuoka has you covered! The city is packed with endless restaurants with various menus to cater to your taste buds at any time of the day!
Things To Do:
Get a hot bowl of creamy Hakata ramen from a vending machine or a yatai stall
Go to the Motsunabe restaurants to taste the beef or pork offal hotpot in winter
Spice up your taste buds with Mentaiko – a dish of Pollock roe cooked in mild chili sauce, with onigiri (rice balls) or noodles!
Tantalize your taste buds at the Nagahama Seafood Market to relish some of the freshest seafood in town!
2.      Its Incredible Shopping Centres
For a shopaholic, Fukuoka is a dream come true. The city is adorned with some of the largest shopping malls in the country such as Tenjin and Hakata, where you can swipe your day away in no time!
On the other hand, if you're after a more local experience, head over to Kami Kawabata Shopping Arcade. The arcade has more of a Japanese aesthetic and it's a great place to immerse yourself while you look for that perfect, unique souvenir!
What makes the arcade such an attractive shopping spot is its connection to Gion Yamakasa – one of the most hyped festivals in the city!
The arcade is also quite close to Canal City, where you can enjoy shopping and fountain shows! You could honestly spend the entire day in Canal City, it's ginormous… It literally has a canal running through it!
Things To Do:
Shopping at the larger malls in the city such as Tenjin or Canal City Hakata
Stroll through Kawabata Shotengai to get a taste of the local food, fashion, and home decor. This historic place is also a great spot to socialize with the locals!
Visit Amu Plaza Hakata, which is an enormous shopping hub located above the city's busiest train station – JR Hakata Station!
3.      Its Tranquil Temples And Shrines
If you're familiar with Asian culture at all, then you know the significance of temples and shrines in the East. While Fukuoka is modern and progressive, it continues to nurture its traditional temples and shrines, preserving its Japanese heritage.
The Sumiyoshi-jinja Shrine is one of the oldest shrines in the Fukuoka prefecture. Devoted to seafarers, sailors would often come here to pray before their voyages. The shrine's most striking feature is its glorious Main Hall, which is built in the 16th-century classic style. It also has national artifacts such as a copper axe, an ancient sword, and even manuscripts from the Middle Ages!
Another piece of history preserved here is the Kushida-jinja Shrine. Founded in AD 757, it possesses several unique inscriptions, including the carvings of the Chinese Zodiac. The shrine is also home to a gingko tree, which is said to be more than 1,000 years old.
In addition, the shrine is the central point of the Hakata Gion Yamakasa festival from the 1st-15th of July. This two-week-long festival is held to celebrate progress and ends with an epic race where the locals race against each other while maneuvering giant floats through the streets!
Fukuoka is also known for the Nanzoin Temple! This Buddhist shrine welcomes more than a million travelers and pilgrims each and every year! The best part of the temple is definitely the massive bronze statue of Buddha reclining, an incredible sight that was built in 1995.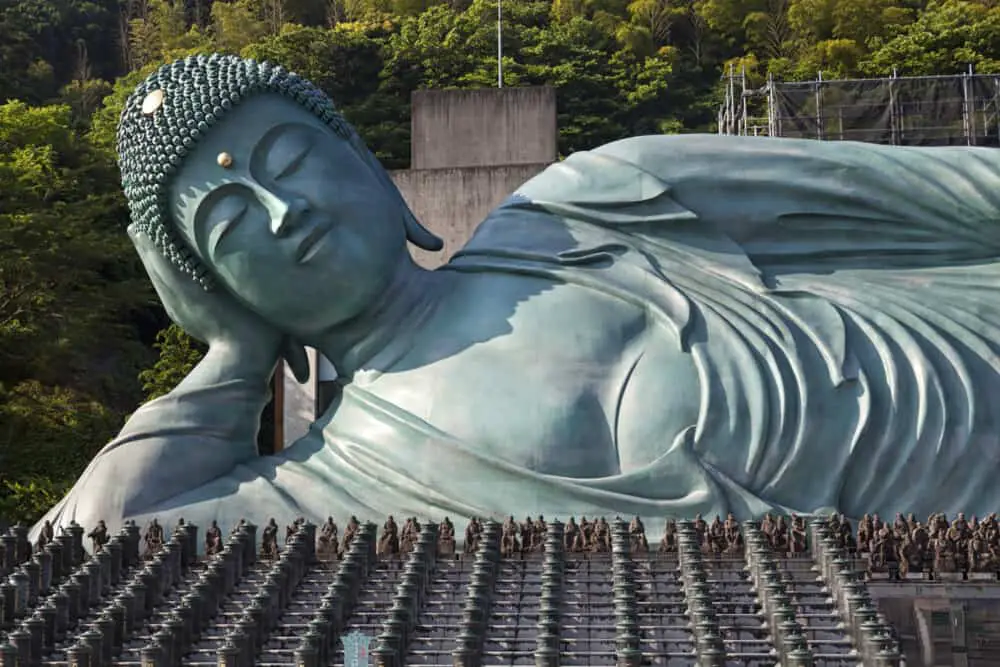 Another big attraction for many tourists is the Dazaifu Tenman-gū shrine. Constructed in honor of the God of education, the shrine is a popular spot for many students who are about to take their exams. It is also known for its "Treasury", which stores several relics from the past.
Spread over 3,000 acres the shrine is also the home of pristine gardens, picturesque ponds, bridges and plum trees.
Things To Do:
Visit the Sumiyoshi-jinja Shrine in October to experience sumo exhibitions and traditional stage plays
Check out the Tochoji Temple, which was founded in AD 806 to visit the largest wooden statue in its chambers
Take a trip to the Shōfuku-ji Temple to get some Zen in your life and channel your inner spirituality
4.      Its Awe-Inspiring Museums
While Fukuoka treasures both its ancient past and traditional shrines, it's also marked as one of the most trendy and prosperous cities in Japan. Proof of this is within the cities' modern architecture and for an example of this look no further than the Kyūshū National Museum.
What makes the Kyūshū National Museum such a cherished part of the city is that it houses a huge collection of art and significant artifacts within its walls from prehistoric times to the modern day. It costs ¥700 for adults and the fee for special exhibitions vary.
If you're interested in old Japanese arts and crafts, check out the Hakata Machiya Folk Museum. It's a real throwback to the Meiji era where you can learn about the lifestyle from the period, hear merchants speaking the old Hakata dialect and watch artists making dolls… You'll definitely be able to get some unique souvenirs here! ¥300 for entry.
Another gem in Fukuoka is the Fukuoka Art Museum. It displays a large collection of both ancient and contemporary art from not only Japan but Europe and other Asian countries too!
Things To Do:
Check out the 15th-century artwork in the art museum by one of the revered Japanese artists, Masanobu Kano. You can also grab a quick bite to eat at the cafes and restaurants here to complete your trip!
If you end up visiting the Hakata Machiya Folk Museum, join in with the artisans to get some hands-on experience of the ancient arts. This is a cool idea for kids too, what kids don't like making a mess with paper mache?
Don't miss the chance to admire Salvador Dali's "The Madonna of Port Lligat" if you visit the art museum! You can also see the work of other famous artists such as Fujino Kazutomo, Andy Warhol, and more.
5.      Its Serene Natural Spots
Fukuoka may be famous for its nightlife or popular for its many shrines (and rightly so), but there are lesser-known spots that shouldn't be overlooked! There are several parks in the city but Ōhori Park steals the number one spot for me and is the favorite park for plenty of locals and tourists alike.
Ōhori Park boasts a man-made lake, which offers a relaxing space for people to spend a lazy afternoon. You'll find plenty of people walking the trail around the lake, exercising or just relaxing in the beautiful gardens with the cherry blossoms in spring.
Uminonakamichi Seaside Park is also worth a mention, it's a great spot for a family day out. If you wanted to have a picnic with your family or a relaxing date, this is the place for you. It has go-karts, slides and a petting farm which are all big pros for me! Entry costs around ¥400 for adults and ¥100 for children.
Things To Do:
If you're visiting in August, check out the magnificent firework displays hosted at Ōhori Park.
Visit Maizuru Park in spring to capture the most Instagrammable photos among the cherry blossoms!
Whether you're visiting in spring, summer, or autumn, be sure to try and catch one of the flower festivals! They hold different ones depending on the season.
Get Yourself There!
With Fukuoka's friendly atmosphere, foodie culture and more shrines than you can imagine… You should definitely visit.
It's obvious why this city keeps growing in popularity every year!
Be sure to add it to your list of travel destinations soon if you want to experience a more relaxed side of Japan!
Before it's too famous.
For those of you trying to make a decision between heading to either Fukuoka or Nagoya (a surprisingly common problem!) check out this article here to work out the right city for you!