If you're dreaming about coming to Japan, Tokyo is probably at the top of your list. Tourism is increasing steadily and with good reason.
So if you happen to find yourself in Tokyo, don't miss out on Asakusa. Asakusa is a traditional district in Tokyo. It exhibits the olden days of Tokyo but with a modern and retro twist.
This beautiful area is also the home of the oldest temple in Japan, the Sensō-ji temple. Asakusa is home to tons of historical landmarks and excellent places to visit.
It's no wonder why Asakusa is in most traveler's itineraries.
Asakusa suffered considerable damages during World War II. After this, Asakusa was reconstructed and rebuilt to its beautiful state. Seeing it now, you could never imagine that less than 100 years ago the area was devastated.
Rich in tradition and full of impressive sculptures, it's no wonder why Asakusa is a tourist hot spot.
Walking along the ancient streets you'll be greeted by Japanese men in traditional clothing pulling vintage rickshaws. Asakusa will fully immerse you in its cultural history with its riverside views and authentic mouth-watering Japanese cuisine.
What Are the Best Things to Do and Places to Visit in Asakusa?
In Asakusa, you will find plenty of fun things to do and stellar places to visit.
1. Sensō-ji Temple
Sensō-ji is the center of Asakusa. This Buddhist temple is dedicated to the bodhisattva Kannon. Sensō-ji is the oldest standing temple in all of Japan.
Tokyo's most famous temple was constructed in the 7th century and has withstood over 1,300 years despite damages during World War II. Sensō-ji also features many more reasons.
It's a popular sacred ground to visit. The grounds of the temple are always open while the main hall is open from 6 AM to 5 PM.
1.1 Kaminarimon Gate
The Kaminarimon or Thunder Gate is one of two giant entrance gates of the Sensō-ji. This ornate entrance gate was built over 1,000 years ago.
One of its main features is its gigantic red paper lantern.
This huge paper lantern measures at about 3.9 meters high, 3.3 meters wide, and weighs a whopping 700 kilos.
1.2 Nakamise Shopping Street
Also known as the Nakamise Dori, this shopping street is just beyond the Kaminarimon.
This is the oldest shopping street in Japan.
The Nakamise Dori leads to Sensō-ji's main hall. It stretches over 250 meters and contains about 50 or so shops. Here you can try some of the best traditional Japanese snacks from the street food stalls.
You also can get some of the best traditional crafts and souvenirs.
Nakamise has many stalls that sell a wide variety of products. These products include traditional fans, masks, wooden dolls, and cool shirts.
1.3 Denpoin Temple
This temple is part of Sensō-ji. Denpoin has a beautiful garden that you can visit. Denpoin is usually closed but during the spring, they may open it to guests.
1.4 Hōzōmon Gate
The Hōzōmon is the inner entrance gate that leads to the Sensō-ji.
This two-story gate houses a lot of Sensō-ji's treasures. The first level contains two statues, three lanterns, and two huge sandals.
1.5 Five-story Pagoda
This 10th-century pagoda is closed to visitors as it contains memorial tablets for thousands of people but it's a great spectacle nonetheless.
1.6 Asakusa Shinto shrine
Also known as the Sanja-sama, this shrine was erected during the Edo Period and withstood the 1945 air raids of World War II.
The Sanja-sama is located near the Sensō-ji and is accessible through a long pathway marked by a tall torii shrine gate. The Sanja-sama honors the three men who founded the Sensō-ji.
This shrine is said to offer and bring blessings, familial happiness, and your heart's deepest desires.
Here you'll also find a pure black omamori charm that is meant to be a reminder that everything will be alright. The Sanja-sama is a part of a group of sacred landmarks in Asakusa.
This temple is filled with many more wonders and great things to do. Visiting Sensō- ji is something that a traveler should do at least once on a trip to Japan if at all possible.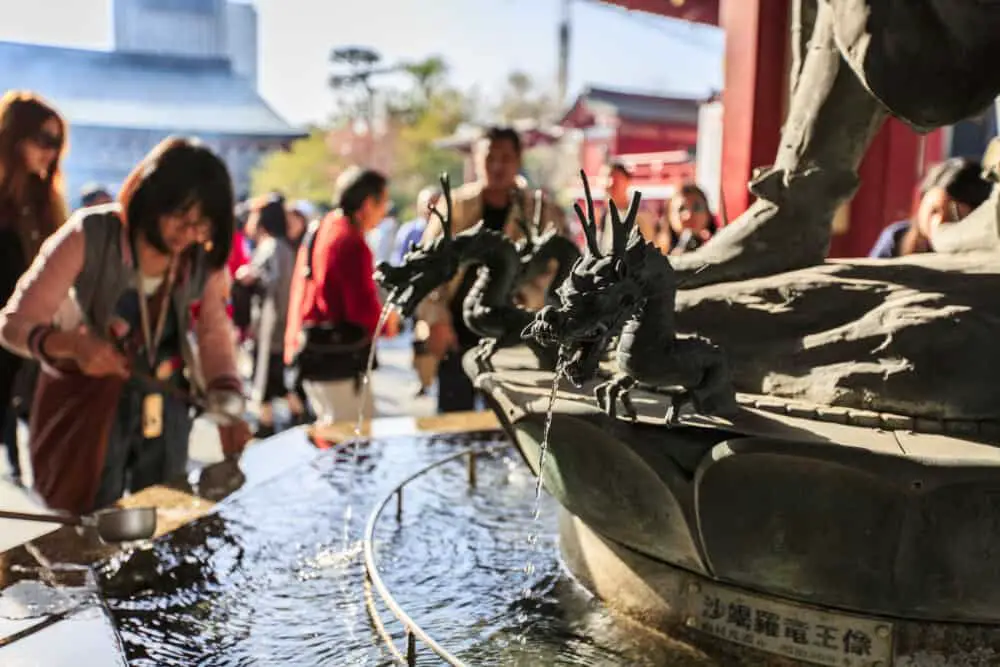 2. Sumida Park
This lovely park stretches along the Sumida River.
It has some of the best and most scenic views in Tokyo. During the spring, Sumida Park has some of the best cherry blossom trees.
Sumida Park stretches over several hundred meters along the riverside. The park also hosts regular festivals. Sumida also features trendy and top-end dining options, and along the backstreets, you'll find some great casual Izakaya bars.
3. Sumida River Cruise
This is a fun thing to do whilst exploring. The cruises give you the best views of great Tokyo landmarks such as the Tokyo Gate Bridge and the Rainbow Bridge.
Kayaking along the river is also a good way of spending your time.
4. Watch the Fireworks
The Sumidaagawa Fireworks Festival is held annually on the last Saturday of July.
This fireworks festival maintains the Japanese tradition of being a competition for rival pyrotechnic groups.
5. Tokyo Skytree
While not strictly in Asakusa (it's in Sumida), it's so near that it would be rude not to include it here!
This 634-meter tall structure is only a twenty-minute walk across from the Sumida River. The Tokyo Skytree is a must-see for every traveler in Tokyo.
This is the tallest building in Japan and one of the tallest structures in the world.
Tokyo Skytree offers a breathtaking view of all of Tokyo and even nearby cities. This spot gives you some of the best photo opportunities in all of Japan.
6. Hanayashiki Amusement Park
Originally founded as a flower park in 1853, Hanayashiki is now one of the oldest and most historic amusement parks in Japan.
This amusement park is located just near the Sensō-ji temple. Hanayashiki has a wide variety of amusement park attractions.
Here you can enjoy attractions such as an old roller coaster that was originally build in the 50s, Space Shot, a haunted house, and a Ferris wheel. 
If rides are not your thing, then you can also enjoy a traditional Japanese arts showcase at the Asakusa Engei Hall. It's not too far from the amusement park. 
Located in Hanayashiki are some little cafes as well. Here you'll experience rustic attractions and some old school flair that brings fun for all types of people.
While it may not be the fanciest amusement park in the world, it's retained its charm and is definitely worth a visit!
7. Textile Culture and Ukiyo-e Art Museum
Lovers of Japanese history and culture will find this art museum interesting.
Most museums are strict and have hands-off policies but the Textile Culture and Ukiyo-e Art Museum is not like that. 
This museum displays textiles and goods collected by the distinguished Japanese folklorist and cultural anthropologist Chuzaburou Tanaka. You won't want to miss out on glancing at and touching the incredible collection of items at this museum. 
8. Taikokan
Taikokan is a drum museum. Taikokan displays drums from all around the globe.
This small museum is just a floor above the Miyamoto Unosuke Nishi Asakusa store. The store sells Japanese taiko drums and other festival items.
9. Matsuchiyama Shoden 
This is not one of the more popular Buddhist temples. But this hidden temple is an interesting place to check out.
Matsuchiyama Shoden is a temple of thanksgiving and is said to grant blessings and prosperity to families and businesses. The daikon radish is this temple's one of a kind symbol.
The temple grounds are decorated with these radish designs. It features a lovely pond full of carp.
 10. Asahi Beer Tower
This building is the headquarters of Asahi Breweries. A variety of good restaurants are placed in this complex. You'll also find the Asahi Craftmanship Brewery here. This brewery offers reasonably priced food and Asahi craft beer.
11. Rickshaw Ride Tours
Going on a rickshaw ride through Asakusa is one of the best ways to traverse its historic and wonderful streets.
You have the option to customize your tour and ride length. Options span from half an hour to about two hours This way you can kick back and chill whilst riding through this picturesque Japanese district.
This is a great way of seeing all of Asakusa without the need of using your legs too much. Rickshaw tours are a convenient and fun way of learning about Asakusa's history.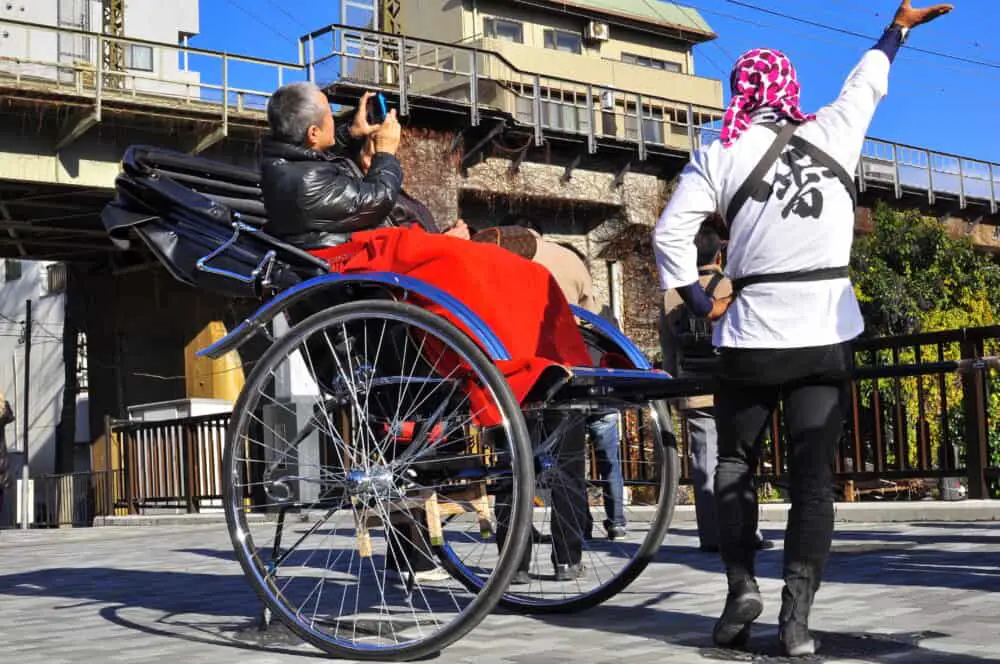 12. Local Cooking Classes
There is a variety of cooking classes you can take in Tokyo.
You can learn to make traditional udon, onigiri, ramen, and other traditional meals. Fortunately, you'll find plenty of classes that support each special dietary needs from vegetarian, gluten-free, and more.
13. Strolls in Oku Asakusa
Oku Asakusa is known for its charming traditional setting and relaxed atmosphere. It isn't as popular as the other spots which means there will be fewer crowds here.
This place is great for street photography and just for a quiet walk. There are also good homemade-style food restaurants along the traditional townscape.
14. Nishi Sando Shopping Street
Just a short walk away from the Sensō-ji Temple you'll find this cool street.
Nisi Sando Shopping Street has its beauty. This street looks like an Edo period painting come to life. Like many other places in Asakusa, it's also a good place to take awesome photos.
Nishi Sando Shopping Street's floor is covered in natural Japanese cypress flooring. Here you'll find good food, souvenirs, and even samurai swords.
15. Visit Asakusa's Underground Shopping Center
Opened in 1995, this underground shopping center is home to many great and budget-friendly restaurants, bars, and shops. If you want to experience a postwar and retro vibe, then this center is a must-visit.
16. Kappabashi, Japan's Kitchen Town
This area in Asakusa is famous for the many vendors and shops that sell high-quality kitchen supplies. Here you'll find knives, chopsticks, and baking supplies.
A favorite here is the fake food replicas that are highly detailed.
If you head to Ganso Sample you will find a wide variety of intricately prepared dishes to choose from.
17. Asakusa Tourist Culture Information Center
This eight-story center is situated across from the Kaminarimon. This center provides free Wi-Fi and has cool local limited-time exhibits. It is a good place to seek guidance or information about the district.
The eight-floor building has an observatory that you can access for free. This observatory gives you a clear view of Sensō-ji, Kaminarimon, and the Tokyo Skytree.
Asakusa is filled to the brim with great historical sights. There are many more traditional establishments located in this district. In Asakusa, you'll never run out of fun things to do!
What Are the Best Places to Eat in Around Asakusa?
Asakusa has a wide variety of food choices to sate your cravings and desires. There's plenty of good selection everywhere you go around Asakusa.
You'll find many places that will accommodate your taste buds and dietary restrictions.
18. Hoppy Street
First off, one of the best places for food and drinks in Asakusa is Hoppy Street.
This place is located not far from Sensō-ji. Hoppy street has plenty of Izakayas to go to.
Hoppy Street is named after the drink Hoppy. Hoppy is an old almost non-alcoholic beverage that tastes like beer. Hoppy was produced in Japan in 1948. Most of the shops have Hoppy. Hoppy usually comes provided with a mug containing Shochu, that you can mix with it to add more alcohol.
There are plenty of local specialties that you can try here such as motsuini.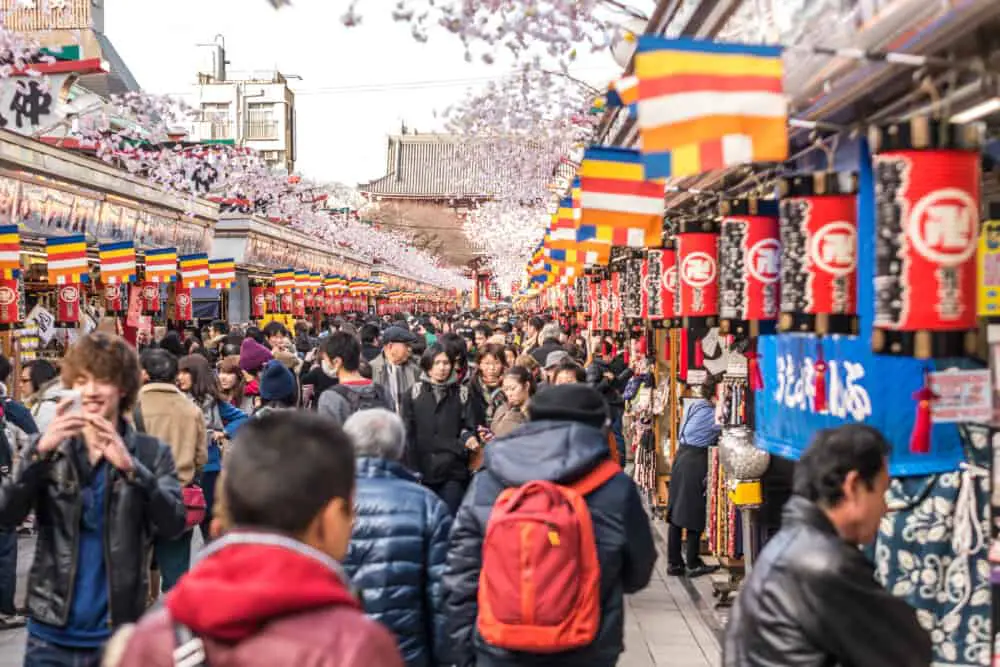 19. Daikokuya
Daikokuya is a well-known tempura restaurant that opened in 1887.
Daikokuya makes tempura by remaining true to its authentic roots. Sesame oil is used to cook the tempura, giving it a distinct, rich, and delicious flavor.
20. Asakusa Gyu-katsu
Asakusa Gyu-katsu is quite popular amongst crowds. The line is always stacked at Asakusa Gyu-katsu.
The restaurant only serves Gyu-katsu, which are deep-fried cutlets.
The Gyu-katsu is served rare and you can cook them yourself. You also have many options for the sauce. The Gyu-katsu also comes with barley rice, grated yam, and spicy fish roe.
21. Shokudo Unsuke
This restaurant is a curry and folk art café.
Their beef curry is simply amazing.
The beef is stewed for a long time until it is tender. The food options here are rich and flavorful. Their chef is also open to accommodate requests from guests.
22. Otafuku
Otafuku is designed with paper lanterns and a beautiful garden, immersing you in an old-timey atmosphere. They've been serving oden since the Meiji era. Their oden soup has a delicate flavor.
23. Mont Blanc
Mont Blanc is Asakusa's most famous hamburg steak restaurant. Hamburg is a must when you visit Asakusa. Mont Blanc has a variety of Hamburg options with different sauces and toppings.
24. Magurobito
Magurbito is one of the best sushi restaurants in Asakusa. Margurobito is very near Sensō-ji. They are perhaps the first kaiten sushi restaurant in Asakusa. Along with the tasty sushi, you could have great sake.
Prices for food here are very good as well!
25. Yoshikami
Another popular food place is Yoshikami.
Expect a line when you go to this place. Yoshikami changes its menu and offers different meals each day for their weekday lunches. 
26. Okonomiyaki 
Okonomiyaki has been open since 1937. This restaurant offers an evocative experience. Okonomiyaki is one of the more famous restaurants.
You'll find good reviews written by many Japanese writers and actors displayed inside.
27. Flamedor (also known jokingly as the golden turd)
This unique and famous golden flame restaurant offers great food and awesome locally brewed drinks.
At lunchtime, they serve a salad bar buffet.
Flamedor is situated near the Sumida River.
28. Yoroiya
Yoroiya is also near Sensō-ji. Yoroiya is known to be where the shoyu ramen originated. The best thing to have here is, of course, the ramen.
They also have really good dumplings and…. Mocha. Yes, mocha!
29. Azumabashi Yabusoba 
This restaurant is one of the best places to get great-tasting soba. Yabusoba has a different taste compared to normal soba so it's definitely a must-have for any soba fan!
30. Pétanque
This small bistro only has eight counter seats. Pétanque has distinct flavors and great dishes. One of their best dishes is the deep-fried chicken tulips.
31. Unatoto
This popular place offers freshwater eel (unagi). Unagi melts in your mouth and is a must-try dish in Asakusa. As you may know from reading some of my other articles, I really love unagi!
32. Asahi (the restaurant)
Asahi is a Chinese restaurant that has been in business for about 70 years. Asahi is another must-try in Asakusa. One of their popular dishes is the paku-paku coriander ramen.
33. Gonpachi
Near the Kaminarimon, this restaurant is known for its theme.
Gonpachi is a small chain of restaurants, famous as one that inspired Kill Bill where George W. Bush dined with ex-Prime Minister Koizumi.
34. Sometaro
This wooden shack offers great comfort food. Sometaro has great yakisoba, okonomiyaki, and teppanyaki.
35. Asakusa Mugitoro
This restaurant offers a wide range of traditional Japanese food options. Asakusa Mugitoro offers a multi-course meal (kaiseki) for a fancy dinner.
They also offer an eat-all-you-can promotion from 11 am to 1:30 PM, which only costs 1,000 yen. 
36. Sonpon
Sonpon is Thai run and owned. Sonpon has some of the best noodles and soup in town. Prices here may be a bit higher but the portions are way bigger compared to similar places.
Bars and Pubs
37. Fos
Fos is a hidden gem that does not have many advertisements around. This makes it a good and chill place, being free from big crowds.
This bar does not have a drink menu. The bartenders will concoct a cocktail tailored to your preference.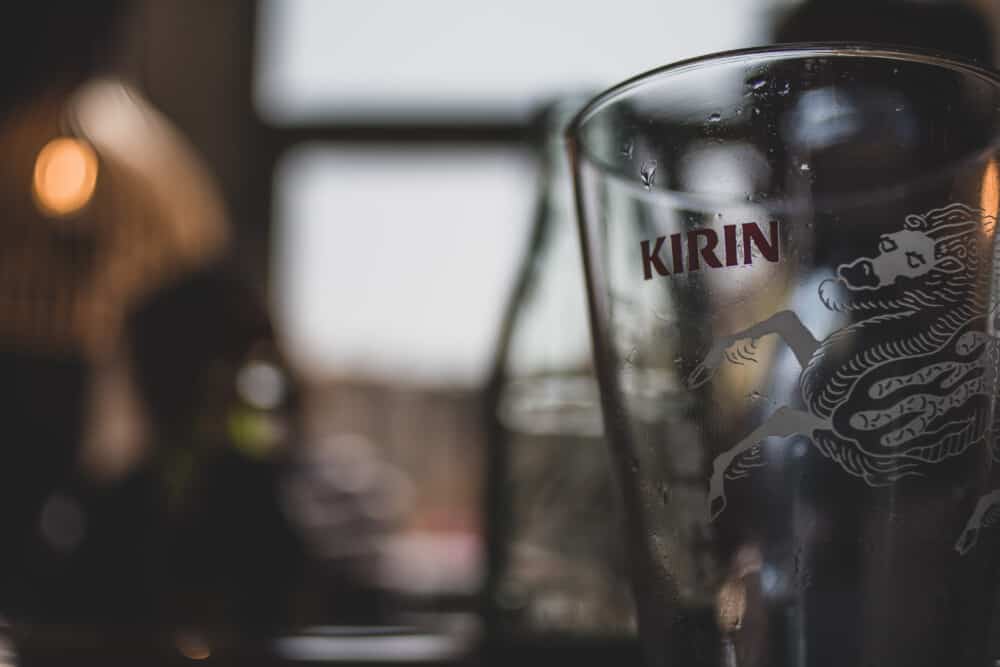 38. Kamiya Bar
Kamiya Bar is one of Japan's oldest bars (established 1880). They are the only bar to produce a type of brandy called Denki bran in the country. Kamiya Bar has three stories and sells souvenir bottles.
39. Campion Ale
This is an essential place to visit if you are a beer lover. Campion Ale has British-style Campion beers. 
Cafes
40. Suke6 Diner
Suke6 Diner serves great but simple breakfast foods such as sandwiches, eggs, and pastries.
41. Café Michikusa
This café is popular amongst the locals for its great pancakes. The pancakes are fluffy and showered with maple syrup and banana.
42. Café Tsumuguri
Café Tsumuguri is in an old Japanese home. This café has a tranquil and quiet atmosphere.
It's a good place to go when you're looking for a place to relax away from the noisy crowds!
43. Café Meursault
Located above the Sumida River, Café Meursault offers some of the best views. This café also has a good romantic Parisian atmosphere. Café Meursault has great food items, especially the cakes.
44. The Farm Café 
This cute café is a vegan-friendly and healthy place to get flavorful meals. Their menu is entirely plant-based. This café is great for small parties. All their dishes are handmade, nutritious, and tasty.
Bakeries and Specialty Shops
45. Asakusa Kagetsudo
This is a melon pan store and bakery established in 1945.
The melon-pan bread is a sweet baked bread.
Asakusa Kagetsudo offers melon-pan with ice cream fillings and Japanese desserts. They also serve noodles and other restaurant meals.
46. Kono Hana
This popular bakery is fairly new, having been put up in 2008.
A sister duo runs this popular bakery. Their ingredients are sourced from all around Japan. Kono Hana has some of the best scones and fluffy pieces of bread. 
47. Pablo, Mini Akihabara
It's a great place with delicious mini cheese tarts, pastries, and baked delights. Their tarts are simply awesome. They offer a variety of flavors including but not limited to chocolate, mint, matcha, green tea, peach, and strawberry.
48. Fruit Parlour Goto
This traditionally styled café is located near the Hanayashiki amusement park.
The menu is changed seasonally but always offers great sweet options. You can have parfaits and kakigori here.
49. Ameshin
For those with a sweet tooth, Ameshin is a great place to go to.
Ameshin specializes in making a traditional Japanese candy known as Amezaiku.
These candy sculptures are often made to resemble animals. Ameshin also has a workshop where you could try and make your own Amezaiku.
The workshop session usually lasts an hour and a half and cost about 3,000 yen.
What Are Cool Things to Buy in Asakusa?
You'll find some of the best traditional and artsy souvenirs in Asakusa. Here are the things you should get on your Tokyo trip.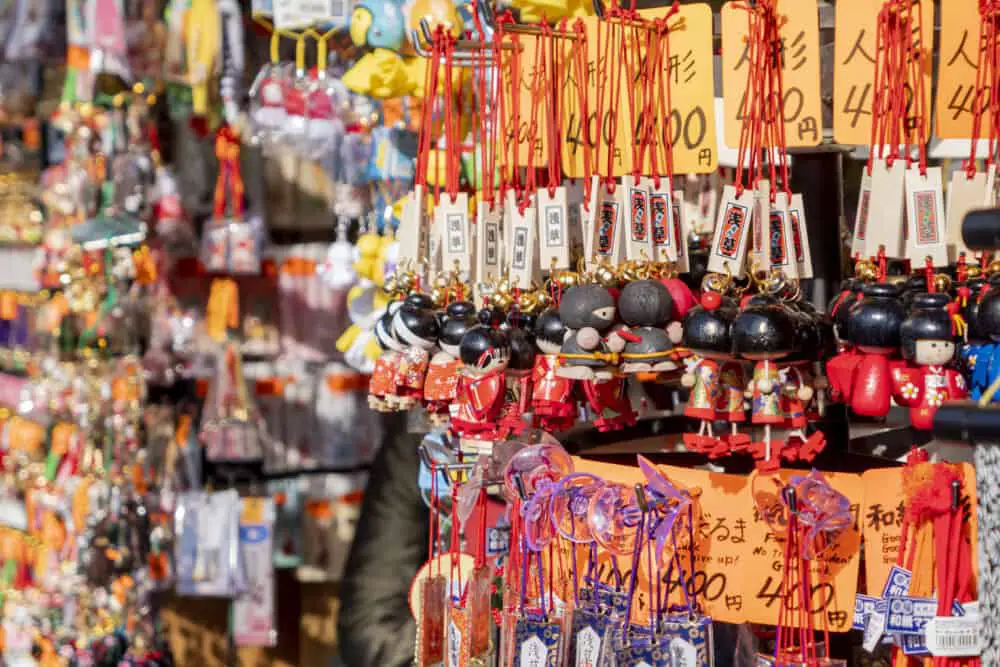 50. Ema
An ema is a wooden wishing plaque that can be bought in Sensō-ji and the surrounding temples. It is part of a Shinto custom. They are a prayer to ask for what you wish for.
You write on it and leave it at the temple grounds to let the spirits grant it.
51. Japanese Kimono and Yukata
In Asakusa, you can find affordable imitations of expensive authentic kimono.
They are suitable for a costume for the holidays. Yukata are much more practical than full kimono. Yukata are also good to use as a comfortable robe in your own home.
52. Traditional Japanese Masks
These traditional festivals and theatre masks make for a pretty souvenir. You have a wide variety of styles to choose from in the shops.
53. Japanese Towels
Japan is also known for its good and absorbent towels. In Asakusa you'll find washcloths and towels made from really good fabric.
54. Japanese Sandals
Traditional Japanese sandals are cool. You'll find a lot of them at the Asakusa markets. You could get either wooden platform sandals or colorful and comfortable flat ones.
55. Japanese Fans
Traditional Japanese fans are lovely and ornate objects.
56. Japanese Parasols
Parasols are very flashy accessories. These traditional and handy items have been in use for hundreds of years. Japanese parasols are intricately designed and painted.
57. Maneki-Neko Cats
I love these.
These cute little cats promise good fortune and bring luck to their owners according to Japanese superstition. Their raised paw beckons in good luck and customers.
58. Japanese Chopsticks
Asakusa has shops that exclusively sell pretty and ornate chopsticks. Why not get a pair of beautifully designed chopsticks.
59. Blades
If you appreciate blades, then you are in the right place. Kikusue Hamono is a century-old knife shop that has some of the best knives made in Japan.
The Damascus knives and pocket blades are awesome. These blades are designed to function well but also look very pretty.
60. Cups; Teapots
Kappabashi is the best place to look for Japanese stylized mugs and teacups. Here you can get them in unique and pretty designs.
61. Bowls; Plates
Asakusa is also a good place to get high-quality and cute bowls and plates. These look good for any dining occasion.
When Are the Best Times to Visit Asakusa?
If you aren't a fan of the big tourist crowds and loud streets, then these are probably the best times for you to go.
Early in the morning
One of the best times to go touring around Asakusa is before noon. If you go very early in the morning you can avoid most of the people. Most tourists and people don't love the idea of going out very early in the morning.
Sensō-ji temple opens at 6 AM. Hence, it may be a good idea to roam around at this time. You may choose to grab a hearty breakfast at any of the good restaurants and cafes located near the temple.
At night time
Most crowds leave by this time because most of the shops close just before the sunset. Watching the sunset at the Sensō-ji is quite a sight, and the nightlights are beautiful.
You'll find plenty of restaurants that have some of the best authentic Japanese dining experiences.
You may also join a food tour and a bar-hopping tour to fully explore the Asakusa nightlife.
Another place I really enjoy at night in Tokyo is Ikebukuro. For me, Ikebukuro at night has a vibe similar to Osaka so I had to share my best picks to see you through the night with this article.
On weekdays
Most people will be at work or school during the weekdays. There will still be crowds but not as much, so weekdays are pretty manageable.
Times to avoid
Weekends and holidays can be quite overwhelming. The number of people usually doubles and triples during these times.
But if you are brave enough, then you can try and face the big crowds, and sneak your way into the festivals to get some good Japanese festival street food.
How Do You Get to Asakusa?
Asakusa is about 5 kilometers from Tokyo station.
The cheapest way to get to Asakusa from the Tokyo station is by way of the Nihombashi subway. The train ride takes about 7 minutes while the walk to Nihombashi takes around 13 minutes.
There are also direct buses that you may take. The quickest but more expensive way of getting to Asakusa from Tokyo station is via taxi. The taxi ride generally takes 6 minutes.
From Shinjuku, Asakusa is about 9 kilometers away. It will take 5 minutes longer to travel from there than from Tokyo station.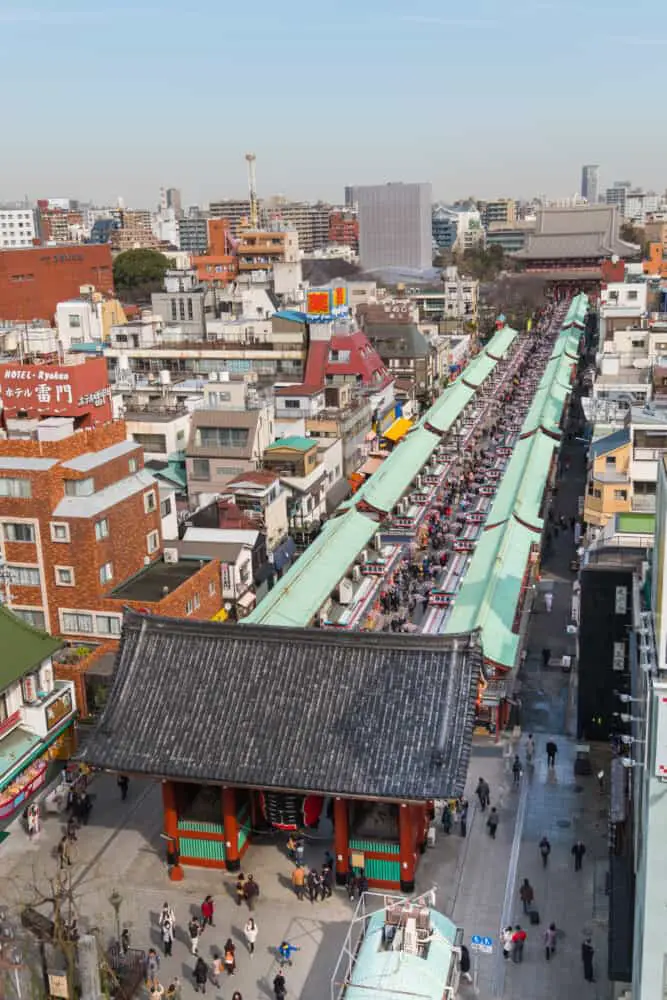 Is Asakusa a Good Place to Stay In?
Asakusa is not the dull historic type of place.
Asakusa is rich, full of color, and great traditions.
Good food, great experiences, and picturesque sights make it one of the best travel spots in the world.
This entertainment district is definitely a great spot to stay in if you find yourself in Tokyo. You could always book with Airbnb, rent a private room, or any of the options below.
Asakusa has simple hotels and 5-star fancy ones. So, if you have a big budget then you can book into a hotel for a better, comfier, and more luxurious experience.
A cheaper option would be a hostel in Asakusa. Hostels are clean and affordable. This budget accommodation is a popular option for most travelers on a budget.
You could look for dorm types or your own private room.
The cheapest accommodation option in Asakusa would be a capsule hotel. Some people who seek an authentic Japanese experience opt for this accommodation. 
Is Asakusa Safe at Night?
For frequent travelers, safety and security are some of the main concerns.
Asakusa, as with all of Tokyo, is generally a safe place to walk through even during the late night time hours.
Official 2019 reports state that there is minimal crime risks in Japan overall.
Asakusa is quite peaceful at night. However, you should always be careful and aware of your surroundings no matter where you go. Avoid walking by yourself late at night if possible just to be safe.
Final Thoughts
There are so many things to do and many more places to see in this district of Tokyo.
This colorful area is filled with many places to eat at and collectible souvenirs to get. Asakusa is packed with activities and life that it may be overwhelming.
Carefully plan out your trip to enjoy your visit to this historic place to the fullest!