One of the questions I've wondered over the last few months is which of these cities is better for travel, so I did a little research.
Fukuoka is better for anyone looking to experience an incredible food scene, hang out with the locals, or relax on one of its many beaches. While Nagoya has a lot of history and plenty of interesting sights of its own, Fukuoka is the clear winner for a traveler.
I'm gonna break down a little bit of what makes both Fukuoka and Nagoya so special. Some of the cool destinations, what kind of vibe and energy each city offers etc.
By the end of this. I hope you'll be able to pick which one of these amazing Japanese cities is suited for your next big adventure!
The Basics
Each year, millions of visitors from around the world flock to the island nation of Japan.
Culturally rich, naturally stunning, and one of the most modern and innovative nations on the planet as well… It's not hard to understand why so many people want to soak up the sights of this wonderful country. We can't get enough of it!
While plenty of people visit the more rural areas of Japan when they get the chance, most visitors focus on the more popular cities of this island nation. Fukuoka and Nagoya are two of the more unconventional cities to visit and both are very unique from one another.
Fukuoka is a city that has reinvented itself a number of times, rebuilding and redesigning itself throughout the centuries. It has most recently become the fastest-growing urban center in all of Japan and is often called the "Silicon Valley" of the Far East.
Nagoya, on the other hand, is more of an industrial center that is incredibly dense with history. Samurai and ninja culture is very heavy in this community, a city that is home to some of the biggest automotive companies on the planet – including Lexus, Honda, and Mitsubishi.
You can have an amazing time in both of these Japanese urban communities. But if your itinerary only allows for you to spend time in one or the other you'll want to use the guide I'll include below.
Let's get into it!
What Makes Fukuoka So Special?
Situated between the mountains and the ocean in the far west corner of Japan, Fukuoka is a city buzzing with excitement and youthful energy.
Being the capital city of the Fukuoka Prefecture as well as the largest city on the island of Kyushu, getting to Fukuoka is a breeze. It's only about an hour from Hiroshima by Shinkansen!
Absolutely swimming in modern amenities (as well as some gorgeous shrines, temples, and ancient buildings) there's very much a pull between the past, present, and future on full display throughout this city.
One of the more baffling things about Fukuoka is that it isn't quite as popular with international visitors as it is for domestic tourism.
People from all over Japan love to come to Fukuoka to see what their techno hub has on full display, much in the same way that people flock to San Francisco and Silicon Valley in the United States.
The food scene in Fukuoka is off the charts, too. Known for some of the best ramen in all of Japan, you're going to want to make sure that you eat it as often as you can. I do. It's available at restaurants all over the city – but be sure to try the street food, too, whenever possible.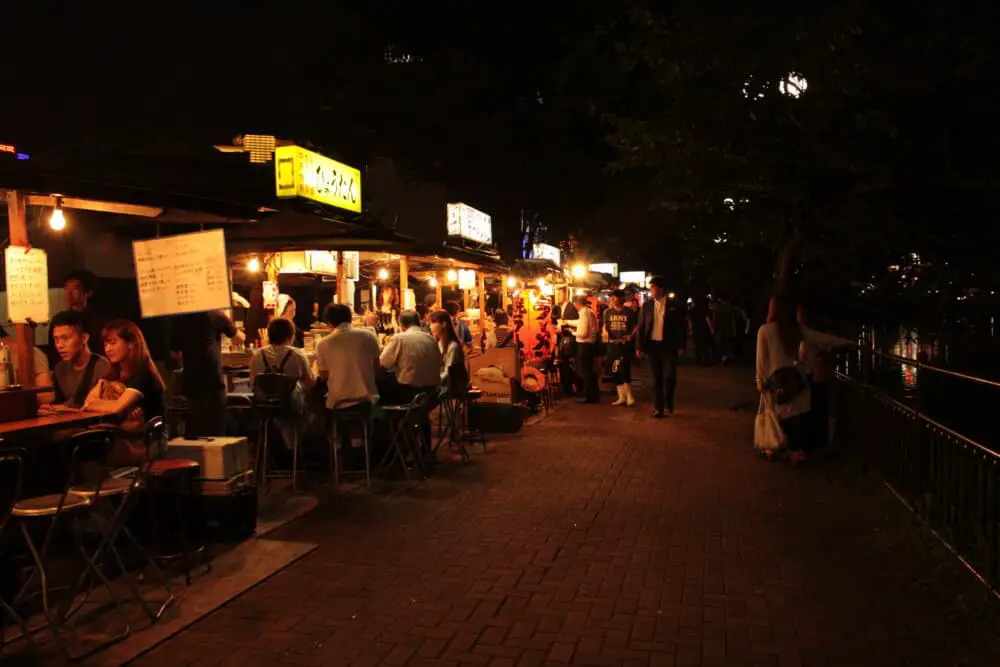 Karaoke bars and nightlife throughout Ohori Park keep the After Dark scene in Fukuoka very engaging. Karaoke bars are a blast! Before my first visit I never would have expected to fall in love with them, but here we are. Definitely check them out if you haven't already!
For those of you that want to get out in nature, you'll find the ACROS Building, its rooftop garden and the Yustentei Park "must visit" spots on your itinerary.
History buffs will flock to the Hakozaki Shrine, one of the most important historical sites in this part of the country. The original shrine itself was destroyed during a Mongolian invasion in 1274, but it was rebuilt as a carbon copy shortly after and has stood in the same location ever since.
There's also plenty of spots for surfing, sumo wrestling, and displays of technology and innovation you can check out when you are visiting Fukuoka, too.
All in all, most of us foodies could spend an entire week just eating at the different yatai stalls and drinking beer with the locals. The fact that you're always so close to the beach makes it the perfect place to chill out for a few days!
What Makes Nagoya So Special?
The fourth-largest city in all of Japan, most people in this island nation (and a lot of international visitors) are going to know Nagoya as one of the central hubs of the legendary Japanese automotive industry.
All of the major Japanese carmakers have headquarters either in or near here – Toyota, Honda, and Mitsubishi – there's also a strong start-up community here too. While smaller than Fukuoka's, it's really exciting and growing steadily.
Known throughout history for its industrial communities, a lot of Japanese companies focused on robotics and artificial intelligence have made Nagoya their home, too.
The Toyota Exhibition Hall should be on everyone's itinerary when visiting Nagoya.
Every day there are guided tours that last two hours moving throughout the exhibition hall, sharing the history of Toyota and also highlighting some of the new and innovative products Toyota are working on right now.
The opportunity to see the cars and trucks of tomorrow on full display today – as working prototypes – is something you won't find anywhere else on the planet… But these tours are super popular so you'll have to book them up to two weeks in advance, though!
If it's history that you're interested in (and Nagoya is loaded with history), the Atsuta-jingu shrine belongs at the top of your list.
The original shrine would have been built around 1900 years ago and stood for hundreds of years until it was destroyed by a fire. Rebuilt over the years, this shrine is now recognized as one of the most important Shinto shrines in Japan.
Situated inside the garden of cypress trees, this shrine is probably most well-known for a legendary "grass cutting sword" that was given to the Japanese Royal Family by the Shinto Sun Goddess.
Another interesting spot is Noritake Garden.
It's been home to some of the best Japanese pottery and ceramic makers since 1904 and is still a community where these artisans like to gather. You'll be able to move throughout the grounds visiting shops, miniature museums and landmarks, and other historical sites that show the progression of Japanese pottery and ceramics throughout time
The culinary scene in Nagoya isn't quite as developed shall we say as other cities in Japan, with its typically stronger flavors…But it still counts as a hidden gem.
Nagoya's food scene is probably most famous for producing akamiso (the red miso), which for me makes Nagoya's miso katsu a dish worth trying at least once!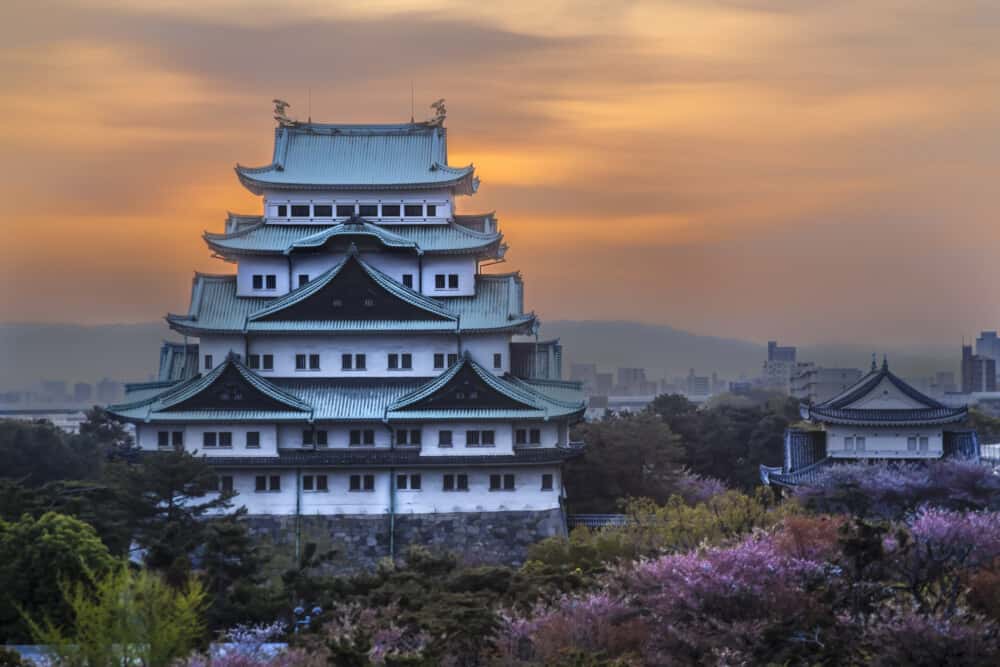 In my opinion, Nagoya Castle should be visited as soon as you have the chance. This 17th century castle was raised to the ground in the aftermath of World War II, with the whole thing rebuilt (brick by brick) in 1959. Castles in Japan are beautiful and this one looks to be a great spot to spend a few hours!
A lot of the samurai history and ninja culture of Nagoya is on display in the castle. You'll be able to enjoy the grounds and gardens by yourself, but the guided tour is well worth the extra money if you'd like to learn a little bit more about the history and tradition of Nagoya.
To Conclude
At the end of the day, you really can't go wrong with visiting either Fukuoka or Nagoya.
Both cities are very unique and offer totally different experiences and atmospheres compared to the more popular cities like Tokyo. I don't think you'll regret seeing either of them!
If you're more interested in nightlife, entertainment and streetfood or you want to spend time in a really fresh and vibrant feeling city then Fukuoka is probably the better city to visit.
If, on the other hand, you're more interested in the history of Japan and be closer to the other bigger cities… Nagoya is worth the trip.