So you're wondering how many nights you should stay in Izu? I once did too. There are plenty of reasons to get excited by the idea of escaping the hustle and bustle and relaxing on a quiet beach, so let's get straight to the answer.
For most people, 2 nights is ideal. That gives you enough time to take advantage of the beaches and also check out a few of the historical sites. For people who live in Japan and want to escape city life, I'd recommend 3 nights as Izu gives you plenty of opportunities to relax and enjoy the view.
Okay, so now you know how many nights… But the Izu Peninsula is actually made up of 8 different cities, so deciding where to stay can also be a bit of a headache. I get it. You don't want to waste your valuable time, so let me help you.
Two nights in Shimoda
Most of your stay in Izu should be spent in Shimoda. Shimoda has a ton of activities for people of all ages and is a great place to base yourself for your entire trip. Even though it's a refreshingly small city, there's so much to do that two nights here will be a blast.
If you love hot springs, hotels with ocean views and quiet beaches you won't be disappointed. There's also a few highly rated Ryokan overlooking the sea if you want to get the ultimate seaside experience in Japan.
You can take a romantic evening stroll through Perry Road, play with dolphins or sail through the port on the replica black ships like Commodore Matthew C. Perry.
Visit the aquarium, take a trip to the zoo or go on a unique adventure to the Ryugu Sea Cave.
There are high quality food options for everyone available throughout the city center. Whether you want to dive into Izu's super fresh seafood or you prefer Spanish, Indian or Italian cuisine… Shimoda has you covered. For the fussy ones among you, there is also a McDonald's near the train station!
With it's rich coastline, historical relevance and ease of access to neighboring towns/cities I recommend Shimoda so let me tell you why.
What can I do in Shimoda?
Visit Perry Road
In all its picturesque glory, Perry Road is a must visit. Only around a 13 minute walk from Izukyū-Shimoda train station, the traditional buildings, quaint cafes and bars offer a nostalgic feel of old Shimoda.
Although small, Perry Road offers a similar vibe to some of the traditional streets in Kyoto, minus the tourists.
There's a narrow canal filled with carp and the bridges further add to the charm with plenty of photo opportunities in the area.
The street is basically pristine, it's extremely clean and the store owners seem to take great pride in maintaining the old buildings.
I highly recommend the antique shop here. Even though the owner doesn't speak amazing English, he's so enthusiastic it makes for a great experience. He also has pretty good ice cream and ice coffee, so definitely visit the store if you need a break from the sun!
At one end of the street you'll find Ryosenji temple and the other will lead you to Shiroyama Park which boasts a unique view of the port of Shimoda.
Address
Perry Rd
Shimoda
Shizuoka
415-0023
Go to Shimodakaichu Aquarium
Opened in 1967, you could easily spend half a day in the aquarium. Shimoda floating aquarium is a great place to visit if you want to see dolphins or penguins up close.
The dolphins get to live in a large area of the bay instead of in a typical tank and seem much happier for that. They also perform some epic shows and for an additional small fee (around ¥1,500 JPY) you have the chance to actually play with and feed the dolphins!
With the admission price sitting at around ¥1,800 JPY, this is a great place to see hundreds of species of marine life and makes for an enjoyable activity for children and adults alike.
Opening times are 09:00-16:30 Monday to Friday and 09:00-17:00 Saturday and Sunday.
Address
3-22-31,
Shimoda City
415-8502
Shirahama Beach
What would a visit to Izu be without a trip to the beach? If you're going to stay in Izu then you have to go to Shirahama Beach!
This 700 meter long beach is a popular retreat for lots of people trying to escape their busy lives in Tokyo. During the summer months many people visit here to enjoy the beautiful white sands and take full advantage of the clear water.
There are BBQ spots, cafe's and a Family Mart nearby for anyone looking to relax on the beach. For the active types, there's a surf shop to hire surf boards and wet suits. There are also surf lessons available at a pretty reasonable price (starting at ¥5,000 JPY for a 2 hour lesson).
The popular beaches in Japan always make for a nice visit. As with basically everything in Japan, everyone does their part to keep the beaches clean and it was a real eye opener for me after growing up in the West!
To get here from Izukyu-Shimoda station, take the bus for Itadoichiki and get off at Shirahama Kaigan. The bus costs around ¥370 JPY.
Address
Shirahama Beach
Shimoda
Shizuoka
415-0012
Shimoda Sightseeing Cruise
Board a replica of the black ship of Commodore Perry and take a 20 minute sightseeing cruise around the port. It's a great way to get an overall feel for the area and who could dislike cruising around on a cool ship?!
Where should I stay in Shimoda? (And the secret beaches)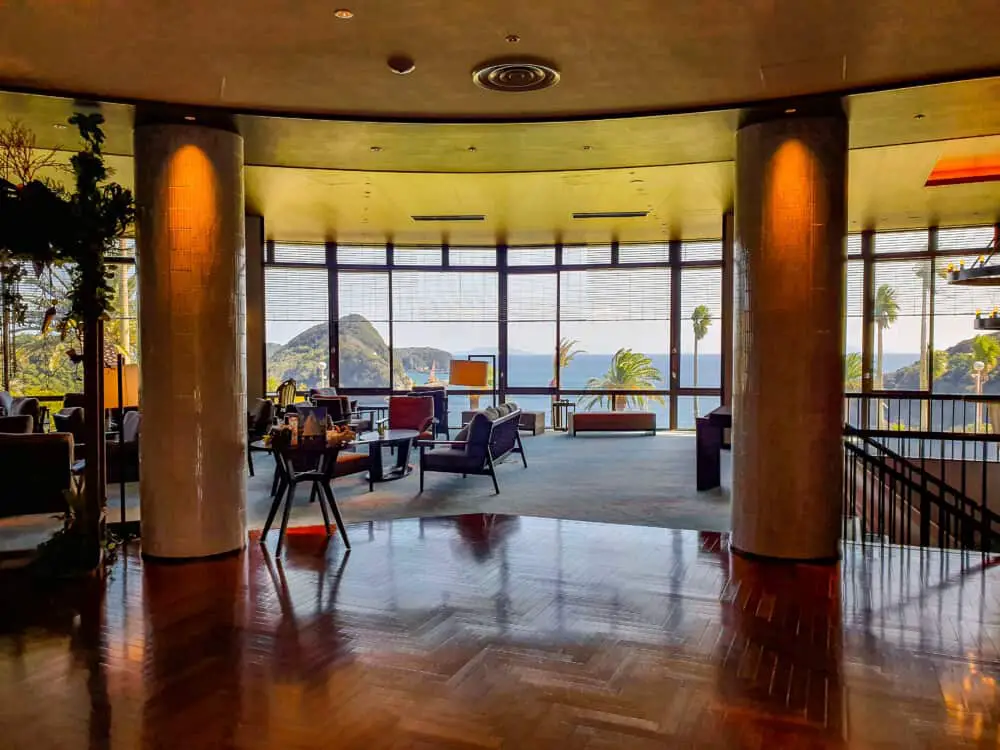 If you're looking for the perfect blend of action and tranquility, this information is for you.
To the Southwest of the city center, about a 15 minute walk from Perry Road, there's a string of hotels along the coast.
You may think it's inconvenient to travel all this way for a hotel, but hear me out.
If you're going to stay in Izu, I highly recommend you stay in this area. Some hotels have a shuttle bus service which leave Shimoda station a couple of times an hour so you can easily go for a shopping trip and have no worries about the walk back (although it is a nice walk, it has a few steep hills which aren't enjoyable for most people in the summer!)
I personally recommend the Shimoda Tokyu Hotel as it's got a great view and easy access to Nabetahama Beach. This can feel like having your own private beach at times, I visited in September and never saw anybody else on there.
Iritahama Beach
The next secret beach is Iritahama beach. It's busier than Nabetahama, but is still much less busy than Shirahama beach even at peak times. It's in a beautiful setting and it's easy to forget you're even in Japan.
There's a 7-Eleven and a few cafe's in the area along with some nice hotels so there are plenty of options for refreshments. We actually went to 7-Eleven and stocked up on drinks and snacks beforehand, it made for a great afternoon in the sun!
How to get to Shimoda
Shimoda is easily accessible from Tokyo by using the JR Limited Express Odoriko trains. These go directly from Tokyo to Izukyu-Shimoda station. The Limited Express trains cost around ¥7,000 JPY and take 2 hours to get there.
Local trains take about 2.5 hours each way but have a lower cost of around ¥4,000 JPY. These trains require you to change at least once in either Ito or Atami.
Related questions
What time of year is beach season in Japan?
Beach season in Japan typically starts from the middle of July and lasts through August, sometimes into September. If you're planning on swimming in the ocean, aiming for around that time frame should be a safe bet.
Are there any other places with good beaches in Japan?
Yes, being an island country means Japan has a lot of great beaches in many different prefectures. Check out some of the beaches in Wakayama or Okinawa for other cool options.