Maebashi is a well-known city situated in Gunma Prefecture which is in the infamous Kanto region in Japan… Though I must admit, I'd never even heard of it until someone suggested we head there for a visit! 
Located near the foothills of Mount Akagi, Maebashi city embodies natural beauty, adorned with heavenly sights in its every corner. In fact, this city is also popularly known as 'The City of Water' and 'The City of Greenery' due to its breathtaking location amidst the mountains. 
If you're familiar with Japanese literature, Maebashi will put a smile on your face.
Some of the most influential contemporary poets, like Sakutaro Hagiwara, come from this city… Hence, it becomes the ideal city to relax, rejuvenate, and refresh your mind and soul.
For those of you who are wondering what you can do in and around Maebashi city, I thought I'd make this list of my favorite things to do there plus a few things I'd like to try next time!
Let's get straight into it!
1. Gunma Flower Park
As you're probably aware, Japan is a country full of flora and the majority of the country is covered by forestry (around 68% of the country is forested according to Trading Economics).
That being said, a big city probably isn't the best place to find greenery, even if it is in Japan. However, if you're a nature lover then Gunma Flower Park is one of the best tourist attractions for you. 
This park is located near Mount Akagi and stretches across a vast expanse of 184 square kilometers and it's bursting with flowers. The best part? This park has seasonal flowers so you'll the vivid colors will be different each time you visit! 
Even while standing in the park and crying through my allergies, it's hard not to admire the thought and dedication that goes into almost anything in Japan.
Throughout the months of spring, you can experience the beauty of peony, primrose, azalea, and (some of my favorite) vivid tulip flowers. For the months of autumn and summer, the park is blessed with dahlias and roses, filling the park with their fragrance.
If you happen to be in Japan in winter and you're disappointed you missed the cherry blossoms in spring, you'll be happy to know that during the winter months this park has an amazing display of peach blossoms.
There are also illumination events throughout the winter which I've unfortunately never seen, but they look incredible! They usually run between November 9th and January 13th from sunset until 9pm. Source
Gunma Flower Park also has a Greenhouse Garden where they grow flowers specific to different countries which is worth checking out!
There are also Japanese and English gardens, plus plenty of activities for kids from a maze to a petting zoo!
Location: Kashiwaguramachi, Maebashi
2. Kakumanbuchi Marshland
Another excellent attraction to visit in Maebashi is Kakumanbuchi Marshland. This place feels like it's ripped straight out of a fairytale with its pristine and enchanting scenery. 
It's also located near the surrounding mountains of Mt. Akagi, with a spectacular lake enhancing its beauty.
Kakumanbuchi Marshland is also named 'Little Oze' after the more expansive marshlands of the Oze National Park that are nearby.
The beauty of this marshland lies in its special scenery all year round. If you visit this marshland in summer, you'll find various types of wildflowers.
Azaleas cover the marshland with their exquisiteness in spring. In winter, it becomes a winter wonderland while in autumn, the mist and autumn leaves make this place a must-visit. 
Fall is my absolute favorite time to be in Japan!
So, plan a trip to Kakumanbuchi Marshland and take some time out from the busy city. Everyone needs a little piece of tranquility sometimes!
Location: Fujimimachi, Maebashi
Although a little shaky, this video shows how cool Kakumanbuchi really looks!
3. Akagi Shrine and Lake Onuma
Nature and spirituality are deeply related. So, if you're searching for both, Lake Onuma is gonna be your escape!
Situated on top of Mt. Akagi, the view from Lake Onuma is just unreal. The lake is formed in a volcano crater which sets it apart from most other lakes in the world.
This lake has some splendid sights on offer in any season. However, autumn is the best time to experience the breathtaking views here… But I am biased. Sorry, not sorry! Ha.
Near the lake there's a peaceful shrine, Akagi shrine. Some of the most eye-catching sights of this shrine are the beautiful vermilion bridge (I'm a sucker for anything that style in Japan) along with the main hall. 
An old Japanese belief says, if a woman prays at this shrine, she will have beautiful babies.
Location: Fujimimachi Akagisan, Maebashi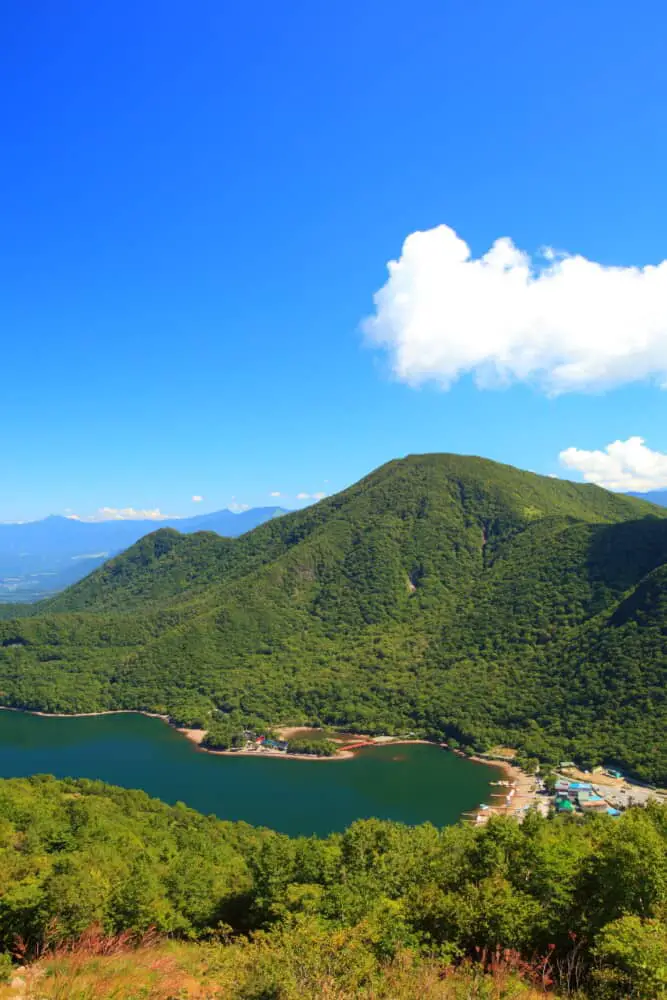 4. Ikaho Toy, Doll, and Car Museum
If you want to do something other than visiting scenic attractions, why not check out this popular museum.
This museum will walk you through the beautiful memory lane of Japan full of manga and antique cars.
Ikaho museum has a great variety of car collections.
If you're someone who's interested in seeing different types of old Japanese cars, then give this museum a visit. There is a total of three floors with unique kinds of car exhibits. 
If you want to learn more about Japanese pop culture, the museum has a lot going for you.
Also, there's a section dedicated to dolls and teddies. As a full-grown man, I'm not ashamed to admit this is the part I'm most excited about!
The museum is open from 10 am until 5 pm every day and definitely brings a sense of nostalgia to Japanese people of a certain age!
Location: Kaminoda, Yoshioka, Kitagunma District
5. Kantō Fureai Trail
Are you into hiking and camping? Then stick the Kantō Fureai Trail on your itinerary because you're in for an adventure.
The Kantō Fureai Trail is a collection of scenic trails that combines seven different sections with a total distance of 74.4 kilometers spanning four prefectures!
This trail is full of natural beauty and would make a perfect few days for anyone into the great outdoors.
Apart from that, it also gives you a chance to explore the countryside in Japan which is more than most tourists ever get to do… The damn city dwellers! (I'm also super guilty of just sticking to the cities when I travel so I'm not judging)
The main sections of the trail are:
Lake Path: As the name suggests, you can explore the splendid Tsuki Lake and River Sagami from this trail. There's also a temple, named Yukuo-in, along this trail.
Bird Path: If you're a bird lover, then you'll hopefully get to see a great variety of birds on this path. 
Mount Fuji Path: To get a magnificent view of Mt. Fuji, make sure you get on this path!
The History Trail: Apart from the natural beauty, the history trail offers an ancient path that is now a common route for Japanese people. 
Limestone Caves and Waterfall Trail: Along this trail, you can marvel at some of the great waterfalls like Odaki Falls, Ayataki Falls, etc. Additionally, you can visit the Odake Limestone Cave. 
The other two sections are Cedar Shade Trail and Mountain Grass Trail that are full of beautiful greenery and vegetation. 
6. Akagi Nanmen Senbonzakura
Cherry blossoms in spring have a beautiful appeal to them. Their iconic pink shades have become one of Japan's most recognizable features alongside the epic Mt Fuji.
Akagi Nanmen Senbonzakura in Maebashi is basically a cherry blossom park that has around 1,000 cherry blossom trees in an area spanning 12 hectares. This is one of the top spots in Japan to view cherry blossoms and I'm not surprised by that!
The park has a different vibe to Omiya Park in Saitama (which I wrote about in this article) and quite frankly, I'm not sure which one I prefer. What do you think?
The Senbonzakura Festival is also held in this park during which the cherry blossoms are lit at night to give the visitors a chance to get a uniquely Japanese experience at any time.
So, get your picnic baskets at the ready and make the most of this unbelievable spot! Fingers crossed Yogi Bear doesn't try to steal your food!
Location: Naegashimamachi, Maebashi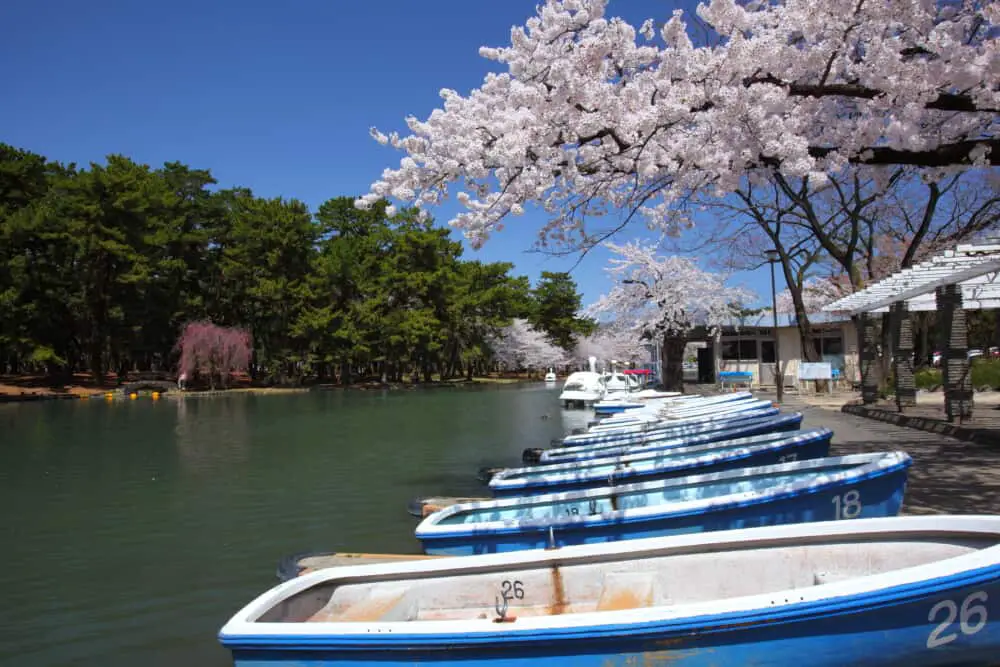 7. Luna Park
Want to experience a piece of history and still let your kids have an exciting day?
Opened in 1954, this theme park is one of the oldest in Japan and has some of the traditional rides for kids like choo-choo trains, carousels and merry-go-rounds. While it's definitely not the most thrilling place for adults, the charm alone makes for a great experience.
There's no entrance fee but you have to pay for each ride individually. It costs around ¥10 for the smaller rides and ¥50 for the "bigger" rides, making it one of the cheapest theme parks in the country.
You shouldn't have to worry about big crowds here either, the park is usually pretty peaceful so the kids will get free reign!
Location: Otemachi, Maebashi
8. Gunma Prefectural Office Building Observation Deck
What a mouthful!
There's not many things more satisfying for me than feeling like I'm standing on top of the world… So naturally, observation decks are usually some of my favorite spots in any city!
It may not be as tall as some of the observation spots in Tokyo or Osaka, but nobody can argue that the 360 degree view of Maebashi from the top floor is worth checking out.
From here, staring at the city and the surrounding mountains, you can really appreciate how beautiful even the smaller cities in the Kanto region truly are.
Should You Visit Maebashi?
Yes. Maebashi City has everything from hot springs, shrines, museums, and more in a tiny area when compared to Tokyo. With it being only a short trip from the capital, Maebashi is well worth it for anyone wanting a change of pace from Tokyo