Surprisingly, this is quite a controversial topic. It seems to split people into two camps — either they loved their Mount Fuji trip or they hated it.
Some people say that if you only have a couple of days in Tokyo, then you should explore what the city has to offer. But others say that not visiting Mount Fuji would be a crime.
It truly is a 50/50 split. So here's a real answer.
The simple answer is yes. For an avid hiker, I would recommend the 5-hour climb to the summit based on the fact that it's one of the most iconic mountains in the world. However, if your main goal is to take photos, Mount Fuji is better appreciated from a distance at one of the nearby towns.
If the latter is more your style, you can even see Mt Fuji from the iconic Tokyo Tower which I wrote about here!
With that being said, I'm here to give you all the information you need to make the decision for yourself. Sound like a plan? Let's get into it.
How to Get to Mount Fuji
There are two main ways to get there — by bus or by train. However, it depends on what you are planning to do when you get there.
Regardless, we will start by looking at the bus option.
Take the Bus
The majority of visitors decide to take the bus. Why's that you might ask? It tends to be the easiest form of transport. Although, you should know that different buses run at different times of the year. So, pay attention to the season you're arriving in before you decide.
If it isn't climbing season or you aren't planning to do any climbing, you can take the regular, year-round bus. These run between the Shinjuku/Tokyo area to the wider Fuji locale. Generally, you'll see people stepping off at Kawaguchiko Station, Fuji-Q Highland, Lake Yamanakako, and of course, Fuji-San Station.
The journey makes a relatively large dent in your wallet — $37.07 for a round trip isn't what I'd call cheap! And you'll be sat on the bus for roughly two hours.
You can get a far cheaper journey if you're willing to get on at Kawaguchiko Station. This will cost you $19.46 for a round trip and it'll take about 50 minutes to get to Fuji Subaru Line 5th Station. This is a really popular spot for simply viewing the mountain. For some, it's going to be a great option if you want to get up close but not take to the trails.
If it is climbing season and you plan to climb, you can grab a seat on the Shinjuku Expressway Bus. Again, this will take you up to the 5th station where you'll start the sunrise hike (I'd recommend doing that, anyway) that leads up the Yoshida Trail.
Since it is a special service, it will set you back $54.70 for a round trip. But, if this isn't a problem, you should make a reservation online to ensure you get a seat.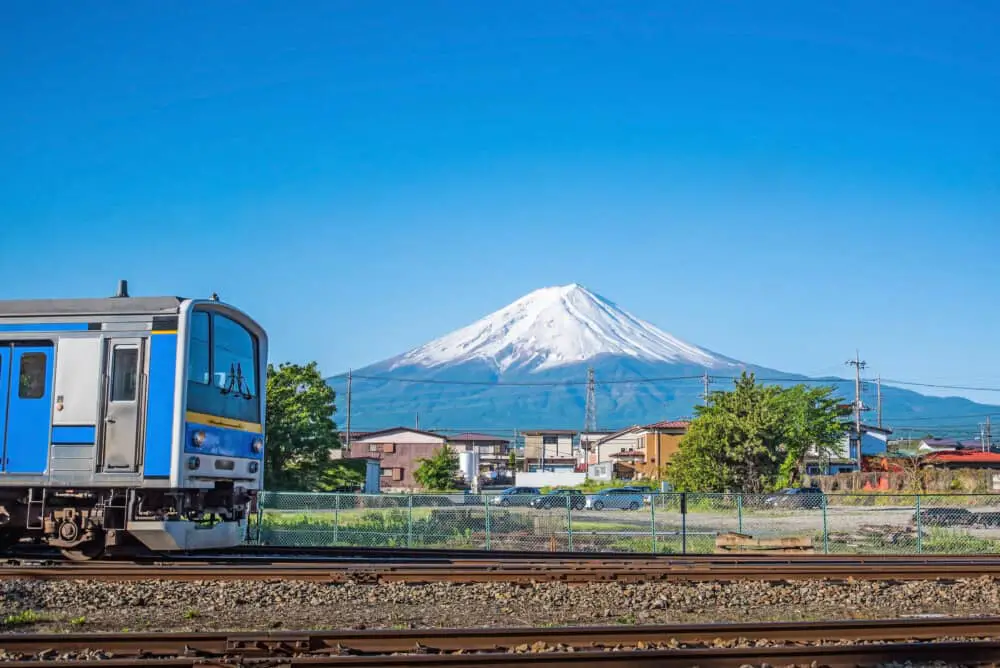 Take the Train
For some of you, the idea of getting a bus is probably deplorable (myself included in a foreign country if I don't understand the language!). Not to worry, as mentioned before, you can travel by train instead.
You'll board at Tokyo station and ride it to Mount Fuji. However, it is a tad pricier than the bus fare.
Get on the Fuji Excursion Limited Express. It is the fastest way to get to your destination (just under two hours). You'll pay for it though! It's a whopping $38.29 for a one-way ticket!
Get on the JR Chuo Special Rapid Service. It'll take about two and a half hours but it's a lot cheaper at $25.12 each way.
Board the JR Limited Express from Shinjuku to Otsuki. From there, you'll need to get on the Fujikyu Railway that takes you to Kawaguchiko. Again, you'll be sat there for around two hours, costing you $30.31 each way.
If you're visiting between July and November and want a discount (who wouldn't?), then purchase a two-day Mount Fuji 5th Station pass. This will allow you to save $6.41.
Mount Fuji: Hiking
There are a few trails you can hike up to see the views that Mount Fuji has to offer — all of which are pretty long!
As I briefly mentioned earlier, most climbers will start at Kawaguchiko 5th Station which generally takes 5 to 6 hours to get to the top. This doesn't take breaks into account!
I understand that this might have put some of you off. But, if you are an avid hiker, you will have a whale of a time.
My advice to beginners is to take it steady though. This way you won't have to endure altitude sickness and you'll be able to stop and take in the views whenever you fancy.
The Trails
You'll probably be pleased to know that you won't have to share one trail with all the climbers. There are four main ones to pick from:
Fujinomiya
Subashiri
Gotenba Trail
Yoshida
Regardless of the trail you pick, it will have a 5th Station. No cars can advance beyond this point, so you're on your own two feet from here!
The most popular 5th station is the one we've talked about countless times already — Kawaguchiko. This road is generally open throughout the year, hence why it's the most common route.
For the best experience, my recommendation is to climb the less popular trails since you're more likely to get some much-needed peace and quiet. But that's just me — you do you, of course!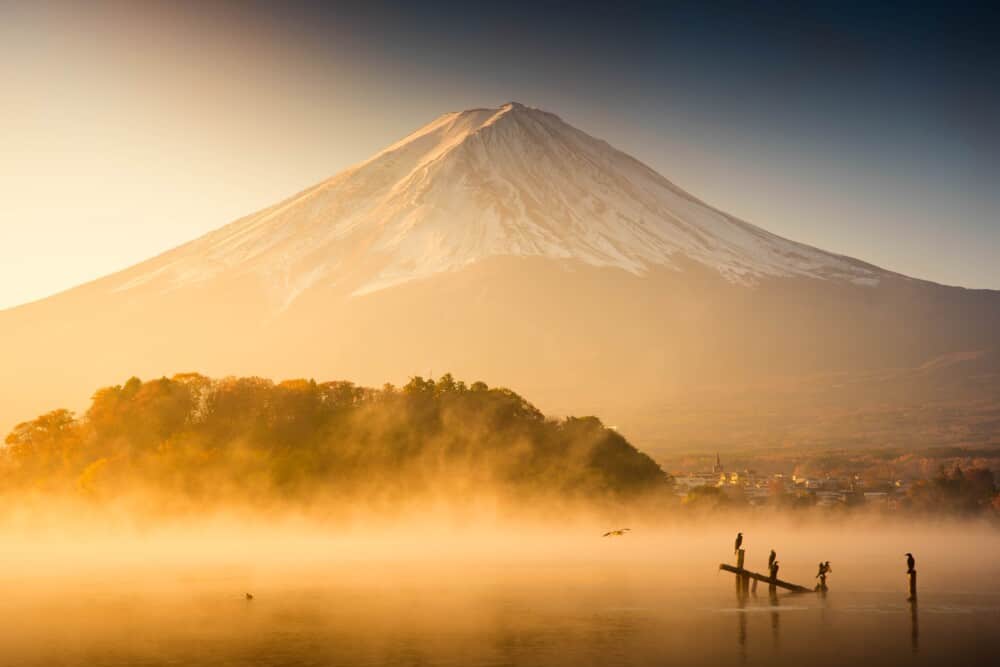 The Best Places to View Mount Fuji
A quick look on the forums will tell you that people prefer Mount Fuji from a distance. Fair enough, I'd have to agree — that's how it's photographed and it looks stunning.
So, if you want to get that breathtaking shot, here are the places to be.
1. Sanko-Dai
Sanko-Dai, otherwise known as the Three Lakes Platform" provides a 360-degree view from 1203m up. Everywhere you look is pure beauty.
2. Mount Fuji Panorama Ropeway
This spot is great if you don't fancy grabbing that super-high elevation. 
At just 400m, you get a panoramic view of Mount Fuji. But, there will be quite a lot of other people there since it's so easy to walk to. If this doesn't bother you, that's great!
3. Koyo-Dai
Once you arrive at Koyo-Dai, you'll probably be completely alone. It's wonderful. Plus, it's only a mere 30-minute hike to get up there!
It offers beautiful views of Mount Fuji, Lake Saiko, and the Fuji Panorama Line. The best part is, there's a cute little cafe on the trail (open in the warmer months) that is great for taking a rest when you're finished drinking in the views. 
4. Iyashi no Sato and Oshino Hakkai
This one isn't really for me but it does offer a unique view of the mountain.
Here, there are lots of houses from the Edo period standing in front of Mount Fuji, offering a unique photo opportunity. Definitely an insta-worthy location.
5. Chureito Pagoda, The Arakura Sengen Shrine
When people think of Mount Fuji, they think of this view.
At Chureito Pagoda, you get the cherry blossom tree with the mount behind it. You can't miss the opportunity to see it with your own two eyes.
Trust me when I say, it's truly breathtaking!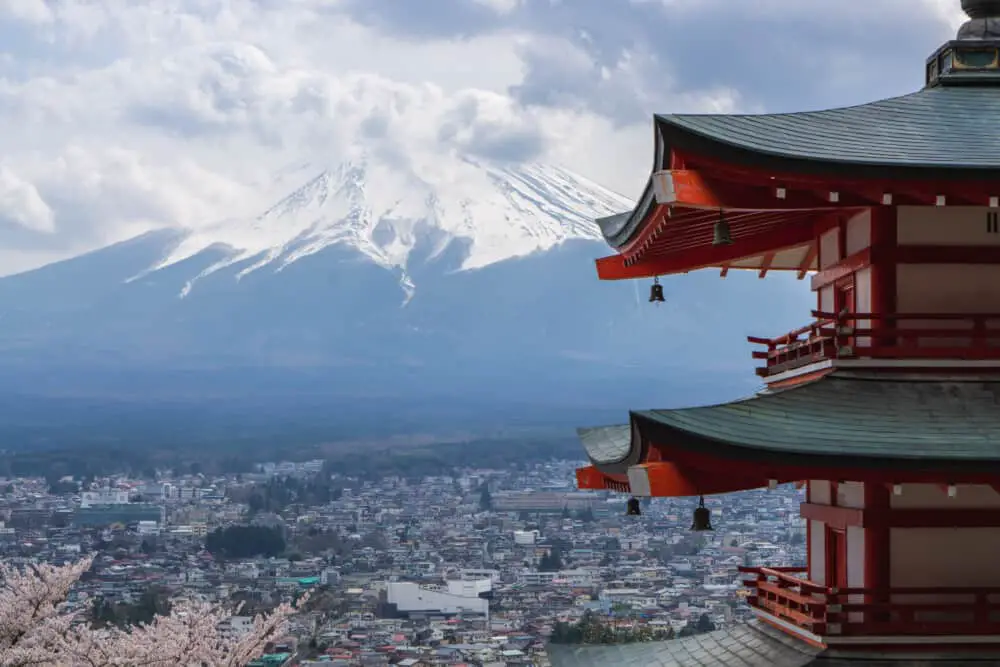 Mount Fuji: Accommodation
Now, all that's left to tell you about is the gorgeous places you can stay in. Let's start with the pricey one and work our way down to the budget-friendly option.
Please note: these are just some personal favorites. Of course, there are other amazing options in the area.
The Luxury Residence — La Vista Kawaguchiko
Depending on the room you pick, you will have a full-frontal view of Mount Fuji — something you won't find anywhere else.
The rooms themselves are simply spectacular. Some have jacuzzi baths while others have huge wrap-around balconies. Of course, there are multiple hot springs for you to enjoy whenever the mood strikes. Plus, they offer exquisite fine dining that'll make you feel like royalty.
Whatever your taste, you'll find something that suits you. 
The Mid-Range Abode — Hotel Mt Fuji
For those who don't like being anywhere near the crowds, Hotel Mt Fuji is the spot for you. And it's far less expensive than the previous option too which is a plus!
The rooms are pretty average but the views are awe-inspiring. Whichever window you look out of, you will be blessed with lush vegetation, lakes, and Mount Fuji. What more could you ask for?
The Budget Hostel — Kagelow Mt Fuji Hostel Kawaguchiko
Kagelow Mt Fuji Hostel Kawaguchiko is right next to the bus station. While you won't get the stunning views from every room, if you get lucky, you might catch a glimpse of the mountain from your window.
Something Out of The Way — Shoji Mount Hotel
People don't tend to think about staying near Lake Shoji, hence why this one is super out of the way. You'll love it though because of the uninterrupted sight of Mount Fuji. 
Oh, and it's attractively priced too!
Is It Worth Going to Mount Fuji? My Honest Opinion
After all of this, you're more than equipped to make up your own mind as to whether visiting Mount Fuji is worth it. But if you still want my opinion then I would say, yes!
You'll only regret the things you didn't do. Die with memories, not "what ifs".
Your Questions
Why Is Mount Fuji So Special?
For me, it's more than just a mountain. That one giant silhouette looming over the Kanto region has basically defined it and been the center of much of the folklore down the years.
It's been the poster boy of Japan, inspiring artists for millennia.
The respect for the mountain is still alive and strong today and for that alone, I believe it's a truly majestic place.
How Long To Spend On Mount Fuji?
If you're going to climb to the summit, you should set aside a full 24 hours to do so. On average it will take 5-7 hours to climb and 3 hours to descend. Taking into consideration your need for rest, it could easily take 16 hours to complete the climb.
Can You See Mt Fuji From Tokyo?
Yes, you can see Mt Fuji from Tokyo on a clear day. There are plenty of observation decks that make this easier such as the Skytree or Tokyo Tower, but weather permitting you can see it from many places throughout Tokyo.