The city of Nishinomiya is located in the south-east region of Hyogo Prefecture. For fans of Studio Ghibli, you'll probably recognize Nishinomiya as the setting for the old-time classic, Grave of the Fireflies.
While it isn't quite as popular as its neighboring cities of Kobe and Osaka, Nishinomiya is widely loved for its picturesque streets with some unforgettable views, especially in spring and fall. 
In this article, I'll take you through the top things to do when you're planning for a trip to Nishinomiya so you can enjoy this city to its fullest.
1. Marvel At The Incredible View From The Rokko Mountain Range
With the highest peak set at 931m above sea level, a trip to the summit will give you an unforgettable view of the surrounding areas.
Not only that but if you can get up to the observation deck on a day with clear skies you'll be able to see as far as Osaka and maybe even spot the Akashi Kaikyō Bridge if you're lucky!
Open 24 hours a day, I recommend that you make two separate trips to Mount Rokko if at all possible. That way, you can enjoy the view of the sunrise hitting Nishinomiya City and after the sun goes down, you can stare in awe at the surrounding cities illuminating the night.
While the 931m peak is technically in Kobe, the mountain range runs through the north of Nishinomiya, Kobe and Takarazuka so it's definitely still worth mentioning here.
If I only had to recommend one time to visit though, I'd say get up there for sunset. Everyone loves a good cityscape at night!
2. Take A Stroll Through Shukugawa Park
Shukugawa Park is a small outdoor recreational area that's popular with locals and increasingly popular with tourists.
This is because the park is covered with lush greenery that gives a dramatically different scene depending on the season. In spring, during sakura/cherry blossom season the park will be vibrant and pink with plenty of people enjoying picnics under the sakura trees.
Come fall, however, the park will be dramatically orange.
While autumn is probably my favorite season overall, autumn in Japan takes the cake! It's just another level for me.
It seems everyone gets excited when they think about Japan in spring, but autumn is where it's at!
For people with families, Shukugawa Park also has playgrounds with swings, sandpits, and other facilities to keep the kids busy!
If you want to make the most of your experience at Shukugawa Park on a nice day, get yourself to one of the convenience stores within walking distance (they have them all, 7-Eleven, Family Mart and Lawson) and have a picnic!
I won't start a debate about which one of the three conbini is the best because it's definitely 7-Eleven.
But… Famichiki… And Lawson's Karaage-kun.
They're all so good.
I'm even arguing with myself right now.
Shukugawa Park will probably be especially crowded during cherry blossom season, so it's best to make your way down as early as possible if you want to score the best spots for the day.
3. Join The Annual Toka Ebisu Festival At The Nishinomiya Shrine
Built in 1905, the Nishinomiya Shrine is perhaps the most visited shrine during the annual Toka Ebisu Festival.
Held between the 9th to 11th of January, you'll be able to see millions of locals flocking to the shrine praying for good luck and for their business to flourish every year.
Lining the streets before the Nishinomiya Shrine are rows of local food and souvenirs that are only sold during the Toka Ebisu Festival, so be sure to stop by to pick up a piece or two as proof that you were actually there.
Or for a nice memory, or whatever reasons normal people have for buying souvenirs.
For full local immersion, you'll want to make your way to Nishinomiya Shrine on the 10th of January to see or even join in the "Fuku Otoko Erabi" or Lucky Man Race.
Taking place from the main gates of the Nishinomiya Shrine, thousands of locals will race 230 meters to be the first to reach the main hall from 6 am.
The winner is believed to be blessed with an abundance of luck for the whole year if they become the "Lucky Man", this is a tradition that you shouldn't miss if you're looking for a unique cultural experience.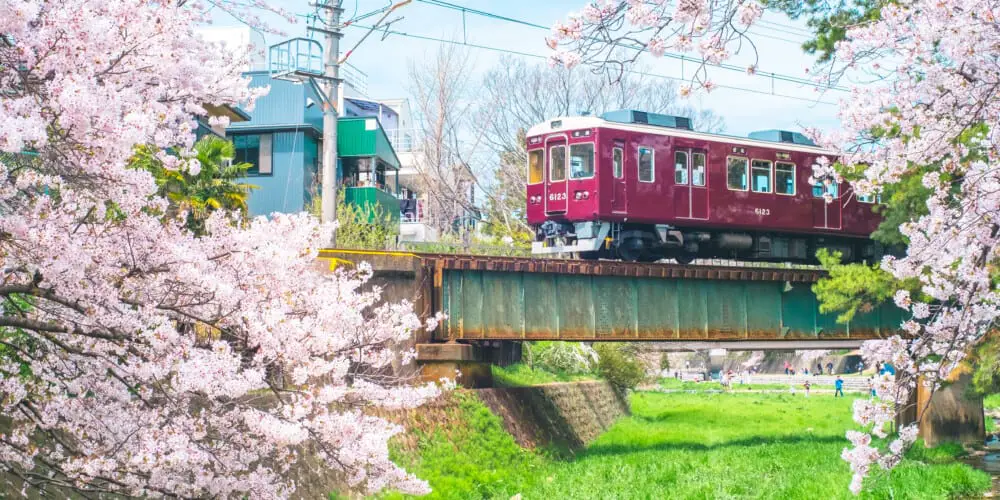 4. Watch A Baseball Game At The Hanshin Koshien Stadium
The Koshien Stadium is Japan's oldest baseball stadium and is one of only 3 baseball stadiums in Japan that features a natural grass field.
Home to the Hanshin Tigers baseball team, this where you'll meet some of the most enthusiastic baseball fans in the country.
While tickets may not come cheap, the exhilarating atmosphere from the fans will make the trip worthwhile whether you're a fan of the teams or not.
I must admit, I'm not a huge fan of baseball but I love how enthusiastic the fans are here in Japan!
If you're visiting in March or August, you might be able to catch the National High School Baseball Invitational Tournament or the National High School Baseball Championship respectively.
Outside the stadium, you'll also find a commemorative plaque to celebrate the 1934 exhibition game played by legendary baseball player Babe Ruth.
5. Enjoy A Show At The Hyogo Performing Arts Center
Opened in commemoration of the 10th anniversary of the Great Hanshin Earthquake, the Hyogo Performing Arts Center is set in the heart of Nishinomiya City. It features 3 performance halls under its roof including the KOBELCO Grand Hall, Kobe College Recital Hall, and Hankyu Theater.
Each of the performance halls in the establishment serves a different purpose so whether you're looking to enjoy a full orchestra, a jazz concert, or a traditional play/musical, the Hyogo Performing Arts Center is a place that won't disappoint.
6. Revisit Your Childhood At The Osamu Tezuka Manga Museum
Hailed as Japan's Walt Disney, the late manga artist Tezuka Osamu is the mastermind behind many Japanese childhood cartoon characters.
Some notable characters to remember include Astroboy and Kimba the White Lion, all of which you'll be able to see at The Osamu Tezuka Manga Museum.
Featuring archives of Tezuka Osamu's art pieces that fill the museum from floor to ceiling, this manga museum is a must-visit especially if you're a fan. Down in the basement of the museum, you'll find the Anime Laboratory where you can create an anime of your own with the assistance of friendly staff.
Before leaving the museum, be sure to stop by the souvenir store to pick up some exclusive memorabilia that can only be found here. Y'know, to prove you were there right?!
7. Eat At The Famous Okonomiyaki Tombo
Okonomiyaki Tombo is a family-run okonomiyaki and teppanyaki restaurant that has been in the city for over 20 years. Owned by a former Hanshin Tigers pitcher, this is where you'll get to taste some of the best okonomiyaki in town.
While its best-seller is the okonomiyaki style catering to the Kansai palette, I also recommend trying out the different variations of okonomiyaki borrowed from other regions (if you haven't had the chance to try them already on your travels) like Hiroshimayaki, mondayaki, and monjayaki.
If you're open to try some different things, be sure to order the buta-kimuchi okonomiyaki that's prepared with grilled pork and Korean kimchi.
As an important side note, Okonomiyaki Tombo is closed every Thursday so if you're planning to eat there, don't get caught out!
8. Shop. Eat. Drink. Cry Because You Spent Too Much At Lalaport Koshien
Located a few minutes away from the popular Koshien Stadium, Lalaport Koshien is an outlet park where you'll find tons of international fashion brands selling items at a fraction of the recommended retail price.
It also has the only Krispy Kreme Doughnuts store in all of Hyogo Prefecture. That means it's important.
Maybe this is actually the most important area in the entire prefecture in some alternate dimension. Maybe it's a sign. Hmmm.
Let me take off the tin foil hat.
If you'd like to shop without your kids, there's a pretty cool place called KidZania Koshien within Lalaport where they get to role-play and experience jobs and adult life with a kind of mini-scale city. It honestly sounds amazing, they get paid in the local currency for playing and I know for sure I would have loved it when I was young!
Adulting without real responsibilities? Sign me up. I wonder if they'll make an AdultZania if we ask nicely? Actually, scrap that. It sounds pretty rude. Ha!
When you're feeling tired and hungry, you'll be happy to see rows of restaurants at the food court of Lalaport where you'll find both international and local Japanese meals to lift your spirits.
My recommendation is to try the Kua Aina Hawaiian Burger stop if you're into that kinda thing! Give me any kind of burger and I'm happy 9/10 though! Maybe that's why I love CAFE BONHEUR so much in Ota-ku. I can't stop thinking about that hamburg!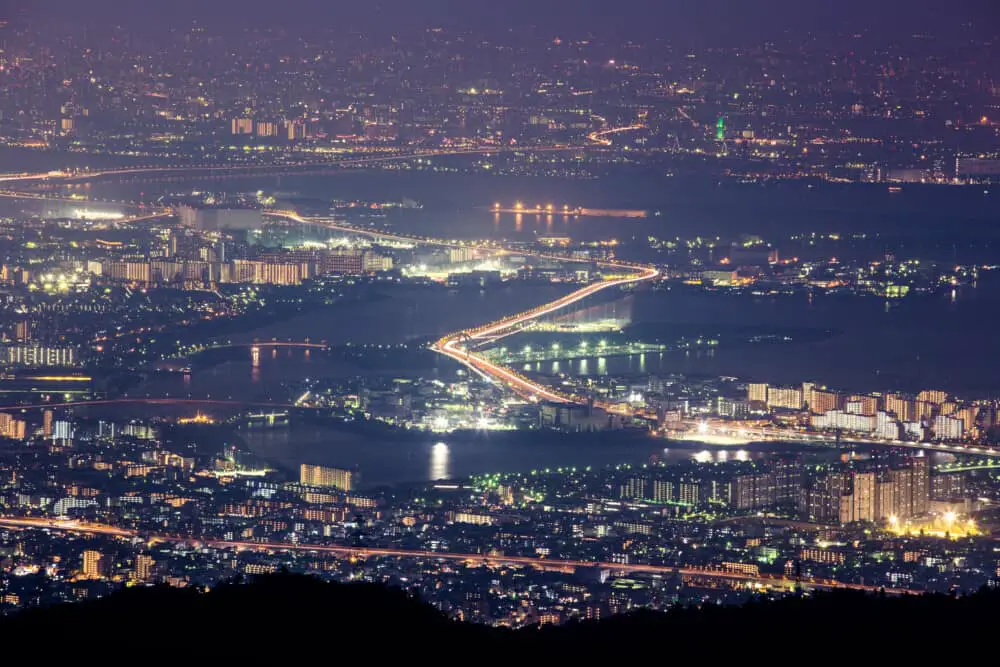 For anyone who's looking for an interesting little city (with amazing views) to explore in the Kanto region, check out my post on Maebashi in the Gunma Prefecture here. There's so much to see and do near Tokyo that you should never get bored!
Is Nishinomiya Worth Visiting?
Nishinomiya is a city that's definitely worth visiting. It has far fewer tourists than the neighboring, bigger cities like Kobe or Osaka but retains a lot of the benefits they offer. Also, since Nishinomiya is in-between them both, it's easy to access from each of the cities.
Most of the good things to do in the city can be done within one day, but I really recommend staying the night to get the real vibe of the place!