When you're planning a vacation to Japan you might ask yourself which of these two cities is the best to visit. Here's a simple answer to your question, with the pros and cons of both cities along with some recommendations later in the post.
If it's your first time in Japan, I recommend Osaka. Even though Hiroshima is amazing, the convenience of Osaka makes it unbeatable. Osaka is located within an hour of 3 major cities, is famous for its street food and it has the friendliest locals you're likely to meet in the Land of the Rising Sun.
You could call me biased. My first ever experience of Japan started with me landing in Kansai International Airport. It was almost love at first sight (I'll blame my suitcase wheels for that, carrying a 20KG case in the summer sun wasn't the happiest of experiences!)
Maybe you'll choose Hiroshima. Or both. You won't regret it. I hope this post provides you with enough information so you can make the most of your escape!
The Pros of Visiting Osaka
The locals

– Osaka is the home of probably the most outgoing, friendliest people in Japan. You'll feel welcome in most bars or restaurants throughout the city. If you're interested in meeting new people and enjoying the company of the locals, it's the city for you.

The food

– If you're into street food, you're in for a real treat. It's known as the kitchen of Japan for a reason and the foodie culture runs deep throughout the city. It will seem like everywhere you go, every side street you walk down, day or night you'll smell delicious food. From the most traditional cuisine to epic burgers, it's all here.

The sights

– From the infamous Glico man towering over Dotonbori river to the tiny Tsuyunoten Shrine, there's always something new to see so you have no excuse to get bored. The Tsutenkaku tower in Shinsekai and Umeda Sky Building offer unique views of the city and Nipponbashi's Den-Den Town is a must see for anyone into otaku culture.

Shopping

– If your idea of a good day out is shopping, you've found heaven. In all seriousness, Shinsaibashi-suji is a shopping arcade that's about 600 meters long. If that wasn't enough for you, Tenjinbashi-suji shopping street stretches over 2 kilometers! Don't worry, there are plenty of cafe's to get refreshments along the way. Osaka has everything from tiny handmade craft shops to huge department stores!
The nightlife – Bars more your style? There are countless watering holes in Osaka. From basement karaoke bars and rock bars to upmarket sake bars or nightclubs. If you don't like one place, you can leave and enter another within a minute in most cases.
The location – Osaka's location makes it the perfect base for an entire holiday. You can reach the neighboring Kyoto within an hour to get your fix of ancient Japan. Have a trip to Kobe to eat Kobe beef or get yourself to Nara to pet some deer.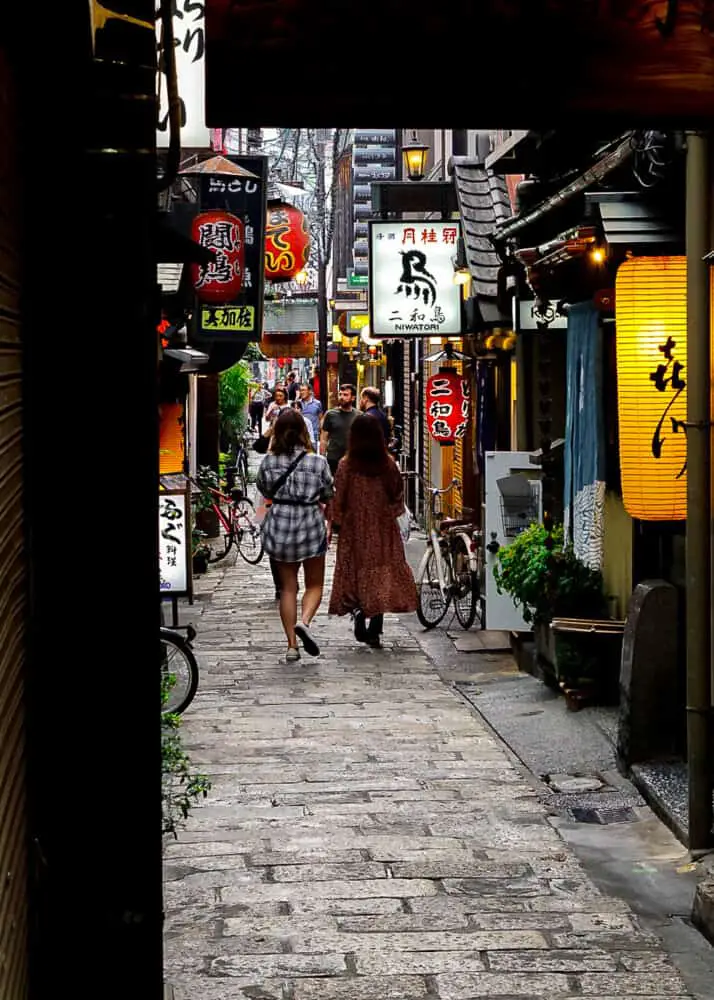 The Cons of Visiting Osaka
It can get busy – This being a bad thing depends entirely on you, but during the holiday season famous areas like Shinsaibashi and Dotonbori get super busy. Way busier than I anticipated! While it's not a problem for me (I love the atmosphere and friendliness of the people) it's important to point out that holiday season can feel crazy!

Shinsekai

has a reputation for being one of the more dicey areas of Japan. Comparatively speaking though, coming from any Western country you're not going to notice. I've never had a single problem there and visit regularly for the awesome kushikatsu restaurants scattered throughout!
You might fall in love with the city and want to stay there forever (oops!)
The Pros of Visiting Hiroshima
The historical sites

– Hiroshima is home to the Atomic Bomb Dome. The Peace Memorial Museum is unforgettable. If you love history then you could spend an entire day in this area alone… It's a surreal experience walking through the nearby parks after seeing photos of the devastation but it serves as an important reminder and one worth seeing.

Miyajima

– Miyajima is a unique island with one of the most famous shrines in the world. Itsukushima shrine is a sight to behold, with the "floating" torii gate being one of the most loved sites in Japan. There's a lot more to the island than just a shrine, be prepared for a busy day if you come here!
Rabbit Island – There's a whole island inhabited by over a thousand rabbits! The tiny island makes a great day out for kids but be sure to stock up on suitable rabbit food from the store BEFORE you get the ferry. The food only costs ¥100 per bag and the rabbits are sure to be compliant for your Instagram feed. Kawaii!

The nightlife

– Hiroshima's nightlife is a little more chill than Osaka's but that's not to say it's boring. There's a ton of really cool bars and restaurants and we've never had any problem passing the night away. Be sure to eat some Hiroshima style okonomiyaki and compare it to the style found in Osaka. Which is your favorite?
The slower pace – You can definitely feel the difference in pace in Hiroshima. Everything feels noticeably more relaxed than Osaka so if you're after an escape from Tokyo, Hiroshima makes much more sense.
The Cons of Hiroshima
The slower pace

– This doubles as a con for those of you who want to feel the hustle and bustle of the big cities in Japan. You won't find too many popular bars open until the early hours (there are some) and 24hr restaurants are rare!

The location

– Hiroshima is actually quite a long way from any other popular tourist destination. Even using bullet trains it will still take about 5 hours to reach Tokyo.
It's little inconvenient – Aside from the Peace Memorial area, most tourist sites you'll want to visit are actually pretty spread out. It can be pretty inconvenient trying to cram everything you'd want to do into only a few days.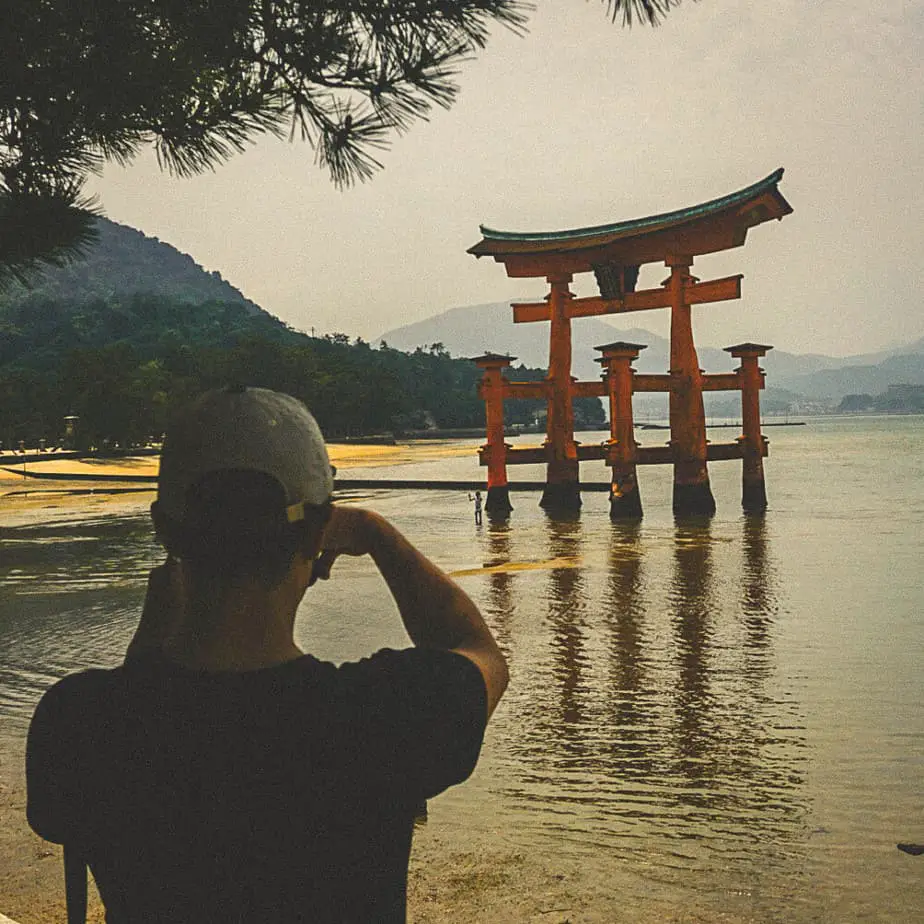 My Top Recommendations For Osaka
Embrace the night culture. Taste that shochu. Eat late night ramen. Make friends.
Osaka has an amazing drinking culture for all ages that differs from the West in many ways. You'll find people generally go out to actually socialize instead of going out with the sole purpose of getting drunk.
You're missing out if you don't visit the late night video game bars, shamelessly belt out your best Bon Jovi impression in karaoke or get overwhelmed by the sheer number of food options in Dotonbori.
Even walking the lantern lit side streets at night will become fond memories and you'll always find something to do if you just remember to look up.
The Minami area of the city is pretty built up so my biggest tip is to always look up. Lots of the best restaurants or bars are above the first floor so you're likely to miss out if you don't embrace this idea quickly. As someone from who grew up away from city life, it took me a while to get used to it but I'm sure most of you are better prepared than me!
If you're new to Osaka, the bar I recommend visiting is Rock Bar Cherry Bomb. It's conveniently located in the Higashishinsaibashi area and the staff are incredible. They're all honest and more than happy to recommend other great bars nearby so definitely drop in for a drink if you're new. Cherry has great beer and a welcoming atmosphere, you're likely to have more than the one drink. Be prepared for a good time!
THE BEST RAMEN in Osaka is a hot debate. My personal recommendation is Zundo-ya. It's open 24 hours and the tonkotsu broth is intense! It's easily to customize your order on the machine nowadays so even if you don't speak Japanese, you know exactly what you're ordering!
My Top Recommendations for Hiroshima
Try the grilled eel in Miyajima. Devour the local okonomiyaki. PET ALL THE RABBITS.
Eating Hiroshima's okonomiyaki is a must. Don't tell my friends in Osaka, but I think I actually prefer Hiroshima style. The layers of egg, cheese and cabbage with the yakisoba noodles… Perfect. While there's no shortage of good restaurants serving it throughout the city, I recommend Momiji-Tei Okonomiyaki restaurant. Everything is super fresh and the cosy atmosphere is nice whether you're alone or in a group.
Similarly to the bar in Osaka, I recommend visiting Tropical Bar Revolución in Hiroshima. The owner is a really nice guy who speaks good English and the drinks are likely to get you much tipsier than you planned. If you're after great conversation, just sit at the bar and enjoy your evening!
Something I can't recommend strongly enough is at least a day trip to Miyajima. While the shrines ARE incredible and in a location unlike any other, the walking trails are underrated and the local dish of anago meshidon is worth trying even if you're not the biggest fan of seafood. For a couple, definitely consider staying the night on this romantic island.
Conclusion
Ultimately, in my opinion you can't really go wrong. You're going to be happy whichever city you decide on. If you want to keep busy, choose Osaka. If you want to relax more, choose Hiroshima.
Hopefully this post was helpful,
JKC.