You might be surprised to learn that Ota City in Tokyo is part of the largest of Tokyo's 23 wards. I know I was, I'd never really heard anything about it before I ended up staying here!
It stretches out all the way from Denenchofu to the west along the Tamagawa River until it reaches the famous Haneda Airport.
Before we get into the nitty gritty, here's a brief list of my top 11 things to do in Ota City:
Chill out at Omori Furusato Seaside Park
Recharge in Ota's Onsen and Sento 
Climb Ikegami Honmonji Temple
Learn about the history of Ota City at the Omori Nori Museum 
Take a class at Ota City Tourist Information Center
Eat some fresh food at the Ota market
Hit up Bourbon Road
Eat at Okoshi Food Shop
Take some good luck home with you at Anamori Inari Shrine
Laze by Senzokuike Pond
Cycle along the Tama River
There'll be a bonus recommendation at the end, a personal favorite. If you want to know my most visited cafe in Japan, stick around!
Ota City is home to a famous temple, it hosts 45 Sento and Onsen hot spring baths, has a beach, lots of parks and green areas for relaxing. Not only that, if you are into fitness, it boasts scenic running and cycling routes to burn off those extra calories you devour at the numerous local food shops and restaurants.
The population of Ota City was quite surprising for me… It's currently at around 716,000 people (more than Nashville or Las Vegas!) with 380,000 households. The total area of the city is just under 60km². 
With that in mind, here are my favorite things to do and see in Ota City, hand-picked just for you.
1. Chill out at Omori Furusato Seaside Park
If you love the feeling of hot sand under your feet, then you're going to love Omori Furusato. The only downer on this? Swimming is not allowed at this beach. But you can dip your feet in the water and feel the breeze as you stroll along the shore. 
It's quite easy to get to from Heiwajima train station and will only take you around 15 minutes by foot.
This beautiful park is next to Tokyo Bay, a historically important area for harvesting nori (seaweed) from the period 1600-1868.
The park offers an assortment of amenities like restrooms and washing areas. If you have children this is a perfect place to relax and eat a packed lunch or build sandcastles on the beach.
The beach has designated fishing areas for those who want to try their luck at reeling in some fish. This can also be a great way to spend your day.
During hotter months, you'll find stands selling fresh ice cream. If that's not enough, you'll also find a playground just north-east of Omori Furusato.
Recently, there have been efforts to revitalize the tradition of swimming, however, local schoolchildren are taking part in a long-term project to re-cultivate the nori that Ota City was once famous for.
If you want to learn more about the history of nori and Ota City, then consider popping over to the Nori Museum which is just across the bridge toward the northern end of the park.
Look out for the panels that are hung along the bridge that represent the traditional nori. The park opens as early as 5:30 am and stays open until 21:00pm.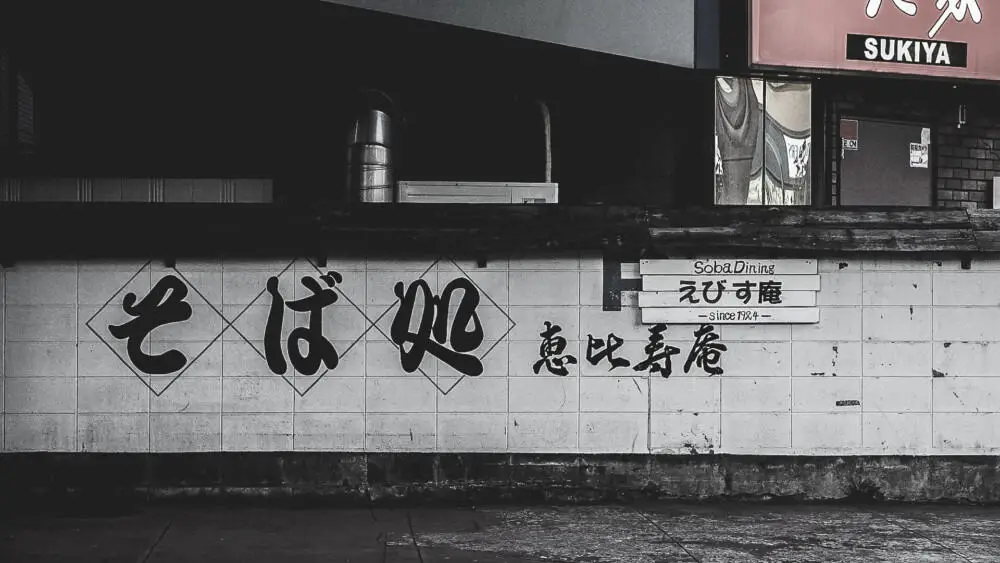 2. Recharge in Ota's Onsen and Sento 
What in the world are Onsen and Sento, you ask? Weren't the Onsens a band from the 70s?!
Sento are man-made baths in Japan. While Onsen are natural hot springs that are available near volcanic areas of Japan. Onsen are actually governed by fairly strict laws and have lots of conditions they have to pass before they can be legitimately called Onsen. 
Anyway, the cool thing about Ota City is that it has a lot more Sento than any other ward in Tokyo so you have a great selection to choose from.
Some places even offer both Sento and Onsen in one place! I don't get why, but too much choice can't hurt right?
About half of these will have the famous black water. This pitch-black water has many healing benefits and is a staple of Tokyo bath culture. If it's black water you're looking for, then consider checking out either Hasunuma Onsen or Kamata Onsen. 
The average cost to enter into these bathhouses is about ¥400 or less than $4. You can usually rent towels and soap but to be safe I recommend you take your own.
3. Climb Ikegami Honmonji Temple 
The 96 steps leading to this temple will make a lot of you struggle if it's in the middle of summer… But when you reach the top, you'll be greeted by beautiful buildings like the five-story pagoda, the bell tower, and the Hoto.
This temple was founded by Nichiren in 1282 and hosts a festival that takes place every year commemorating his death. Check it out here in the video uploaded by JAPAN VIEWS:
You will find statues scattered around the temple, a beautifully decorated hall and the oldest pagoda in Kanto. That's not all, the Hoto located in the graveyard was built where Nichiren was cremated and is definitely worth a visit. 
4. Learn about the history of Ota City at the Omori Nori Museum 
To really appreciate a city, it's important to learn about the history of it.
Ota City is famous for its seaweed (Nori). This started around 300 years ago and the Omori Nori Museum showcases what went into cultivating and making its popular seaweed. It also gives visitors the chance to see what type of tools people use to make the nori.
This is a great way to spend your day if you want to learn more about its history and the best part is, it's free!
A little bonus: Climb the stairs to the rooftop for amazing views of the city and snap some great photos. The museum is open from 9 am – 5 pm during the summer months of June to August. 
5. Take a class at Ota City Tourist Information Center
The tourist center in Ota city isn't just for brochures or to find things to do. They even host classes for tourists right there at the center. Here are some classes you can take to immerse yourself in the culture:
Manners and etiquette classes, so you feel comfortable wandering the area and you don't accidentally offend the locals 
Learn basic Japanese to try to converse with the locals 
Take an origami workshop or learn some traditional games
For around ¥2500-¥5000 per person ($25-$50), you can even take part in a flower arranging class (ikebana).
If you're the collector type, pick up some souvenirs and local maps to get exploring.
6. Eat some fresh food at the Ota market
Browsing the Ota market early in the morning is a great way to start your day.
This market is the largest fish, fruit, and flower market in Japan. This market starts as early as 5am. It's littered with plenty of fish and has local, fresh ingredients.
However, it mainly consists of vegetables, fruits, and flowers. You can even watch the auctions from the rooftop section to get a good view of the action.
It's located about halfway between Shinagawa and Haneda Airport in the southern park of Tokyo.
The vegetable auction starts at 6:50am and lasts for about 15-20 minutes.
The fruit auction begins at 7:00am and goes on for around 20 minutes.
Finally, the flower auction starts at 7:00am but continues on until 08:30am. 
If you can, definitely try to make it in time for the auctions. You can even pick up English brochures on entering and it's free of charge. If you have someone in your group who can speak Japanese, even better!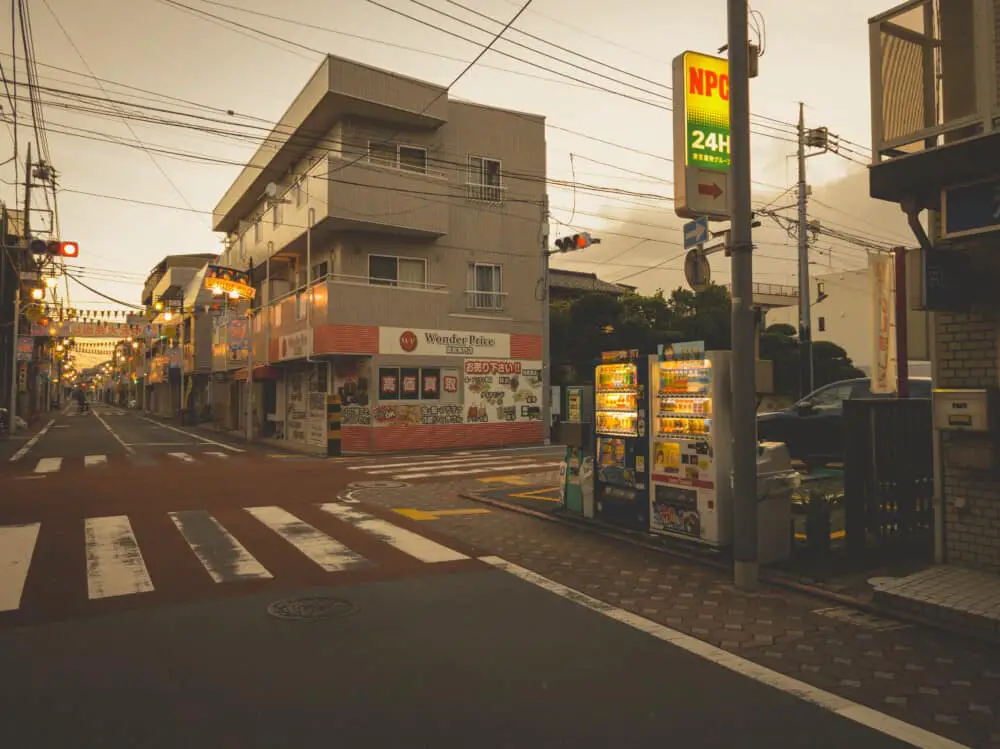 7. Hit up Bourbon Road
If you're looking for an authentic night out in Ota City, then you should check out Bourbon Road in Kamata.
This is the hub of the ward and supplies plenty of restaurants and shops, so you won't run out of things to eat or do. It has more bars, food stalls, and izakaya than you could dream of and the area comes alive at night time in particular.
This is by far the best street to spend an evening whether it's with friends in a bar or izakaya for food and drinks, you'll get a true feel for traditional Japanese nightlife.
Some late-night snacks to look out for:
Gyoza (delicious dumplings)
Yaki-niku (grilled meat, think Korean BBQ)
Yaki-tori (skewered chicken)
8. Eat at Okoshi Food Shop
Let's be honest, you can never have too many places to eat amazing food.
If you love trying out new food then Okoshi, which is in Umeyashiki Shoutengai and has a brilliant selection of family-style meals, is the place for you. Okoshi specializes in souzai, which basically just means side dish or accompaniment. 
You can get a full meal here for two people for around ¥700 which is about $7!
You'll find that it's packed with locals so if you want to get your hands on the bestsellers, get there early. Beans and the okara (soy pulp) salad, which come with fresh veggies and plants like carrot and kelp, sell out very fast.
9. Take some good luck home with you at Anamori Inari Shrine
Anamori Inari Shrine was built on what is now Haneda Airport. Along with two other shrines, it forms the Haneda Shrine.
You can step through the torii gates and take home some good luck with you.
This leads visitors and tourists to the most important part of the shrine – the area which has the o-suna. You can pick up some sand (o-suna) and sprinkle it around your home… It's said to give you good fortune in your business. 
Not only that, but you can also ask for blessings from the fox gods if you are traveling and it's considered to be an important thing to do.
Be sure to look out for Konchan who looks after and guards the shrine. This is one of the oldest shrines in the city and was built around 1818. It got moved to its current location when the airport was built.
10. Laze by Senzokuike Pond
Senzokuike Pond is a tranquil place, perfect for a picnic. It's about a 45-minute bike ride from Kamata Hachiman-Jinja Shrine. 
The area is named after a famous Buddhist priest named Nichiren Shonin who is said to have washed his feet here on his journey to Ikegami Temple. In Japanese, Senzoku means "washing your feet", which is what a lot of priests started doing here after his time at this large pond. 
If you love nature, you'll appreciate this pond and it is beautiful all year round.
However, spring is the best season in my opinion because of the cherry blossoms. It's a lovely place to relax and take some time out from the busy city life. You'll also notice the area is covered in traditional wooden architecture.
11. Cycle the Tama River
Last but not least on my list of recommendations is to cycle along the Tama River. You might find that quietness is hard to come by in Tokyo and this is one of the best places to escape to.
This easy to cycle path gives locals and tourists alike an opportunity to recharge away from the busy crowds. You'll often find people having picnics or playing sports in the fields on the river banks, a welcome sight if you're tired of staring at concrete.
The Tama River is around 85 miles long and stretches from Lake Okutama in Saitama east to Ome before reaching the sea.
The only downside to cycling along the river is that the facilities are far and few between. You won't find any shops or restaurants directly alongside it, so it's a good idea to bring a packed lunch and water!
Being in Tokyo, though, you're never truly far away from a convenience store so if you're ever stuck ask someone or check out Google maps for your nearest shop.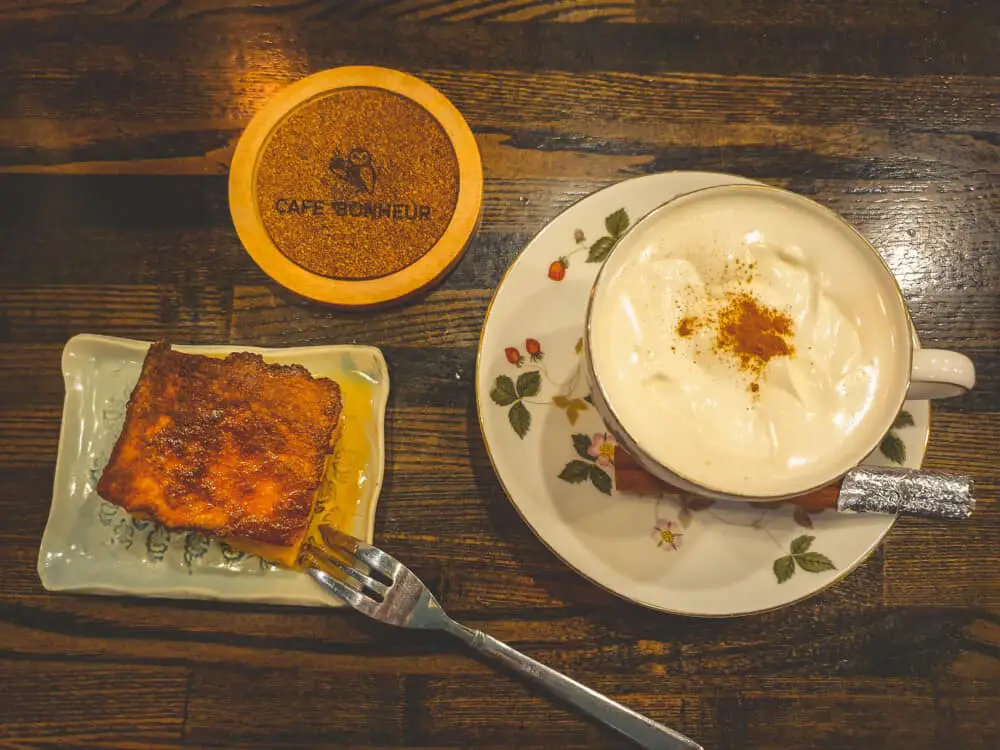 Bonus: CAFE BONHEUR/カフェボヌール
Near Kojiya Station, 4 stops/6 minutes from Haneda Airport, you'll find my favorite cafe in Japan.
It's somewhere that I used to try to visit a few times a week and whenever I get the chance to go back, I will.
The owners are a husband and wife who work so hard and are very passionate about what they do. They change the menu regularly to keep it interesting, but the old solid staples like the hambāgu steak stay on the menu for a reason… They taste amazing!
The rustic atmosphere of the cafe combined with the well thought out, home-style cooking keeps people going back for more and they have a pretty loyal customer base… So if you want to be sure to get the day's special, get yourself there early.
For those of you love coffee, you'll love their ever-changing selection and they've always given me the kindest service.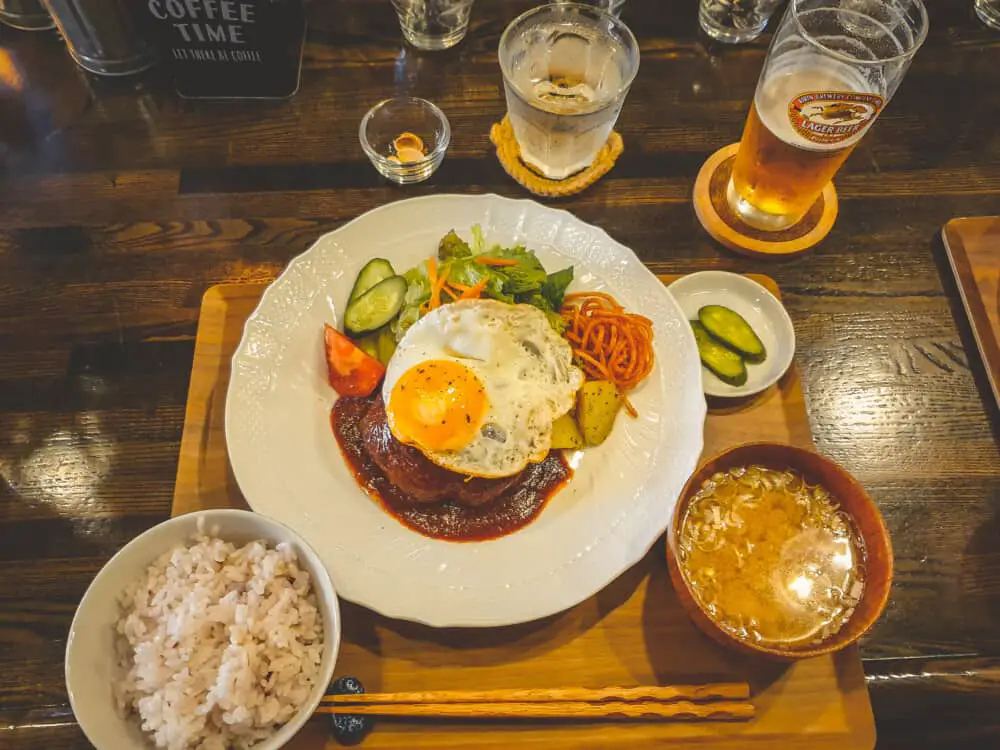 If you're ever in the area, do try to check them out, I'm sure you won't regret it!