A few years ago I was planning a trip through Hiroshima and wondered if it was worth staying overnight. I've compiled some of my findings and I'll share some of my recommendations for having a great time in Hiroshima.
Should I stay overnight in Hiroshima? Yes, absolutely. There's so much to do and see in Hiroshima that it's impossible to fit everything worthwhile into a single day trip. With its unique vibe, Hiroshima has a blend of modern bars, restaurants and historical sights that rival any city in the world.
For most people, when they think of Hiroshima they think of the Atomic Bomb Dome and rightly so. Because of this, it's so easy to assume that staying overnight in the city is pointless because you can visit the Peace Memorial in a few hours. If you're interested in torii gates, unique food and an island full of rabbits then stick around!
Did I mention cocktails?
What can I do in Hiroshima?
Here are my top recommendations to make your visit to Hiroshima a great one.
Check out the A-Dome/Peace Memorial – Being such a significant part of the history of the entire world, if you're passing through Hiroshima you have to visit here. A word of warning, you cannot prepare yourself for how harrowing the museum is but it has a great amount of information you're unlikely to get elsewhere.
Go to Miyajima – If you want to take some of the most epic shots for Instagram in Japan, head here. Huge Torii gate in the ocean? Check. Ancient temples? Check. Just a short (and enjoyable) ferry trip from the main island, Miyajima fully deserves an overnight stay of its own.
Take a boat to Ōkunoshima (Rabbit Island) – An. Entire. Island. Full of rabbits. A large population of rabbits roam the island which gives ample opportunity to fill your grid with photos of adorable bunnies. You can buy rabbit food from a store there so you don't have to smell like an animal cage all day!
Eat okonomiyaki – Hiroshima is famous for its variation of the Japanese favourite okonomiyaki. Often referred to as a savory pancake, the dish lives up to it's English translation of "okonomi" as you like and "yaki" cooked. It layers the ingredients (cabbage, batter, meat, fish, cheese etc) and always includes noodles.
Mix with the locals – Cocktail bars, craft beer bars, sake bars. You'll find it difficult to get bored in the city center at night. If you're worried about the language barrier, I recommend visiting Tropical Bar Revolución as the owner's English is insane and he's extremely helpful. Hi Nobu San!
Visit Shukkei-en Garden – Near the art museum, right in the heart of the city, these peaceful gardens are well worth the price of admission (¥260pp). They're well maintained and like much of the city offer a compact experience of Japanese culture. A great place to spend an hour or two!
Enjoy the view at Hiroshima Orizuru Tower – While not as tall as some of the other observation decks in Japan at 50m, it's one of the tallest buildings around the Peace Memorial Park and it's nice to get a different perspective of the city.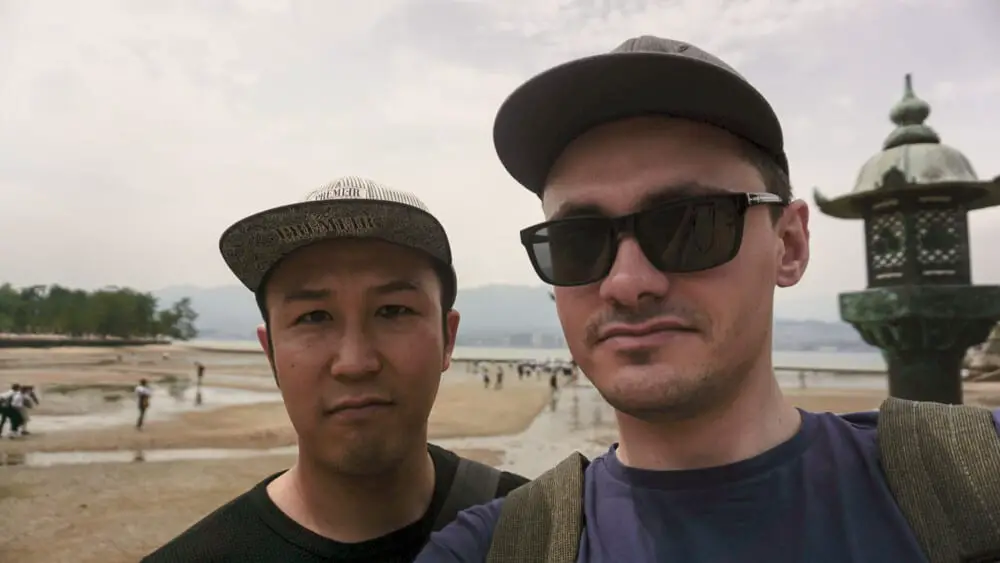 Where should I stay in Hiroshima?
If you're staying in the main city center, I recommend staying in one of the many hotels near the Peace Memorial Park in the Naka Ward. This will conveniently place you within walking distance of many of the tourist spots in Hiroshima so you'll never get bored!
It's also where most of the popular bars and restaurants are, so if you're worried about noise issues then I'd suggest staying in or near the RIHGA Royal Hotel as it's away from the main bars but still very near the action at a decent price.
For those of you on a budget, check out Hotel Park Side Hiroshima Peace Park (the only bad thing about it seems to be the name!), Hotel Sunroute Hiroshima or Hostel Mallika. They're all in great locations and although the prices fluctuate a bit they're generally pretty low!
What about Miyajima?
Miyajima is an absolute gem. There's no denying it. From the second you're on the boat and spot the huge torii gate, you'll love the place. I did.
Itsukushima Shrine is a wondrous sight (day or night) and you'll easily want to spend half a day sightseeing and taking photos in the area. Something that really surprised me was the amount of friendly deer on the island, they're not easily spooked so even the rowdiest of you can enjoy feeding the deer!
You'll often find Japanese couples wearing traditional clothing getting their professional pre-wedding photos taken near the shrine, which makes sense as it's one of the most beautiful settings I've ever experienced.
A popular dish on the island is Anago Meshi, which is an eel dish. The eel is grilled, covered in a sweet but salty sauce and placed on a bed of rice. The delicate mix of flavours coupled with the smokiness from the grill sums up Japanese cooking.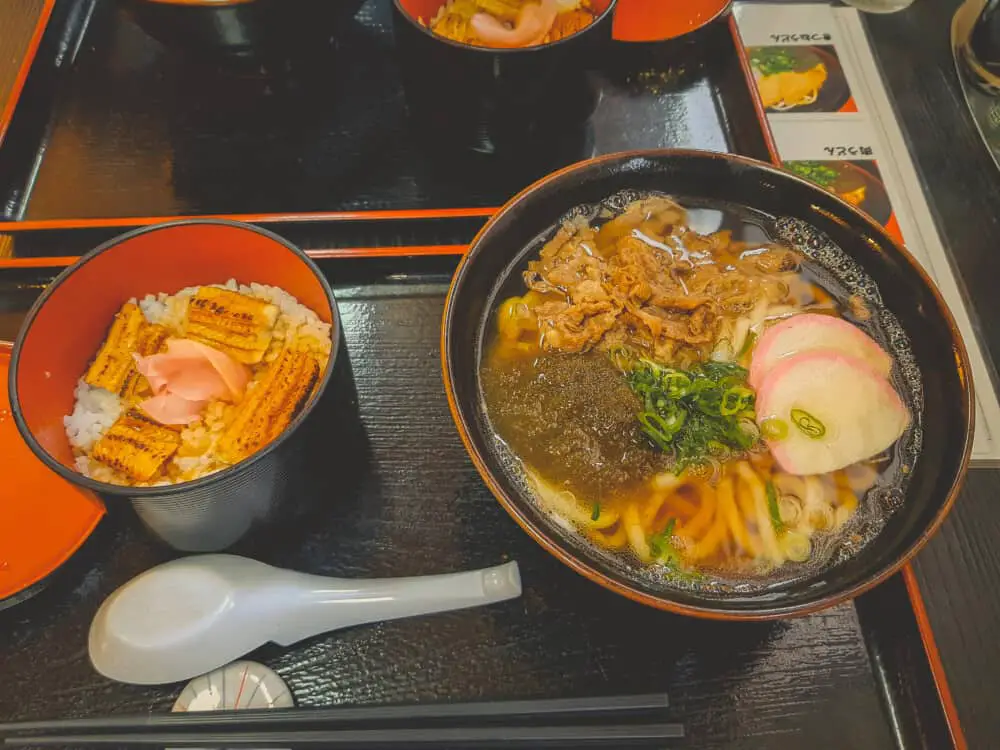 Something often overlooked by tourists (guilty) is the hike to the peak of Mount Misen. There's a few trails you can take, the shortest of which takes about 2 hours at a reasonable pace from the main town. While I can't promise you'll spot wild monkeys on the trails, they are there so be sure to have your cameras ready!
If you're looking for a 'once in a lifetime' kind of experience and you have the the free time, staying on Miyajima island would be a great option. If you only had one night, I wouldn't recommend staying here over staying in the main city but witnessing the shrines at night would be spectacular and totally worth it.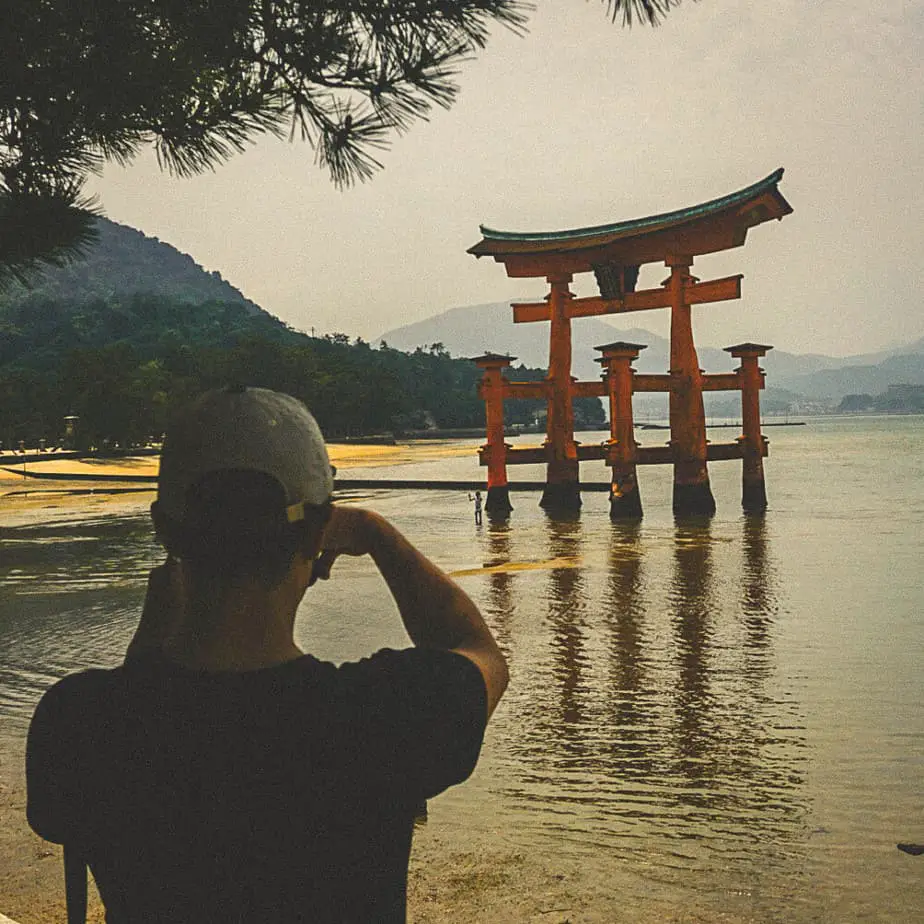 TO GET TO MIYAJIMA
From Hiroshima station, first get the train to Miyajimaguchi Station (JR Sanyo Line) which costs around ¥560 JPY. The ferry pier is only a short walk from Miyajimaguchi station and costs ¥180 JPY each way.
Alternatively there are direct boats from the Peace Memorial Park to Miyajima (Aqua Net Ferry) which cost ¥4000 JPY for a return trip.
Is Ōkunoshima (Rabbit Island) worth it?
As long as you don't have a phobia of rabbits (is that possible?) then yes! The tiny island only takes about an hour to walk around but you'll be so distracted by the inhabitants it could take all day.
There's allegedly over 1000 rabbits on the island and the chosen few of you could easily get yourselves overwhelmed by them!
When we visited it was the middle of summer and we were extremely grateful for the ice cream and drinks from the store at the port.
I think a trip to Rabbit Island would be an unforgettable experience, especially for children, it should definitely make your itinerary if you have the time!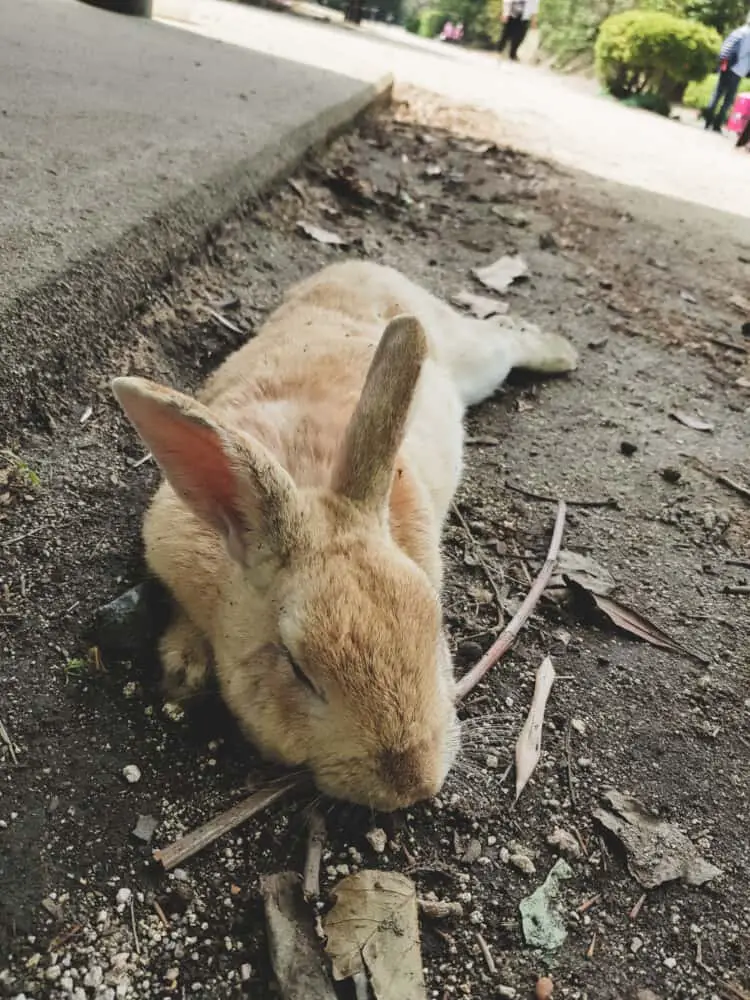 TO GET TO ŌKUNOSHIMA
From JR Hiroshima Station, take the Shinkansen bound for Shin-Osaka station to Mihara Station.
From Mihara Station, transfer to the local Kure Line and take the train headed to Hiroshima. Get off at Tadanoumi Station.
The port is a short 5 minute walk away from Tadanoumi Station and the ferries to Ōkunoshima cost around ¥310 JPY.
The nightlife
Talk about local. Near Hondōri at night you'll stumble upon so many bars you won't know where to start. And that's fine, you can't really go wrong.
My personal recommendation is to first head for Tropical Bar Revolución, it has the perfect atmosphere for the start of your evening… Chilled out, good conversation and cocktails that are heavy on the alcohol. The owner, Nobu, is a great guy (don't just take my word for it, read basically any Google review!) and you probably won't want to leave!
If you've got a taste for craft beer then within a 3 minute walk from Nobu's bar you can find Raku Beer which has a great selection of Japanese beers and a friendly pub type atmosphere!
If sake is more your thing, then in a few minutes from here you can reach Flat Sake Bar. The staff are really enthusiastic to help and teach you about sake. Head here for a unique experience in a top class, cosy sake bar.