The Shiga Prefecture is a prefecture located east of Kyoto and is home to the largest lake in Japan – the famous Lake Biwa of Otsu City.
The prefecture also plays host to a variety of picturesque tourist attractions across 13 cities and is ideal for holidaymakers looking to escape the sights of busy city life.
Have you ever wondered what gives Shiga its must-visit status in the Kansai region? Well, let me take you through a journey across the Shiga prefecture to uncover the hidden secrets of the foods to eat, where to go, and what to see on your next trip to Shiga.
Top 8 Things To Do In Shiga Prefecture
1. Visit Hikone Castle
Dating back from the Edo-period of Japan, Hikone Castle is listed as 1 of the 5 national treasured castles. It has since been restored and repurposed as a museum, displaying various historical items such as the Red Armor of Li, Noh masks and costumes, as well as tea ceremony utensils from the past.
If you're feeling adventurous, do be sure to climb up the steep flight of stairs within the castle to reach the top floor where you'll be greeted with a majestic view of the castle grounds and see the city from above.
Hikone Castle is open daily from 8.30 am to 5 pm. Admission ranges from ¥500-¥1,200 for an adult, depending on whether or not you want to visit Genkyuen garden as well.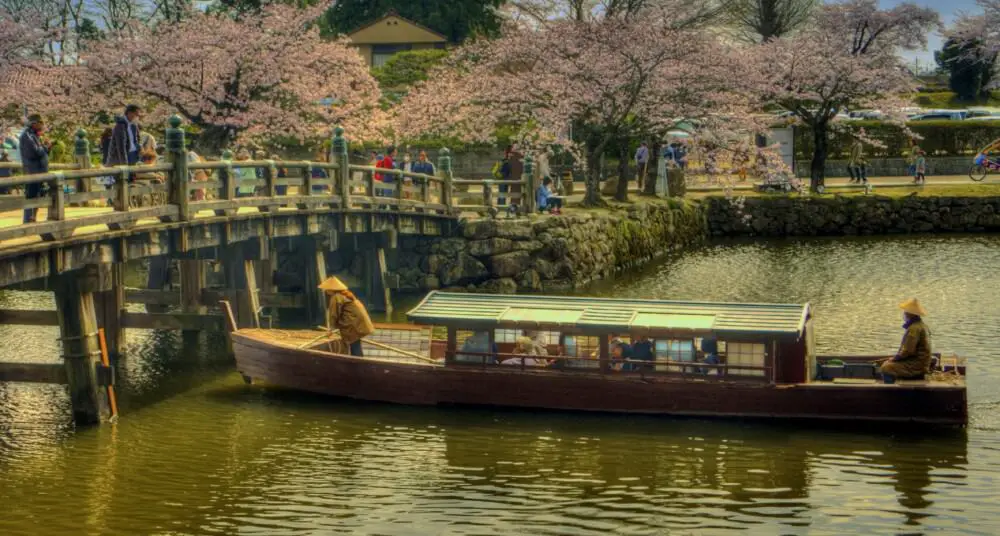 2. Take a cruise down Omi Hachiman
Originally developed in the late 1500s, the city of Omi Hachiman boasts an old-town charm with much of the traditional merchant buildings still intact.
One of the highlights of this city is to take a cruise down the canals to soak in the views of this town that was once a busy merchant square.
Today, most of the buildings are repurposed for businesses and the city plays host to various establishments such as the Hakuunkan – a school turned tourist information center and the Nishikawa Residence where you can enjoy a cup of tea in the traditional Japanese tatami rooms.
There are also trail walks up to the top of Mount Hachiman that you could embark on, or simply take the Hachimanyama Railway for a view of the town from the summit of the mountain.
If old-style buildings are your kind of thing, you should take a quick look at Shirakawa-go in Gifu prefecture. It totally deserves a post of its own so, here it is.
3. Wander the grounds of the Mii-dera Temple
The Mii-dera Temple of Otsu City is one of the largest temples in Japan. It consists of 40 buildings set by Lake Biwa, and if you make it to the top, you'll be able to catch a glimpse of the lake from afar.
The temple itself was built in year 672 and come cherry blossom season, you'll be able to join the locals in the temple grounds for a flower viewing picnic – also known as hanami. While you're here, be sure to visit the Issaikyo-zo, a house containing intricate Buddhist scriptures from the yesteryears
4. See the Ukimido hall of Mangetsu-Ji
After a trip to the majestic Mii-dera Temple, you may want to consider visiting this small but unique temple hall by Lake Biwa.
What makes it stand out is the fact that the hall is built on stilts over the lake.
From here, you'll be able to look out to the vast horizon of Japan's largest lake and catch a glimpse of the many Buddha statues donated by visitors of the temple. While the Ukimido hall of Mangetsu-Ji may not be as grand as the other temples you will come across in Shiga Prefecture, it's definitely the most unique one in the area.
Here's a video by TokyoStreetView that shows it off on a cloudy day.
It's okay, your device isn't broke, there's no sound in the video! Ha!
5. Relive your ninja dreams at the Koka Ninja House
Located in the city of Koka in the Shiga Prefecture, the Koka Ninja House is one of Japan's only authentic ninja houses.
Once home to The Koka Ninja clan, tourists can now relive their dreams of becoming a ninja through a visit to this ninja house. Here, you'll be taken through trap doors and secret routes just as ninjas do and for an extra fee, you may even dress up as a ninja throughout your journey.
For anyone looking to experience throwing a shuriken – the infamous ninja throwing star – you can do that here at the Koka Ninja House. Tours are available in English and are said to be great fun for visitors of all ages.
There's a similar experience near Tokyo Tower run by the Musashi Ninja Clan! It's number 5 on the list if you want to check it out!
6. Bite into a Shiga specialty: The funazushi
Funazushi is local cuisine originating from the residents of Lake Biwa.
It's basically fermented sushi that's prepared 2 to 3 months in advance and is best eaten with a brave heart and a cup of sake. Or a bottle, I won't judge.
To make the funazushi, the chef specifically prepares a nigorobuna (a kind of goldfish) caught from Lake Biwa and lays them down with salt and sake kasu – a leftover produce of sake production. Rice is then added to the mix before being kept away to ferment.
While the preparation process may not sound appetizing, the result is a unique style of sushi with a texture, aroma, and flavor that may surprise you.
Word of warning – There definitely is an aroma.
Funazushi can be found in most restaurants around Lake Biwa and is something you must try eating if you're feeling brave while you're in Shiga. Or for a dare.
Then you can tell me how it went for you, because I'm not that brave!
It's actually meant to be pretty good and its history dates back almost 2,000 years so it's stood the test of time.
Check out this video by Great Big Story to learn a little more, it's a really interesting process!
7. Enjoy a melt-in-your-mouth meal: The Omi beef
Native to the Shiga Prefecture, the Omi beef is a type of wagyu beef that is popular in Japan. Born, raised, and prepared in the Shiga Prefecture itself, the Omi beef contains a high percentage of marbled meat, giving it a melt-in-your-mouth sensation with each and every bite.
It also contains an amazingly beefy aroma and is best enjoyed through Japanese classic cooking styles like sukiyaki and shabu-shabu, or prepared as yakiniku.
Pro tip: Definitely eat it as yakiniku if you can. Friends + beef + yakiniku restaurant = good times!
If you're visiting the Shiga Prefecture, enjoying a meal of A-grade Omi beef is something you cannot miss.
They're as proud of their beef as the fine people of Kobe!
8. Enjoy Lake Biwa
Lake Biwa or Biwago to the locals is the largest lake in Japan.
Having formed at a minimum of four million years ago, it's believed to be one of the world's oldest lakes. Beyond just being a marvelous sight, here are some ideas of what you can do at Lake Biwa: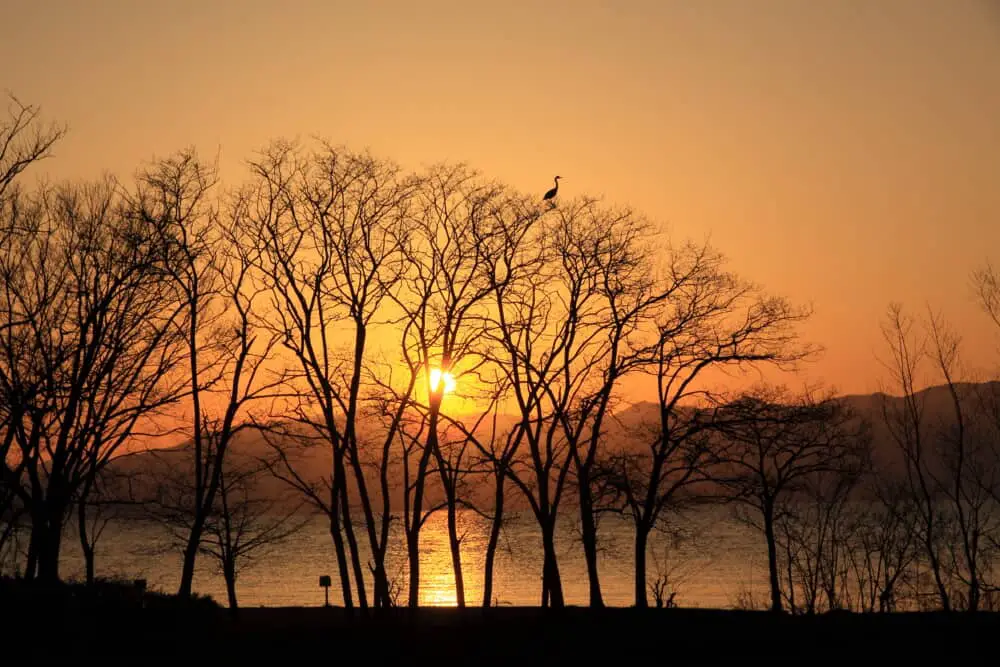 Dip your feet in the water or swim to your hearts' content
Now you may wonder, with all that water ahead of you, can you swim in Lake Biwa? The answer is yes you can!
Swimming by the shores of Lake Biwa is a popular activity for most locals and tourists alike although you may want to avoid it in winter due to its drastic dip in temperatures.
It's also recommended to keep to the cordoned areas while you take a dip to avoid being trapped in a sudden and dangerous current change.
For adrenaline seekers, you can also check out the various water sports that are available by the shores including kayaking, sailing, or even fishing.
Take a cruise around Lake Biwa
No trip to Lake Biwa would be complete without a cruise on The Michigan.
Setting sail from the southern parts of Lake Biwa, tourists can hop on this old-school paddle steamer and look back at Otsu City in all its glory with its old-style charm combined with a modern touch.
Cruises last between 1-2 hours, although I highly recommend the night cruise where you'll get to see the lake illuminated with the lights of the cruise itself and be entertained by the on-board live shows along the way.
Visit the Lake Biwa Museum
Established in 1996, the Lake Biwa Museum serves as an attraction to educate the public about the environment and the species living in Lake Biwa.
Within the museum, visitors will also see the museum aquarium that's said to be one of Japan's largest freshwater aquariums.
While you're here, try spotting the large Lake Biwa catfish that has become a signature attraction of the museum.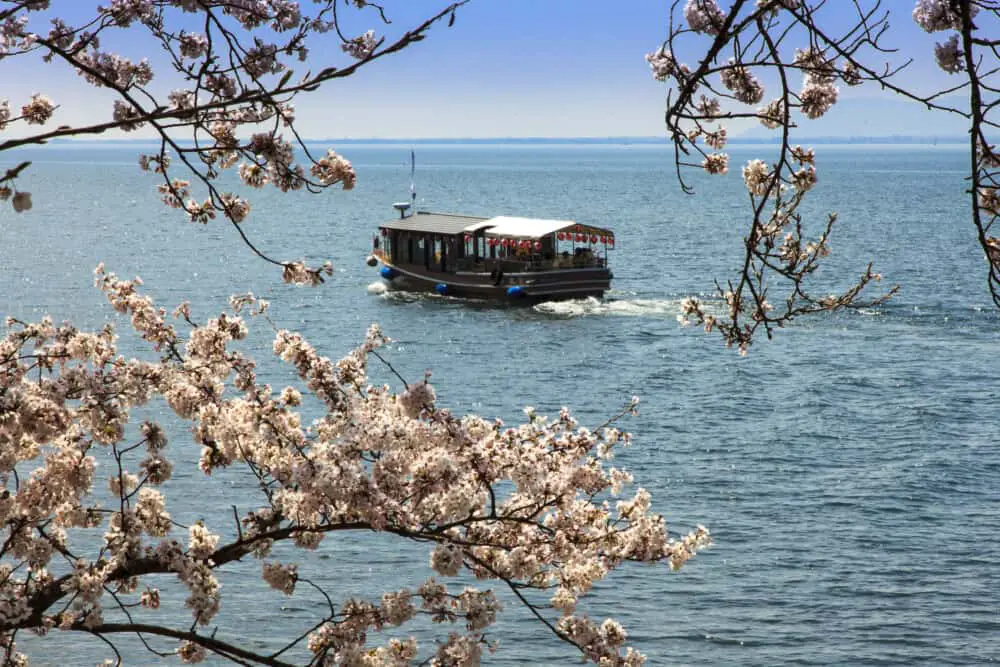 Is Otsu City worth visiting?
Being the capital city of Shiga Prefecture, Otsu City is definitely worth visiting. The city is built around the southern tip of Lake Biwa and hosts many famous temples very close together within walking distance of each other.
Being set by the shores of Lake Biwa, the lake provides the city with a picturesque view, especially when seen from above.
With tourism on the rise to the Shiga Prefecture, Otsu City is quickly adapting to become the next hotspot for tourists – including playing host to various hotels and homestays while still retaining its old-time charm.
Here, you'll find tons of key temples that make Shiga Prefecture a worthy visit including the world-famous Mii-dera and the Umikido of Mangetsu-Ji. So, is Otsu City truly worth visiting? Absolutely, it's a worthy trip that you'll have to make to complete your Shiga Prefecture adventure.
How do I get to Shiga Prefecture?
Thanks to its strategic location, getting to Shiga is almost as easy as finding a ramen restaurant in Japan.
Although the time it takes to arrive in Shiga highly depends on where your starting point is, a trip into the prefecture usually takes between 10 minutes to 3 hours on a train.
This makes the Shiga Prefecture perfect even if you're looking to visit on a day trip, although I'd recommend making the most of your journey here and see the magic of Shiga from dusk till dawn by staying at least one night.
From Kyoto Station
The easiest way to set yourself in Shiga is to start your journey from Kyoto Station.
From there on, simply hop onto a JR from the JR Tokaido Main Line and you'll be in Shiga in just 9 minutes. This trip would set you back between ¥220 to ¥320, but you'll be able to stop in the heart of Otsu City to continue onto your adventure in Shiga immediately.
From Kansai International Airport
Shiga Prefecture is also convenient for tourists looking to visit here from the moment you touchdown in Kansai International Airport.
To do this, you'll only have to catch the JR Airport Express Haruka that takes you on a direct trip from the airport to Otsu City in just 86 minutes.
This trip typically costs between ¥2,700 to ¥4,000, depending on which train class you pick. If you have a JR Rail Pass, you'll be glad to know it's all covered by the pass.
From Tokyo
Visitors hoping to visit Shiga Prefecture from Tokyo may find it cumbersome as there isn't an actual direct link.
This shouldn't stop you from making the trip though, as you could still get there in less than 3 hours.
To make your way to Shiga Prefecture from Tokyo, you'll just need to catch the Shinkansen Kodama towards Kyoto Station. This trip usually takes 2 hours and 15 minutes.
From Kyoto Station, you can then switch to the JR on the JR Tokaido Main Line that takes you to Shiga in 9 minutes.
How to get to Lake Biwa
For first-time visitors, you may be wondering how you can get to Lake Biwa. Well, we've picked out 2 of the most convenient ways you can reach Lake Biwa here:
On the JR Tokaido Main Line
If you're coming to Lake Biwa from Kyoto Station, as above, a trip on the JR Tokaido Main Line will lead you to the Otsu Station where you'll arrive at the southern parts of Lake Biwa.
This is where most tourists will stop as it's the quickest way to marvel at this natural lake.
For an extra touch of adventure, you could also stay on the train and make your way to Hikone Station where you'll arrive on the east side of Lake Biwa.
On the JR Kosei Line to Omimaiko Beach
Set on the western tip of Lake Biwa, the Omimaiko Beach is also a famous summer getaway from most locals and tourists alike.
To make your way to Omimaiko Beach, just hop on the JR Kosei Line that takes you straight to the Omi-Maiko Station in 5 minutes. Here, you'll be able to enjoy a day out on the soft sandy beach and watch the sunset.
Shiga Prefecture Is Underrated!
Hopefully it's clear by now that this area of Japan has so much to offer.
But if you want some more convincing, check out this promotional video for Maibara City. The city was only formed in 2005 and is a cool place that offers a compact experience of what's on offer throughout the prefecture of Shiga.