Shinagawa Station is a deceptively big station in Tokyo. On my first ever visit it was pretty shocking, even though I'd just left the busiest station in the world, Shinagawa still seemed huge to me.
If you're looking to spend some time in the area and you're wondering what to do (be it alone or with company), here's a quick list of the things I recommend you try out. We'll dive into a little more detail later!
Check out the Maxell Aqua Park
Play tennis at the Takanawa Tennis Center
Get a bite to eat in one of the many restaurants near the Konan exit
Take a stroll through Shinagawa Central Garden
Do some window shopping in the Atre Shinagawa Department Store
Visit the bars in the Konan entertainment district
Enjoy the Hara Museum of Contemporary Art
Get nerdy in the Nikon Museum
Enrich your spirit at the Sengakuji Temple
Feel the ancient vibes of the Shinagawa Shrine
Soak up the views from the canal in Tennozu Isle
Slurp up some soul food in Shintatsu Ramen Street
Go west in the Shinagawa Kitchen food court
Get international in Wing Takanawa's restaurants and coffee shops
Devour the fresh sushi in the little known Nigiriya restaurant
Now that the impatient people among you have been served (I'm one of you, so I understand!) let's dive into an overview of the station before moving on to the 15 recommendations and where to find them.
Shinagawa Station
Shinagawa station is a major railway hub in the area of Minato in southern Tokyo.
It was first opened in 1872 and it connects various areas in Tokyo, but you'll also find trains departing to the Izu Peninsula and the Tokai region, as well as cities like Yokohama or Kawasaki.
It's therefore a convenient and popular departure point for various areas in Japan. It connects over 10 popular train lines, including some of the famous Shinkansen bullet trains.
Shinagawa station has become a major travel hub of Southern Tokyo in the last few years, with over 400,000 passengers transiting through the station every year.
It's conveniently signed in English as well as Japanese and it's fairly easy to navigate… However, I did have panic late at night when I couldn't work out which platform to take the last train home from. Thankfully, Japanese people are generally super helpful and kind!
Shinagawa Station has two main entrances/exits, Takanawa and Konan. The trains depart from the two main gates: the North and Central gates.
Major trains departing from Shinawaga Station include
The JR Yamanote Line
The Tokaido Shinkansen (bullet train)
The Keikyu main line to Kawasaki and Yokohama
The Keikyu line to Haneda Aiport
The Yokosuka Line to Narita Airport and Chiba Prefecture
Shinagawa station is also a highway bus terminal for various destinations such as Yokohama, Osaka, Sendai, or Hagi.
I hope the little Shinagawa Station guide below will answer most of your questions about visiting or passing through the area.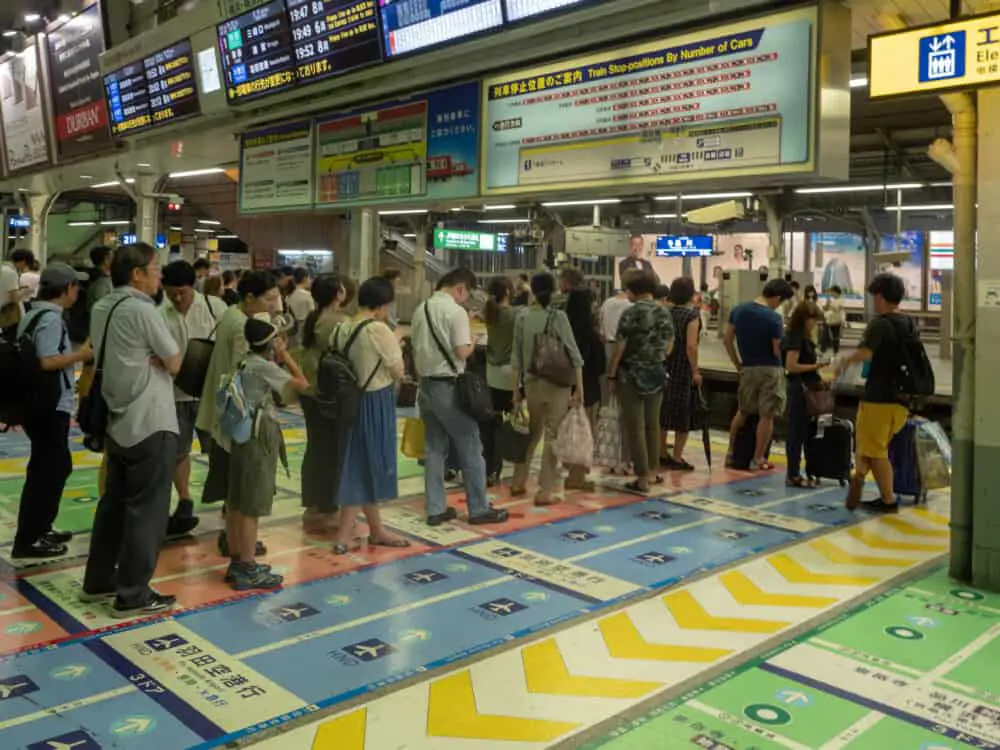 What to see or do near Shinagawa Station?
As it's a popular travel hub, you'll find a lot of hotels, businesses and shops around Shinagawa station.
Whether you have a few hours to kill between trains or you want to spend a day or two in the area, there are plenty of things to do near Shinagawa station for everyone.
The station has two exits, Takanawa exit on the west side and Konan exit on the east.
Shopping and Entertainment near Shinagawa Station
Takanawa Exit
Near the Takanawa exit you will find various hotels and malls.
One of the most popular malls in this area is the Shinagawa Prince Hotel complex, which hosts cinemas, bowling, as well as a pretty popular aquarium.
Only 10 minutes' walk away from the station, the Maxell Aqua Park makes for an interesting few hours and hosts various sea creatures, as well as a dolphin pool where you can see shows etc.
Close by you will find the indoor Takanawa Tennis Center so come rain or shine, you have a place to get active with your friends.
Konan Exit
The Konan exit is located on the East side of Shinagawa station.
Around this area, there are many office buildings such as banks and company headquarters. However, you'll also find there are plenty of restaurants and shops to take a look at.
A popular place to go for a walk is Shinawaga Central Garden, a narrow park that brings a much-welcomed sight of greenery in an area that's otherwise pretty built up.
The Atre Shinagawa Department store is right off the Konan exit and is popular for its clothes shops, cafes and restaurants. It's the usual sight in Japan, big train station = big department store. But either way, you can easily enjoy an hour or so here.
Right off the exit as well you can find the Konan entertainment district with a handful of izakaya (Japanese pub-style restaurants), a great teppanyaki restaurant (where they cook your food on a hot plate) called MADOY, and a ton of other stuff. It's a great little corner of the city where you could enjoy an entire evening.
On Sundays, a popular flea market takes place in the Shinagawa Intercity building complex, where there are dozens of stalls and mountains of treasures to be found.
Finally, if you just want to talk a walk and enjoy the view, the seafront is only about 2 km away.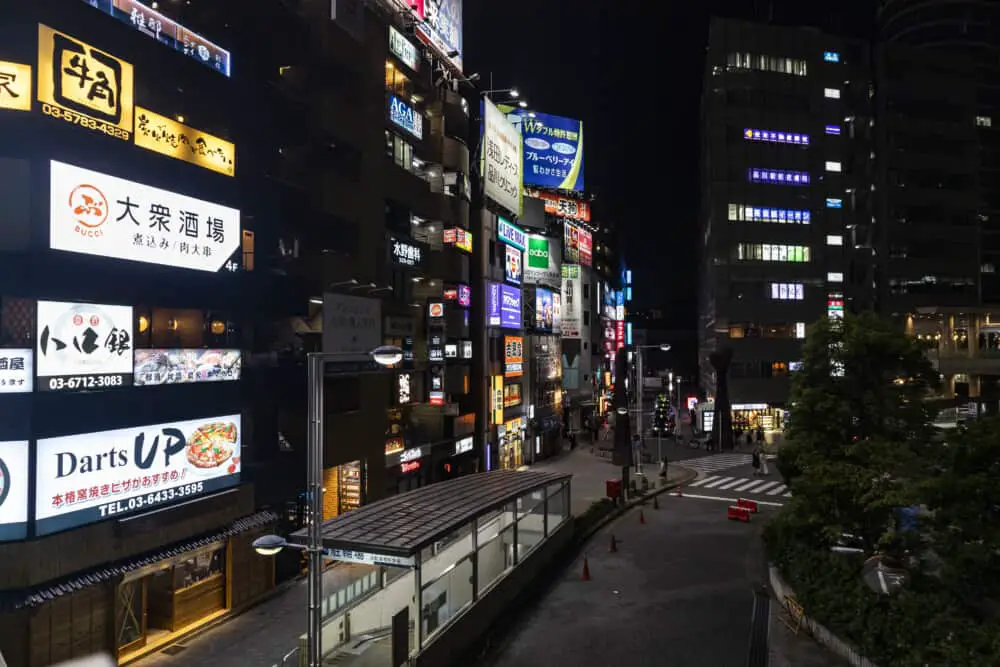 Cultural points of interest near Shinagawa station
There are plenty of interesting monuments and places to visit near the station if you wish to learn more about Japanese culture or even just take a walk a bit further away from the station.
There are a few museums nearby including the Hara Museum of Contemporary art, hosted in a building built in the 1930s near the Takanawa exit. You can also visit the Nikon museum, dedicated to Nikon cameras, in Tower C of the Shinagawa Intercity building complex.
I've never actually been to the Nikon museum, but I've only heard good things from people who've visited… When I finally get around to going, I'll update you on if it was worth it!
A bit further away from Shinagawa Station, about a 15 minute walk towards the North, will take you to Sengakuji Temple. This Buddhist temple is famous as the resting place of 47 samurai known as Ako-Gishi.
If you enjoy Japanese history, you can read more about the Chushingura story that is popular in Kabuki theaters productions as well as films and more.
Another popular monument to visit is Shinagawa Shrine, founded in 1187 and it's one of Tokyo's ten shrines.
The ten shrines were appointed by Emperor Meiji as symbols of a new era.
Shinagawa Shrine is famous for its elaborate carvings around its gates. To visit the shrine, you will need to walk around 15 minutes towards the south from the station.
Tennozu Isle is another place that is only a short 15 minute walk away. This small artificial island is a nice neighborhood to enjoy on sunny days, and it also has a nice park. On this small island, Bond Street is a spot you do not want to miss and a great spot for photos: this 200m road is home to lots of street art and graffiti can be admired.
If you have a bit more time to explore and want to do something different, with an hour train ride from Shinagawa station you can reach Wakasu seaside park, overlooking the water.
This park has camping and barbeque facilities, as well as playgrounds, bicycle rentals, and other various entertainment facilities. It can make for a great day trip from Shinagawa station.
Where to eat around Shinagawa Station?
As a popular travel hub and business district, there are plenty of choices to eat around Shinagawa station for every budget.
Japanese ramen is celebrated in Shinatastu Ramen street near Takanawa exit. You'll find plenty of small restaurants serving various styles of ramen such as tsukemen (dipping-style ramen),miso or tantanmen.
Tantanmen is essentially Korean-style ramen which is usually pretty spicy, but it's delicious. After tonkotsu ramen, it's my favorite style. Near Shinagawa Station, I recommend you try out Ramen Fujin if you want to experiment with it!
Within the Shinagawa Prince Hotel complex, you can find the popular Shinagawa Kitchen food court. There are plenty of cuisines to choose from here, including Western-style food, curry dishes, ramen and more.
Also from Takanawa exit, you can easily reach a mall named Wing Takanawa. It's great for shopping but also has a wide range of dining options: various types of Japanese cuisine but also Thai, Italian or Korean restaurants, as well as plenty of coffee shops and cafes.
A very popular restaurant close to Takanawa exit is Singapore Seafood Republic, that offers local cuisine from Singapore.
On the other side of the Shinagawa station, using the Konan exit you can access the popular Atre mall. The 4th floor hosts several great restaurants, including the popular Grand Central Oyster Bar.
For sushi lovers, the area has several restaurants, including the popular Kura Sushi or Mameda restaurants.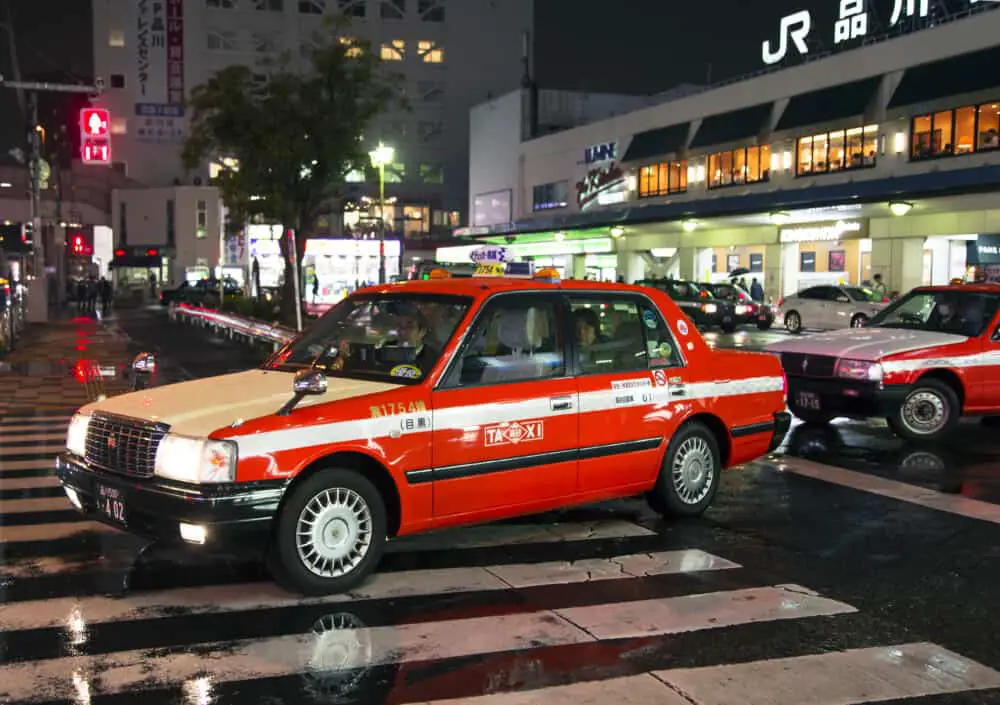 Where to stay near Shinagawa station?
There are dozens of options for you to stay in the area and you'll find plenty of hotels nearby.
If you are on a budget, I recommend taking a look at the FLEXSTAY INN (link to Booking.com). It's a really basic, clean hotel and it's reasonably priced most of the year round.
If you want to treat yourself, InterContinental the Strings (link to Booking.com)just outside of the station is a great option, as well as the Grand Prince Hotel Takanawa. I'll warn you though, expensive hotel rooms in Japan aren't quite as luxurious as in other countries… For the price you pay, they usually feel pretty small compared to what you're used to!
I usually just stick to regular business hotels for that reason.
How to access Shinagawa station from Haneda or Narita airport?
From Narita airport, you can get to Shinagawa Station pretty easily. The Narita Express trains run every 30 to 60 minutes all day and are the fastest way to reach the station. The ride will take around one hour.
You can also use the bus services available at Narita airport, although this will take a bit longer.
From Haneda airport, you can also get to Shinagawa station easily by using the Keikyu line that connects the airport to the station within 15 minutes.
The trains run all day long and you can easily buy your tickets from the vending machines before the boarding gates. There are also bus services running between Haneda Airport and Shinagawa Station.
A little tip if you're nervous or stressed about using trains in Japan. Don't worry about getting the ticket price exactly right at the machine. As long as you know you're heading in the right direction, pay the minimum amount and use the ticket correction machines when you arrive at your destination.
Learning that little trick saved me so much stress in the beginning!
Another option is to buy a PASMO or Suica IC card and top it up at the machines, that way you never have to worry about tickets.
You can buy the PASMO card at Narita Airport Terminal 1's information center, as well as the information center in both Terminals 2 and 3.
As for Haneda Airport, you can buy the PASMO in the Keikyu Tourist Information Center of Terminal 3.
For more details about how to buy them, as well as floor plans for each airport, check out the official PASMO website where I found this information.
From both airports, you'll have no problem finding a taxi, although the cost of taxis in Japan is much higher than using trains.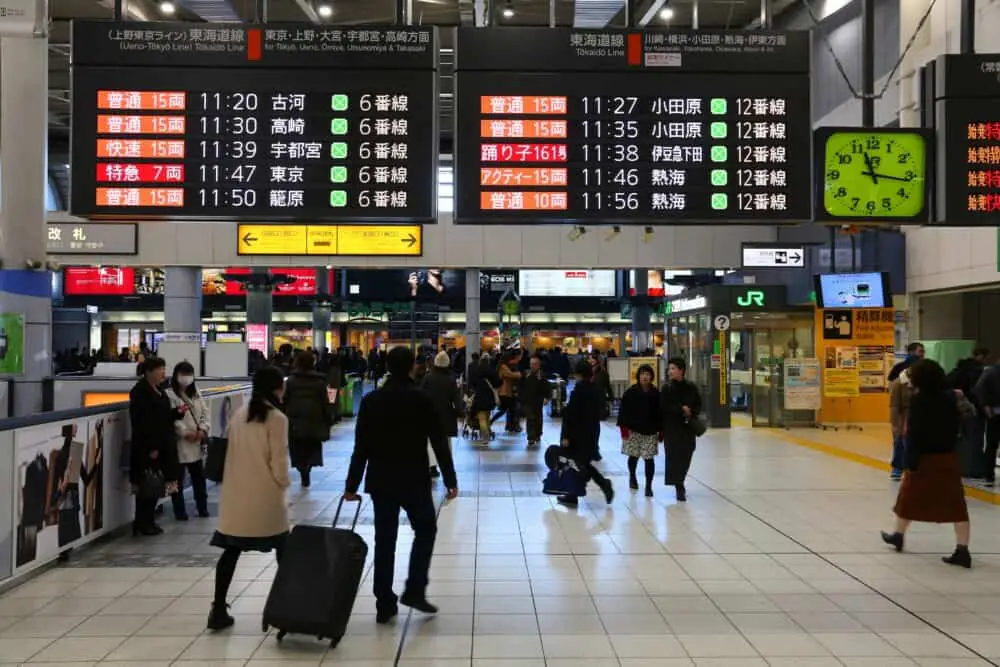 How to access Shinagawa station from central Tokyo?
If you are looking to reach Shinagawa Station from other areas in Tokyo, you have several options.
From Tokyo Station you can use the JR Yamanote Line or Keihin-Tohoku line.
From Shinjuku station you can reach Shinagawa station with the JR Yamanote Line.
Shinagawa station doesn't have a subway stop from Tokyo's network. The closest subway station is Sengakuji (A07 code on Tokyo's subway) on the Asakusa line, which is about a 12 minutes' walk away from Shinagawa station.
You'll find various local bus stops outside the Takanawa exit, though and Shinagawa is served pretty well by buses.
Can you buy Shinkansen tickets at Shinagawa Station?
Yes, you can buy Shinkansen tickets at Shinagawa Station from any one of the three JR ticket offices in the station. One ticket office is opposite the central gate and the other two are on the north and south sides of the Tokaido Shinkansen train station.
If you use decide to use the ever-popular Japan Rail Pass to travel all over Japan (link to JRpass.com), you need to be aware that as stated on the JapanRailPass website, the Nozomi or Mizuho trains are not accessible using the JR pass. This has never been an issue for me and I highly recommend checking them out here and getting one if it makes sense with your itinerary!
Can you store luggage at Shinagawa station?
Yes, there are two locations in the station that offer coin lockers of various sizes. The bigger-sized lockers can fit large suitcases so you can safely store your items while you explore the city.
One is located along the walls inside the North Gate and the other one is at the end of Ecute Mall inside the Central Gate.
You can use the lockers with coins or prepaid transport cards.
Most of the locker facilities around Tokyo have instructions panels available in English, so you can easily follow the instructions on the machine to secure your locker.
Other facilities at Shinagawa station
Wifi is available through various hotspots in Shinagawa station. You will simply need to register, usually with an email address.
Be aware however that on some of these free hotspots throughout Japan, your connection time might be limited… Although sometimes you just have to sign back in after the 30 minutes is up.
You can also use the cafes and restaurants available in the station, such as Starbucks which will have free wifi.
Other facilities that are available in Shinagawa station include various ATMs, money changers, a nursery, a lost and found office, and of course various restaurants and shopping facilities.
If there's anything you think I missed here or anything you want to add, leave me a comment and I'll get back to you ASAP!