Shirakawa-go, meaning White River Old District is a popular village set in the Gifu prefecture of Central Japan. It features traditional thatched houses called the Gassho-Zukuri that are believed to have been built in the late 17th century.
Inspired by the build of the steep roofs, Gassho-Zukuri means "constructed like hands in prayer" as the locals believe that these homes resemble how Buddhist monks put their hands together when praying. In 1995, the Gassho-Zukuri houses were officially added to the UNESCO World Heritage list for their history and uniqueness.
The best time to visit Shirakawa-go is in autumn. This time of year is perfect as the temperature isn't hot and the village isn't too busy. The locals also hold festivals during fall so there are always activities to do for people of all ages.
Of late, Shirakawa-go earned a name for itself thanks to its picturesque sights with lush greenery and mountains surrounding the narrow streets of the village. They're also famously known for their acres of rice paddy fields, all of which fully grow in between spring and summer.
At Shirakawa-go, the locals lead a quaint and quiet lifestyle, creating a relaxing atmosphere for the tourists who visit.
It's the ideal vacation spot if you're looking to escape the regular hustle and bustle of city life and perhaps stay for a few days to recharge your soul before heading out again.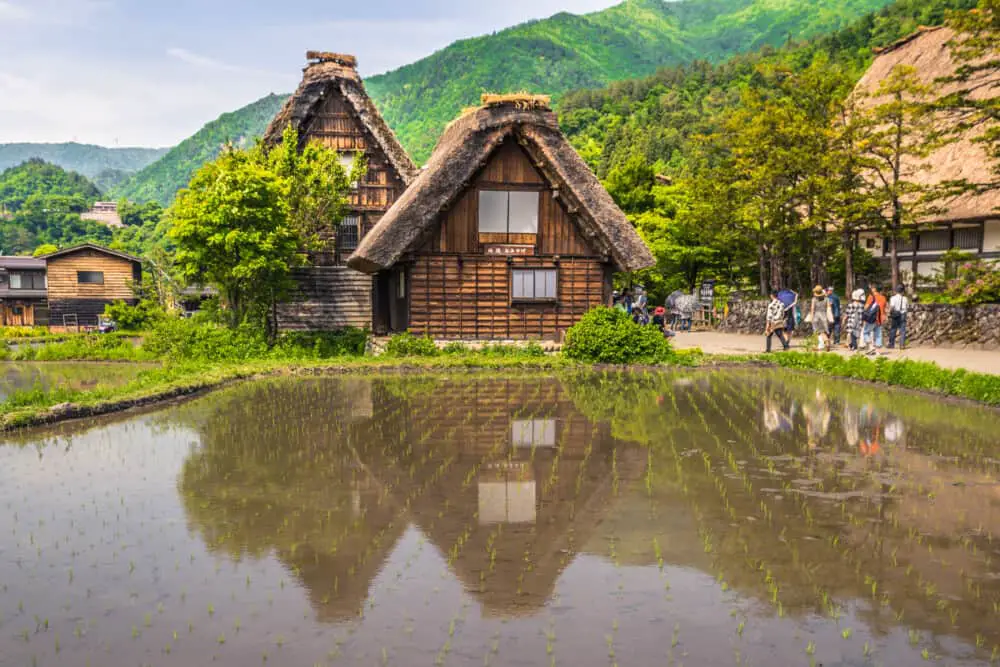 How do I get to Shirakawa-go?
Despite its countryside location, making your way to Shirakawa-go isn't too difficult.
Depending on where you're coming from, a trip to Shirakawa-go would typically take between 1 to 3 hours. This makes the village an ideal stop to visit even if you're just looking for a day trip, although there are plenty of guesthouses and inns that would welcome you for a night's stay.
From Tokyo
If you're heading to Shirakawa-go from Tokyo, the easiest way is to hop on the Hokuriku Shinkansen that takes you to Toyama for ¥13,000 per way. This journey will take approximately 150 minutes.
Once you've arrived at the Toyama station, you can then transfer to a bus that will take you to Shirakawa-go for ¥1,730 per way. This ride will take approximately 90 minutes and stops in the heart of the village.
From Kanazawa
A journey from Kanazawa to Shirakawa-go only takes 75 minutes via the hourly highway buses from the Nohi and Hokutetsu Bus operators.
Each of these rides would cost ¥2,000 for a one-way ticket, or a round trip ticket for ¥3,600. You may however have to pre-book your tickets as seats are numbered and limited.
From Kyoto
To make your way to Shirakawa-go from Kyoto, you will have to first make your way to Kanazawa. The JR Thunderbird takes you from Kyoto to Kanazawa in 2 hours and costs between ¥6,490 to ¥7,000 per way.
However, if you have a Japan Rail Pass, these costs are fully covered by the pass. From there, you'll just have to hop on the highway buses and be whisked away to Shirakawa-go in 75 minutes.
From Osaka
While there are no direct ways for you to reach Shirakawa-go from Osaka, a quick transfer at Kanazawa will take you there. To kick-start this journey, you'll just have to take the JR Thunderbird for approximately 2.5 hours from Osaka to Kanazawa.
This ride will cost between ¥7,260 to ¥7,500 but is completely covered by the Japan Rail Pass if you are a pass holder. Once you have arrived Kanazawa, simply take the highway buses that leave every hour and you'll be in Shirakawa-go in the next 75 minutes.
What's the best time to visit Shirakawa-go?
With Shirakawa-go, there isn't a specific "best time" to visit as it's beautiful year-round. Instead, you might want to plan your vacation around what you would most like to see when visiting. Here's what you can expect to see across the seasons in Shirakawa-go:
Spring: Spring in Japan typically stretches across March to May. It is one of Japan's most popular seasons as you'll be able to catch the cherry blossoms in full bloom. Pack up for a picnic and enjoy a session of "hanami" or flower viewing as the locals do at the local park. You'll also be able to visit the rice paddy fields in full growth and watch as rice harvesting takes place.
Summer: Come summer in June to August, you'll be welcomed to Shirakawa-go through its lusciously green trees that line the streets. With warmer temperatures and blooming flowers, a summer in Shirakawa-go is ideal for anyone looking to spend their days in the sun.
Fall: Between September to November, you'll get to watch as the leaves turn into a bright golden-yellow. Streets will be lined with fallen leaves, and festivals crowd the public parks around. In my opinion, you'll get to experience Shirakawa-go at its best as it isn't too hot or too cold for a town walkabout.
Winter: In the winter, snow blankets the villages and sights of Shirakawa-go, turning the village into an unforgettable winter wonderland. As temperatures dip between December to February, you'll also see rivers freeze so it's best to tread the streets with care.
If you're looking to explore the village with other tourists, the months of May, August, September, and October are the most popular.
The village is however open year-round, so if you're looking to avoid the crowd, you should make your plans away from those months.
What to wear when visiting Shirakawa-go?
As the seasons change, so does the fashion in Shirakawa-go.
Typically, I would always encourage you to dress comfortably and bring along a light jacket in case of rain.
The only exception to Shirakawa-go's fashion happens in winter when the temperature can dip below zero. I recommend that you bring along a thick, wind, and rainproof jacket if you're visiting between the months of December to February.
Snowfall is also expected across the village in winter, and this could cause slippery road conditions for first-time visitors. To avoid any unwanted accidents, it's best to bring along shoes or boots with good grip that could keep your feet warm.
Where do I stay in Shirakawa-go?
Thanks to its fame as a tourist attraction, more and more homes at Shirakawa-go have since been transformed into places you can stay at. One of the best experiences that I can recommend is to book a night (or two!) at any of the Gassho-Zukuri homes in the village.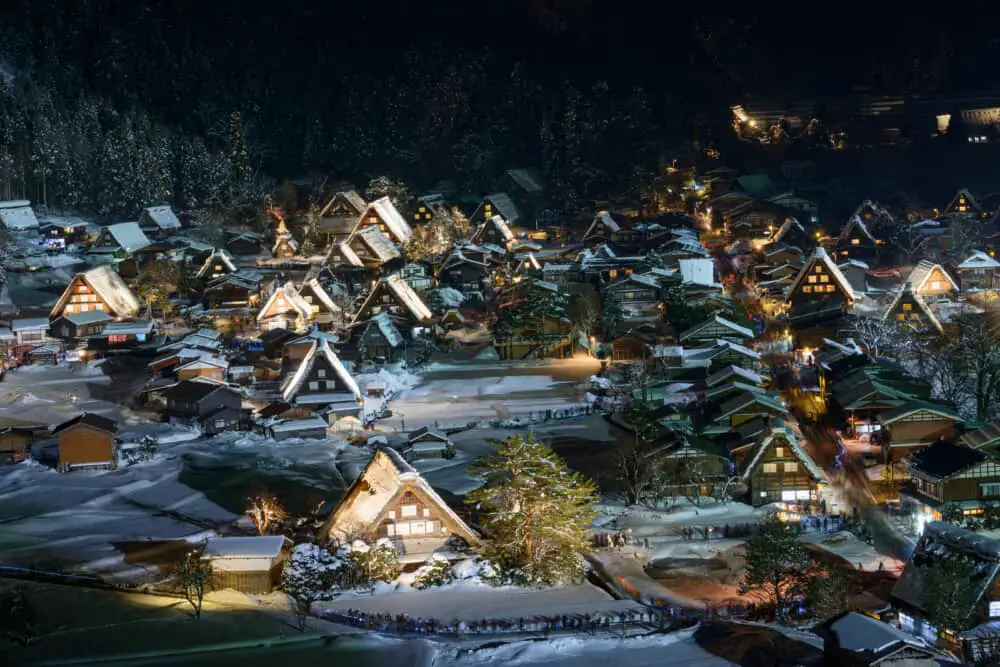 Gassho-Zukuri
Many of the Gassho-Zukuri houses around Shirakawa-go are now family-run minshukus or hostels. Through a night's stay, you'll get to experience life as the locals do such as sleeping on futons at night and sitting on tatami mats in the day.
You may have to share the bathrooms and toilets with the other guests or even the hosts, but the experience is as authentic as it gets.
Most stays would also include a specially prepared Japanese dinner and breakfast, made with locally sourced ingredients according to what's fresh for the season. Prices are usually charged per person and can start from $75 and up, depending on your host for the night.
Tousukenoyu Fujiya
Tousukenoyu Fujiya is a traditional guesthouse located in the heart of the village.
There are 3 different room types to pick from including a large room to accommodate family stays.
Down by the bath, you'll be pampered by the natural sulfurous hot springs that flow into a Japanese cypress tub.
If you prefer something a little more private, a personal open air-bath area can be arranged with the guesthouse staff.
With room rates starting from $180 a night, Tousukenoyu Fujiya is a guesthouse that promises a peaceful stay with an unforgettable Japanese atmosphere.
Shirakawa-go no Yu
If you're looking to further relax and unwind during your visit to Shirakawa-go, why not book yourself a stay at the local hot spring inn?
Shirakawa-go no Yu is a bathhouse and inn that's located in the world heritage area for your convenience. Featuring tastefully designed rooms, Shirakawa-go no Yu dons heaps of cypress wood for a relaxing atmosphere inside and out of the inn.
Day visits are also available at Shirakawa-go no Yu, so you may occasionally bump into non-residents while you're out and about.
A stay at Shirakawa-go no yu starts from $100, although you may have to pre-book your stay months ahead as they have limited rooms available.
Shiroyamakan
Established in 1884, Shiroyamakan is slated as one of Japan's most important historical buildings.
Owned by locals of Shirakawa-go, there is a limit of 4 groups per night at the Shiroyamakan Inn so you can rest easy with little disturbance.
Down by the basement, guests would also be pampered by the naturally clear spring water accessible through the year.
A night's stay at Shiroyamakan typically starts from $180.
Ant Hut
Ant Hut is the perfect spot if you're looking to travel on a budget. With rooms starting from $36 a night, you'll be provided with necessities such as complimentary toiletries and WiFi across the whole guesthouse.
Do note however that you may have to share the bathrooms and toilets with the other guests who are staying the night.
If you need any tips on making the most out of your trip to Shirakawa-go, feel free to ask the friendly staff.
What is there to see or do in Shirakawa-go?
Although it is located far out from the bustling cities such as Tokyo or Osaka, Shirakawa-go still features an abundance of places to see and things to do.
With its laid-back vibes and old-time charm, Shirakawa-go is one village in Japan you need to have on your list of the next place to visit in Japan.
Tourist Information Center
For first-time visitors, you'll want to visit the Shirakawa-go Tourist Information Center for insider tips on the village.
Finding it is easy, as you'll simply have to spot the Gassho-Zukuri house that's located beyond the river past Shirakawa Kaido Street.
Here, you'll be able to learn more about the history of Shirakawa-go and seek help if you need any.
Shirakawa Kaido Street
The Shirakawa Kaido Street is a tourist haven with souvenir shops aplenty.
If you're feeling hungry, there are also make-shift stalls along the street offering local snacks prepared fresh daily. I especially recommend the Hida beef skewer if you come across it, as you'll be treated to a melt-in-your-mouth beef skewer for approximately ¥500. This is thanks to Hida beef's naturally high-fat content, allowing for an unforgettable meal when you arrive at Shirakawa-go.
The Shirakawa Kaido Street is also known as the main street, making it a good meet up point for visitors in case anyone is lost. At the end of the street, you'll find the public hot spring in the Shirakawago no Yu.
Gassho-zukuri Minkaen
The Gassho-zukuri Minkaen is an open-air museum capturing the life and times of locals who lived in Shirakawa-go in the past. It features a total of 26 buildings within the space, with 9 of the buildings being listed as an important cultural asset to the Gifu prefecture.
Here, visitors would be taken through a historic journey of ancient Japan while being cradled in a relaxing natural environment.
A watermill, shrine, and temple hall can also be found nestled within the Gassho-zukuri Minkaen. If you're feeling tired, then be sure to drop by the soba restaurant offering hand-made soba within the museum or pop into any of the shops within the open-air museum to bring home a souvenir or 2.
A small fee is required per entry, with discounted tickets available for children.
Shiroyama Viewpoint
Located north of the village center, the Shiroyama Viewpoint offers a bird's eye view of the Shirakawa-go village and its farmhouses.
The entrance to the viewpoint on a regular day is free. During the special Shirakawa-go Winter Light-Up event, however, visitors will have to pay ¥1,000 per person and pre-book their spot at the Shiroyama Viewpoint.
This is to prevent overcrowding and to provide visitors with the best experience possible.
The Shiroyama Viewpoint is reachable on foot via a trail up 15 to 20 minutes from the village center.
Subsequently, you may hop on a shuttle bus that stops by the Wada-ke House, although you'll be expected to pay a small fee to do so.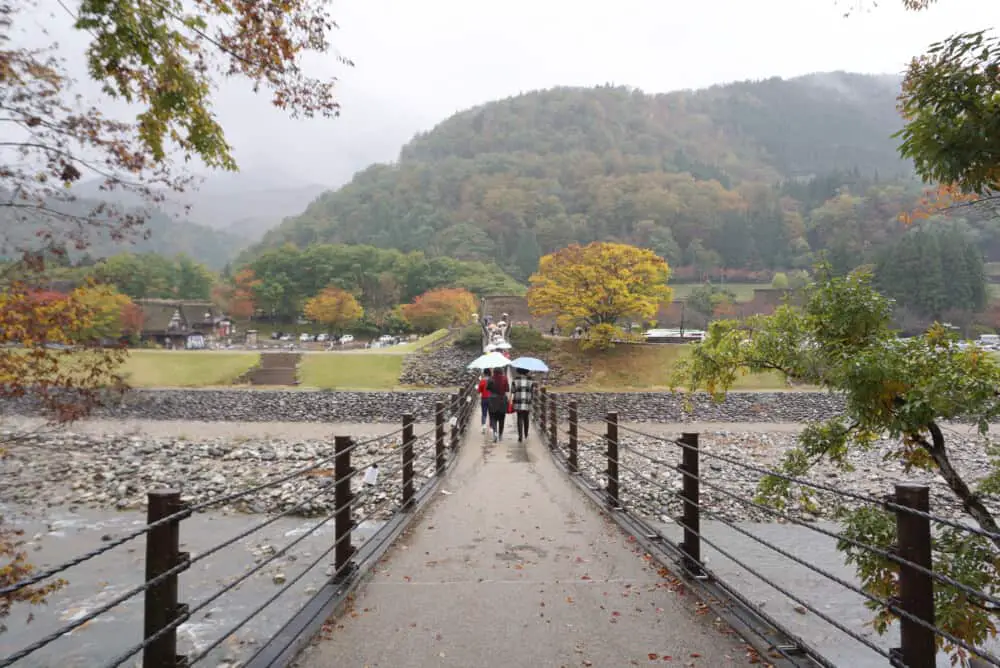 Wada-ke House
The Wada-ke House is the largest Gassho-Zukuri there is in Shirakawa-go and once belonged to the Wada family.
Inside, you'll be able to see the life that the Wada family had once led, with the original fittings of this Japanese home still in one piece.
There is a ¥300 entrance fee per person and the house is reachable through a shuttle bus that starts from the village center.
Myozenji Temple and House
If you're interested in immersing yourself in the culture of Shirakawa-go, then the Myozenji Temple and House is a spot you can't miss.
Unlike regular temples with tiled roofs, the Myozenji Temple features a thatched roof, much like the Gassho-Zukuri around the village.
Next to the temple, you'll also find the Myozenji-ke farmhouse that doubles as the priest's home.
A small fee is required to enter the temple and farmhouse, with much of the proceeds being used for the upkeep of the establishment.
Mount Haku
For anyone feeling particularly adventurous, you could consider a hike up Mount Haku. Also known as Hakusan to the locals, Mount Haku is a volcano offering beautiful views of the region.
Open for hikes year-round except in Winter, a hike up to the summit of Mount Haku regularly takes 7 hours up and down and is a satisfying way to add some extra excitement to your trip in Shirakawa-go.
Hanging out on a volcano is something that freaks me out, but it's hard to experience for most people outside of Japan so why not give it a shot?
Winter special: Shirakawa-go Winter Light-Up
For visitors dropping by Shirakawa-go in the winter, watching the Shirakawa-go Winter Light-Up is a must-do.
Happening on selected Sunday and Monday evenings, this light-up event sees most of the village's Gassho-Zukuri lit from 5.30 pm to 7.30 pm.
Amid the snow background, this winter light-up creates a postcard-perfect view for tourists to remember the village by.
As the light-up event has become increasingly popular over the years, it's recommended that you pre-book your visit to ensure your spot in entering the village. This is as the locals wish to control the number of visitors in the village, allowing for a safer and better experience for everyone.
Top 10 things to buy in Shirakawa-go
Aside from picturesque places to visit, Shirakawa-go is also home to numerous handcrafts that make for a great souvenir.
You can often see them available for sale in gift shops that line the streets of Shirakawa-go's villages.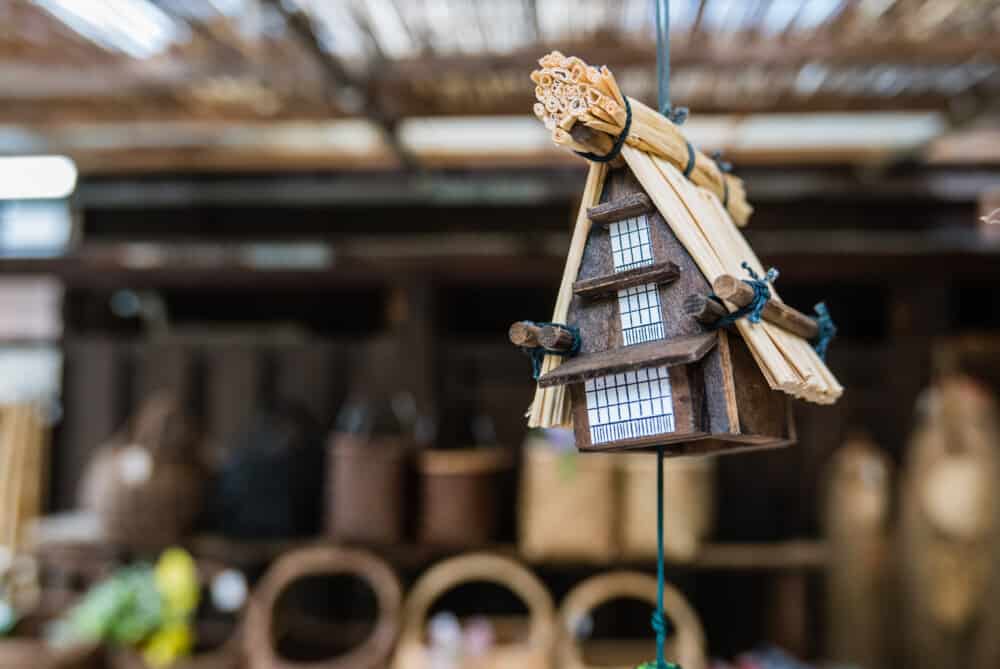 In case you need a guide on what's available to buy however, here are some of my top picks on what to buy in Shirakawa-go:
Ota-san-chi no Soba: Loosely translated as Mr. Ota's buckwheat noodles, these noodles are made with buckwheat grown from the village itself. They're mixed with plain flour sourced from Japan before being packaged beautifully, making them an ideal gift from your time at Shirakawa-go.
Rice flour waffles: Waffles from Shirakawa-go are made using a type of rice flour called the Koshihikari rice flour and are freshly baked by hand daily. They complement well with a scoop of ice-cream or with a cup of freshly brewed coffee.
Yuigokoro sake: While there isn't a sake brewery located in Shirakawa-go itself, the Yuigokoro sake prepared in Hida City is actually made from sake rice and spring water sourced from the village. It's smooth to taste and easy to drink, making it an ideal starter's sake for anyone looking to begin their journey of sake enjoyment.
Shirakawa-go Yamitsuki Noko Cheesecake "Yui": The cheesecake from Shirakawa-go is truly a community effort as it's a product created after months of testing and feedback from the locals. The result is a rich and moist cheesecake and the Japanese character "Yui" that brands the product represents the relationship of the locals helping each other.
Shiso Monaka: The shiso monaka or perilla wafer cake is a dessert that boasts a history of over 50 years. It features rice wafers made locally sandwiching a red bean paste with perilla leave kneaded inside, making it a unique dessert that every tourist should try.
Onkochishin.com Handicrafts: These handicrafts are said to have been a Shirakawa-go tradition, featuring weaving and handicraft techniques from the Edo era. Items such as flowers recreated from old kimono cloth and other everyday life necessities make these handicrafts worthy of a purchase.
Tofu: Made by soaking beans and allowing them to harden, there are various popular renditions of tofu that you can bring home from Shirakawa-go. These include the Ishi Tofu that is ideal for soups, Shirakawa Gassho Age or fried tofu that can be eaten as is and the Miyama Komo Tofu that is boiled using an old recipe seasoned with a secret seasoning.
The Woodwork of Kokichi Hori: Made by a local of Shirakawa-go, these woodwork handicrafts are made with strong woods that are native to the village. Bring home a piece for your display, or if you'd like, they also make for a great souvenir to your family and friends.
Hida Shirakawa-go Specialty Rice Ramen Noodles: Bring home a taste of Shirakawa-go with you with these locally produced rice ramen noodles. Made with fresh Shirakawa rice from the rice paddies and water sourced from Mt. Hakusan, these rice ramen noodles are gluten-free and chewy to bite when prepared properly.
Shirakawa-go Emaki: Available across the village, these traditional postcards feature paintings by artists born and raised in Shirakawago. They make great reminders of your escapade at Shirakawago or if you'd like, you can even mail them home from the local post office that's set in the heart of the village.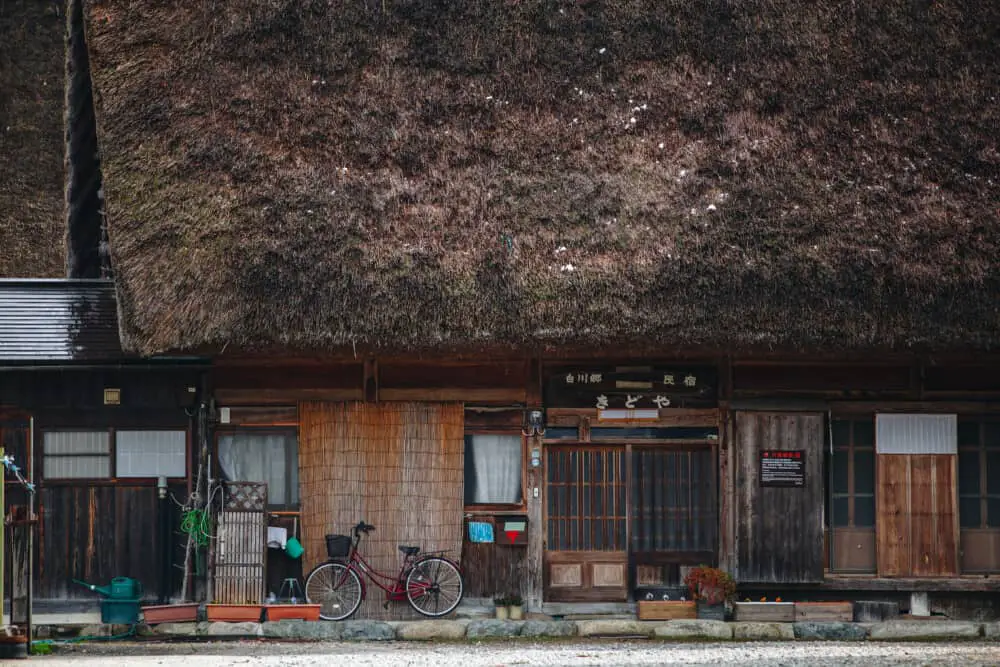 So, is Shirakawa-go worth visiting?
With lots to do, tons to eat, and much more to see, Shirakawa-go of the Gifu prefecture is definitely a place worth visiting. While the commute into the village may feel long, you'll be treated to picturesque and unrivaled views along your way.
If you're not keen to stay the night, Shirakawa-go is also an ideal spot to spend your day although you may have to be extra picky on the attractions you want to see.
If you feel uncomfortable traveling alone into the village, you could always hire a tour guide who could provide you plenty more insider tips to enjoy the legendary Shirakawa-go.