Takayama, or as it's often referred to – Hida-Takayama (as there are other places named Takayama as well) is a city located in Japan's Gifu Prefecture, in the mountainous Hida region.
While not as popular a destination spot as large Japanese cities Tokyo and Osaka, Takayama has been steadily becoming more and more popular among international travelers, especially those who've already visited Japan once or twice and experienced what larger cities have to offer.
What makes Hida-Takayama so alluring is the historical touch it has maintained throughout the years. Many of the wooden buildings in the town are between two and three centuries old, making it seem like you're taking a trip through time, especially when visiting Takayama's excellently preserved Old Town.
Visiting Takayama, especially in winter, is for those of you who wish to truly relax and de-stress, enjoying the rare tranquility only a small rural mountainous town can offer.
In fact, winter is a perfectly fine time to visit Takayama – despite the mountainous location, the weather here tends to be more forgiving than most expect, the temperature fluctuating between 37 and 51 degrees (Fahrenheit) on average.
Nights are usually on the cold side, but during the daytime, the weather generally tends to be nice.
Takayama does have a predisposition for heavy snow, so if you're not a fan of it, maybe you should plan your visit for around the warmer months (October or April would be more optimal since summers in Takayama tend to be hot), but if a little snow doesn't scare you… Experiencing Takayama during winter-time is a wonderful decision.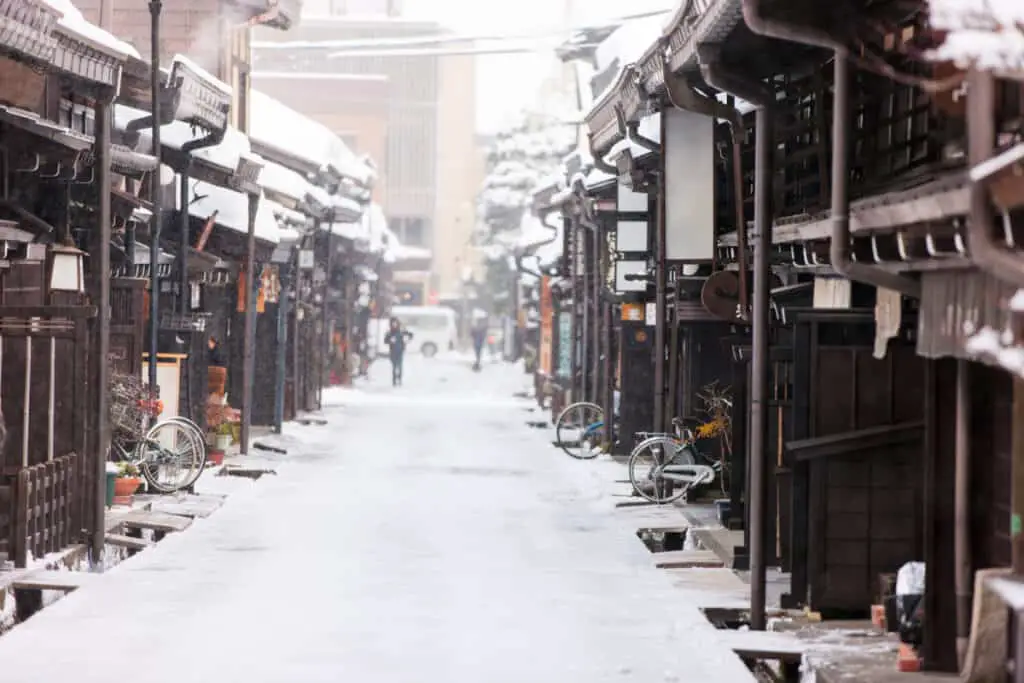 Here are some things you should most definitely do if you've decided to visit Takayama in winter:
1. Take a Stroll Through the Streets
The main allure of Takayama is its atmosphere. And the magic of its atmosphere only seems to amplify in winter.
Taking a walk through Takayama's streets, especially when they're covered in snow is an experience like no other. It literally feels like you've been magically transported to a world drawn on a Christmas card!
(Don't forget to stop and take a pic at the famous red bridge while you're at it).
2. Visit the Old Town
It doesn't actually matter what time of year you visit Takayama – in summer or in winter – visiting the Old Town is a must as long as you're in the vicinity.
Standing in the old town feels like you've suddenly fallen through a time portal and woken up in 18th or 19th century Japan.
The buildings – many of which are around 300 years old – have been preserved with such love and diligence that it seems like they've only been around for a few years.
Amplifying this feeling is the fact that while Takayama's popularity has been increasing from year to year, it's still not overrun by tourists as large Japanese cities tend to be these days – and the number of tourists is even lesser in winter-time.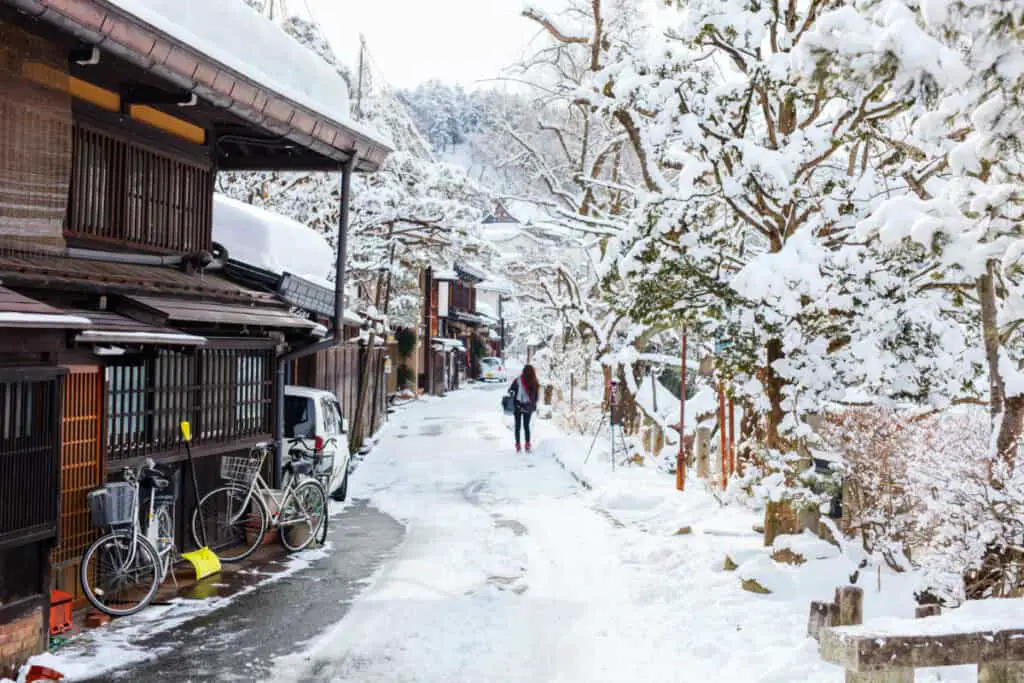 3. Have (Late) Breakfast on Sannomachi Street
One of the most beautiful and authentic (though that doesn't say much, since all of Takayama's Old Town is pretty authentic) areas of the entire town is Sannomachi Street – a place which offers visitors a vast choice of a past time: visit little shops, take some pictures of beautifully preserved old-style homes, visit a sake brewery, and – last but not least – have a delicious breakfast.
And if you're having breakfast on Sannomachi Street then you should definitely try some Hida beef at least in some way.
When it comes to Japanese beef, you've definitely heard of Kobe – but not Hida… This is a shame, since Hida beef is by no means lesser in quality or taste, and in Takayama, they certainly know how to impress a visitor!
Restaurants in the area offer a variety of dishes, starting from simple buns – and finishing with a variety of sushi.
But keep in mind that most shops and restaurants located in the Old Town don't open until around 10 AM – and Sannomachi street eateries are no exception.
So if you're an early bird you might have to plan breakfast somewhere else and visit the Old Town eateries for lunch… But be sure to check it out!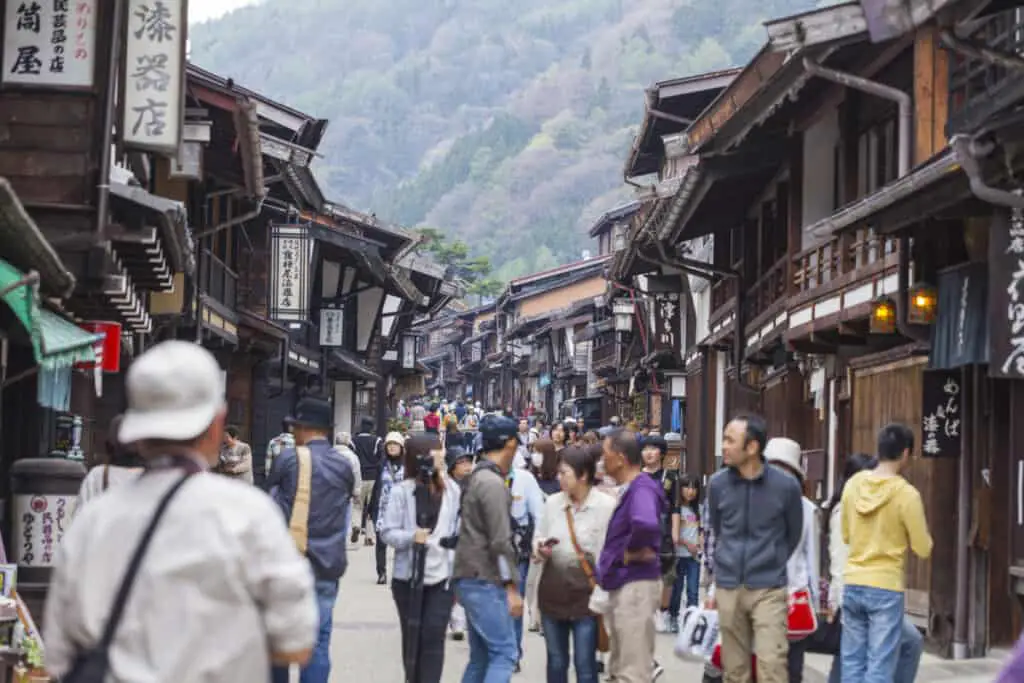 4. Try Local Food
While we're still on the subject of food – Hida beef is not the only specialty Takayama has to offer.
Despite being a mountainous town, Takayama offers visitors a wonderful choice of fresh fish and seafood, which they receive daily from Toyama prefecture.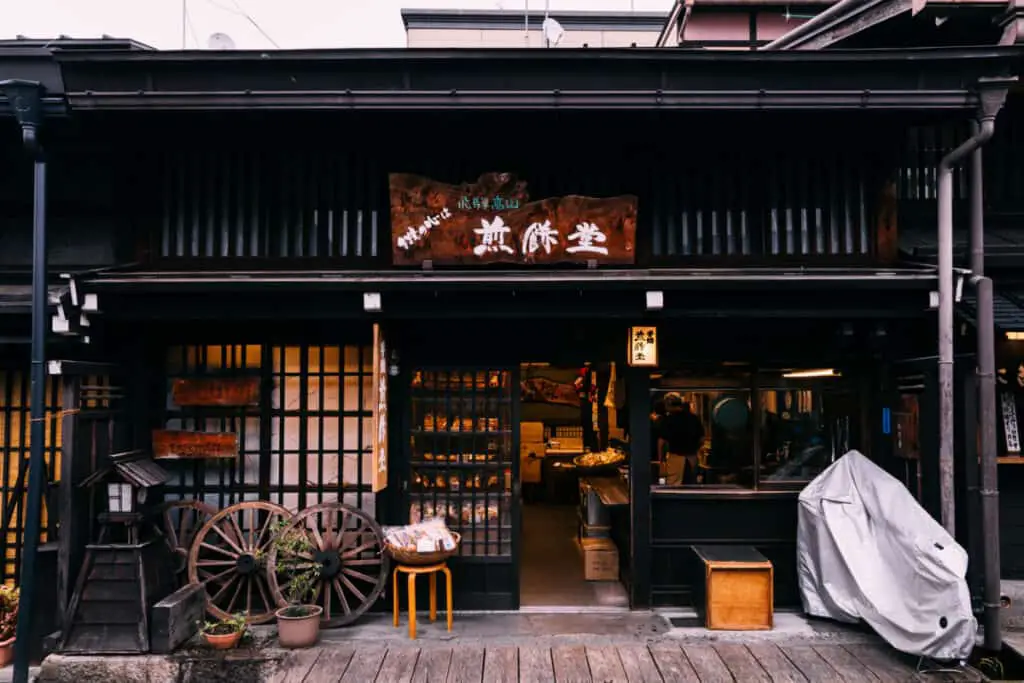 5. Visit Sakurayama Hachimangu Shrine
Sakurayama Hachimangu Shrine is the oldest shrine in Takayama, with its origin dating back to the 4th century.
Like most historic buildings in Takayama, this small wooden shrine has also been excellently preserved, essentially looking brand new – and carrying an atmosphere that is undeniably old.
While the shrine grounds are not as lively in winter as in autumn (the shrine is famous for its October festival), it has a different allure this time of year.
Try to visit the shrine after it has just snowed – the picture of the small shrine covered in snow and surrounded by giant trees (also covered in snow), is nothing short of magical.
If shrines are your thing, check out my post on what makes Kyoto so special here.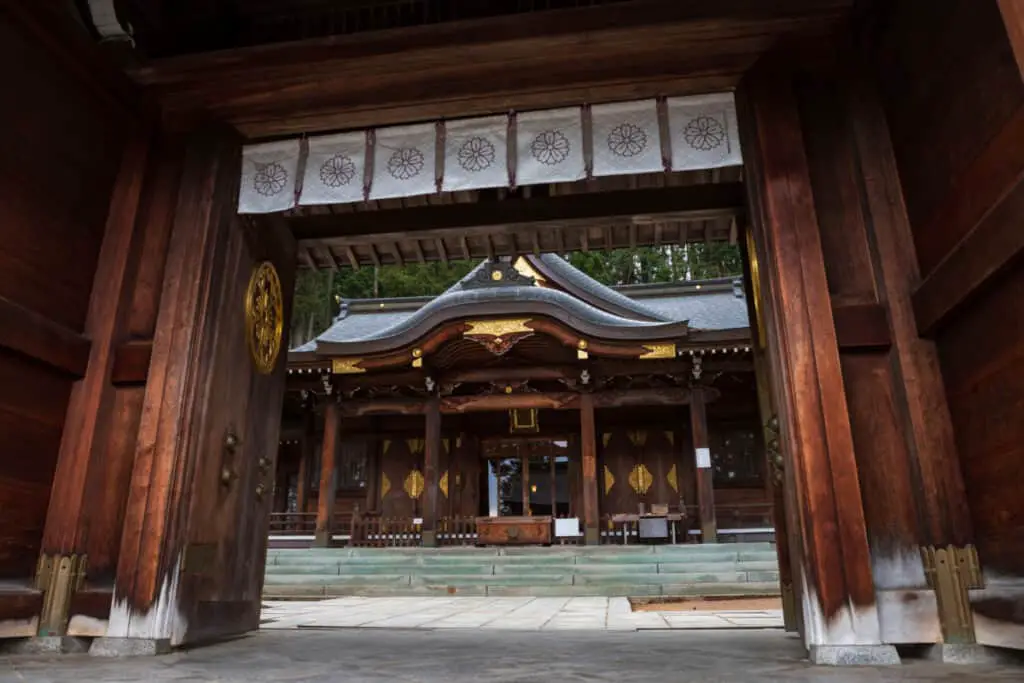 6. Visit Matsuri no Mori Museum
I'm of opinion that if you spend a couple of days in a town or a city, you should find time to visit at least one museum or historical site to fully understand what the area is all about.
In Takayama that museum would be Matsuri no Mori.
Matsuri no Mori is translated as Festival Forest in English (Matsuri – Festival, Mori – Forest) and it's all about teaching the visitors about the famed Takayama festival.
Which makes it a must-see for all, but especially those who visit in winter, as it's the only way to experience the Festival when the previous one has already long passed and the next one won't be happening until spring.
The main exhibition space is located underground. This space houses eleven festival floats akin to those used during the actual festival – only smaller, about a third of their size.
For those who are more interested in the elaborated designs of the famed floats, there are exact replicas as well – offering a good look at famed Karakuri dolls: marionettes that play a key role during the Takayama Festival.
But the most impressive display in the museum is the drums. The taiko drums of the museum are said to be the largest drums in the world.
The marionettes in the museum are machine-operated (unlike the actual festival when that job falls to professional puppeteers) and you can even attend a show with them if you're interested (during the show you'll be able to see them play the giant taiko drums).
7. Don't Forget Takayama Jinya
Takayama Jinya is an amazing historic site.
While I'd advise you to visit Matsuri no Mori over this one if you had to choose just one, skipping Takayama Jinya would definitely be a loss.
The building was built during the Tokugawa Shogunate period and served as a local government building for officials who were dispatched from Edo (the name of Tokyo back in the day).
Takayama Jinya is a wonderfully preserved historical building that offers visitors a look at rooms that served as offices, guest rooms, residential space, and conference rooms of the late 17th-early 18th century.
While the display is not as magnificent as that of Matsuri no Mori, it lets the visitors fully immerse themselves in the historical atmosphere of the Edo period – just as the rest of the town, becoming one of the biggest tourist attractions in the town.
I wouldn't call it an unskippable – but you should spare the time if you've got some!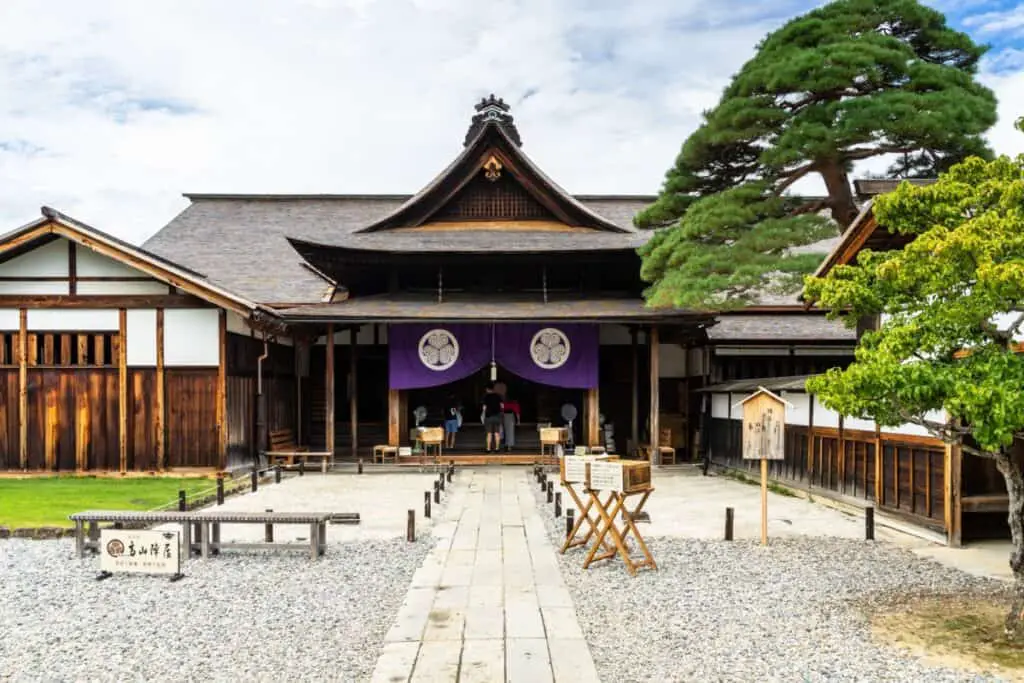 If you love Japan as much as I do and want to know my opinion on what makes Japan unique, click here for some more Japan content!
8. Venture Outside Takayama and Visit Shirakawa-Go
While not strictly located inside Takayama – it would be a shame to skip this one.
Shirakawa-Go is a small village renowned for its gassho-zukuri farmhouses.
The gassho-zukuri is a specific building style – heavy wooden beams are used to put together a steep roof that somewhat resembles an open book that's been turned over.
This type of roof is what distinguishes the gassho-zukuri houses – and it's a very specific building style that's been designed specifically to withstand harsh winter weather and heavy snowfalls. In fact, which way the houses face is also an important part of the design – they're made to face in a way that optimizes the amount of sunlight they get so that the room is warm in winter, but cool in summer.  
And Shirakawa-Go gassho-zukuri farmhouses (which are referred to as "Kiritsuma-gassho-zukuri" in this part of the country) are probably the most renowned ones in the world.
So renowned, in fact, that it's a UNESCO world heritage site (they were added to the list in December of 1995, upon Japan's request).
And this historic village is only a short bus ride from Takayama. I'd say, not visiting Shirakawa-Go would be wasting a perfectly fine opportunity to experience something truly unique – especially if you're visiting in winter, after a heavy snowfall.
The image of gassho-zukuri farmhouses covered in snow is famous and for a good reason – it's not something you'll be forgetting anytime soon.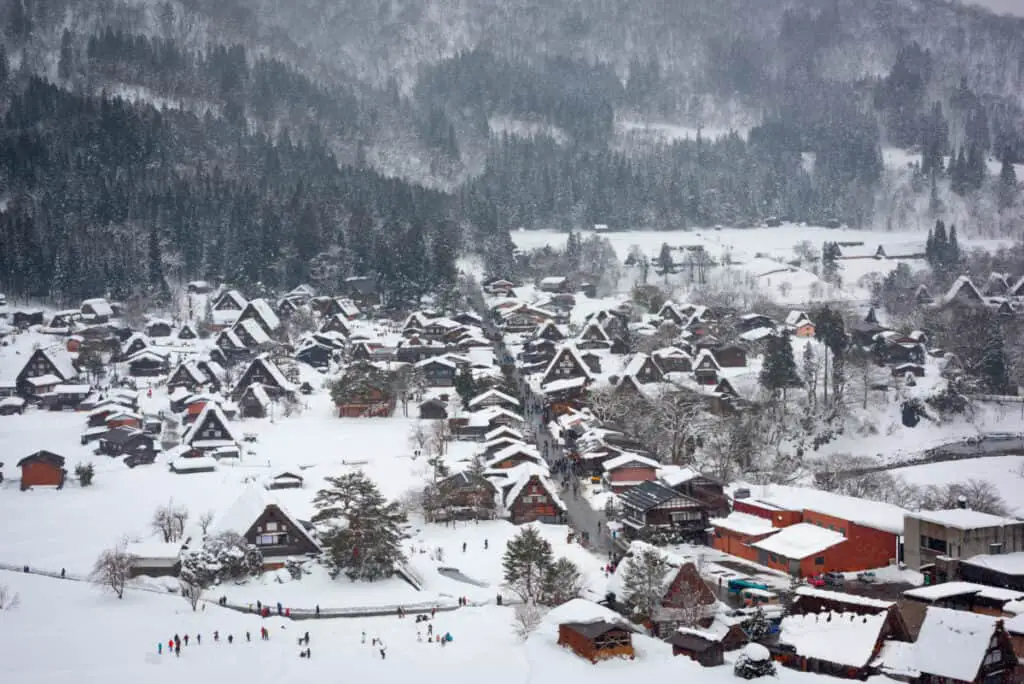 If you want to learn more about Shirakawa-Go and find out why it's so amazing, check out my guide dedicated to it here!
I'd say it's definitely worth making space on your itinerary for Shirakawa-Go – even if you have to jumble it around a bit.