A few years ago I found myself wondering if it was worth going out of my way to see Tokyo Tower. I mean sure, it looks great and everything. But what else can I do in the area? Does it live up to the hype or is it just another tower?
At 333m tall, the Tokyo Tower is one of the most famous structures in Japan. Located in Minato, it's surrounded by temples and shrines. Between the wealth of restaurants and cafes with Prince Shiba Park nearby, you should definitely add it to your itinerary.
Even knowing that leaves a ton of questions so here's a list of the things I researched before visiting and stuff I found during my time in the area.
What Is Tokyo Tower?
Opened in 1958, Tokyo Tower is a large observation and communications tower located in Minato City. Although it's an extremely popular spot for tourists, it genuinely functions as a broadcast tower to this day.
The orange and white paint-job serves a functional purpose, it has to be that way to meet aviation safety standards.
Interestingly, even though it's not as well known as Paris' Eiffel Tower, it's still managed to host around half of the visitors in around half of the time.
It stands as a symbol of Japan's effort to rebuild after Tokyo was destroyed during the war and was one of the main components of that push. After all, the first step in creating an ultra-modern society is to have state of the art communications.
In modern times, it's a popular tourist magnet and brings in around 3 million visitors each year. With an average cost of around $5.5 for admission to the main deck, unless my math is wrong (it's likely!), tourists visiting here alone bring $16,500,000 to the Japanese economy every year! Crazy.
It's become the focus of many dates in Japan, with lots of couples opting to have picnics in Shibakoen with the majestic backdrop of the tower. Which I totally recommend, by the way, I've got great memories of sippin' sake in that park!
The 4,000-ton tower has featured in a few movies down the years, the most memorable for me would be in King Kong Escapes!
As an observation deck, Tokyo Tower is good but it isn't anywhere near as impressive as the Skytree. The main deck offers a nice view of the city from around 150m and for ¥1,200 I feel like it's edging on being expensive but it's still worth it.
As for the top deck, it's a whopping ¥3,000 and I really don't think the price is justified, especially during the day time. Don't get me wrong, if you don't plan on going to any other observatories it's still an amazing experience but for most people the main deck will be adequate.
If your whole purpose of visiting Tokyo Tower is just to see the views from the observatory, I recommend going to the Skytree instead!
How To Get To Tokyo Tower?
The easiest way for most people is going to be using the JR Yamanote Line to Hamamatsucho station. From there, take the JR North exit and you'll see Tokyo Tower to your left (the west).
It's about a 20-minute walk to the tower from here but it's a relatively nice one, you get the opportunity to walk through Zojoji temple on the way which you'll want to check out anyways!
Other options include:
The Hibiya Subway Line (from Ueno, Ginza, Ebisu, etc) – Get off at Kamiyacho station. Use exit #1 and walk south, you'll see the tower to the south-east eventually. The walk will take around 10 minutes.
From Shinjuku use the Marunouchi Line to Kasumigaseki station. When you arrive there, switch to the Hibiya Line for 2 stops and you'll reach Kamiyacho station.
From Shibuya, get on at Platform 2 on the Hanzomon Line for 2 stops to Aoyama-Itchome Station. From there, switch to the Oedo Line and take the train from Platform 1 for 3 stops to Akabanebashi Station (you can also use the Oedo Line from Roppongi). When you arrive here, use the Akenabashi Exit and you won't be able to miss the tower to the north.
What's Inside Tokyo Tower?
It was a massive surprise when I found out that Tokyo Tower is actually full of cafes and restaurants. You'd expect maybe a souvenir shop and one cafe but the amount of choices available is honestly absurd!
There's everything from an aquarium to a ramen store. If you're with kids or you're craving some western-style food, they even have Mos Burger and a pizza store on the second floor with a food court to take some timeout!
Last time I checked there were also 3 souvenir shops so there's plenty of opportunities to spend your money inside, but don't worry! If you spend too much you can head into 31 Ice Cream to cheer yourself up.
What's Near Tokyo Tower?
There's actually a lot of things to do in the area so you shouldn't get bored here.
1. Shiba Park
This park offers some nice views of Tokyo Tower and is a really enjoyable place to relax. It's a simple park but it has a fairly unique vibe being right next to a famous temple and one of the most iconic views in Japan!
During spring, this is one of the best spots in Tokyo to view sakura and the view of the Tower lit up with all the cherry blossom trees is majestic, to say the least.
2. The Temples And Shrines
Off the top of my head, I can think of 5 temples or shrines within walking distance of the tower.
Zojoji Temple
Saiwai Inari Shrine
Kumano Shrine
Hoshuin Temple
Shiba Toshogu Shrine
I'm sure there are more and while not all of them are as impressive as you'll find throughout Kyoto, the Zojoji Temple would be worth visiting even if it wasn't in this area.
They all make pretty unique photo spots though so why not make the most of them!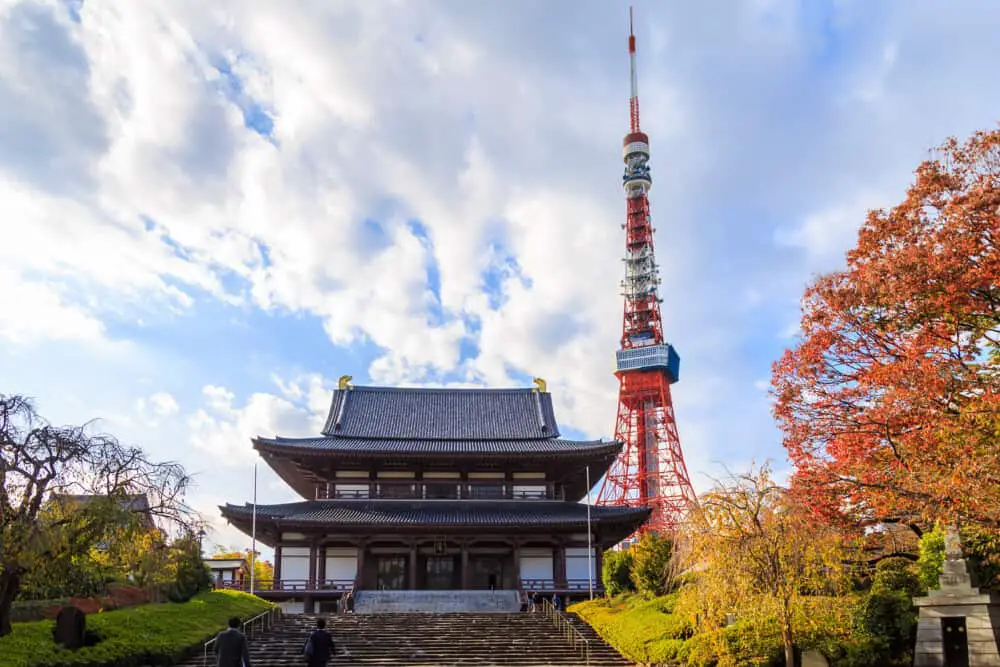 3. The Restaurants
As you can probably imagine, being a prime attraction in the heart of a massive city, the tower is surrounded by some amazing restaurants.
One of the most popular restaurants here is the Tokyo Shiba Toufuya Ukai.
It's a little bit expensive for me when you consider its main focus is tofu, but I'm sure the reviews speak for themselves. You don't get an almost perfect score with over 2,000 reviews on Google by accident!
Another really popular option here is WAKANUI. If you're craving meat, this is the spot for you. The quality of the lamb is insane and a grass-fed fillet with a view? Pass me the wine!
I'd have to recommend Nodaiwa Azabu Iikura Honten over those two, though. Anyone who's read my previous posts might know that I'm a sucker for unagi (eel). This is supposedly one of the oldest freshwater eel restaurants in all of Tokyo and it's easy to see why this lovely restaurant has lasted over 200 years!
I've got a secret, though.
My real favorite place to eat in the area is a little further away than those restaurants.
If you're already around Shiba Park or Zojoji Temple, it's only about a 10-15 minute walk away but it's totally worth it.
The secret is… DevilCraft Pizza.
DevilCraft Pizza has a place in Hamamatsucho which is maybe 10 minutes east of Tokyo Tower. And it's incredible.
If you like Chicago-style pizza and craft beer, get yourself over there and gain 10 lbs.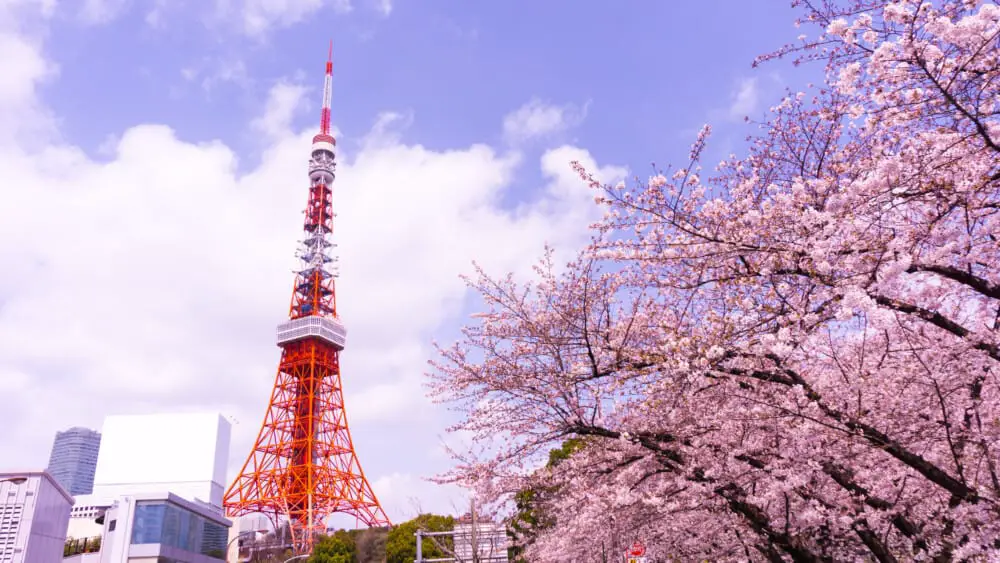 4. True Japan Tours
Ever wanted to experience some traditional Japanese hobbies and crafts for yourself? True Japan Tours have a place that's around a 5 minute walk from Tokyo Tower and they have a lot of cool stuff you can do.
One thing I would recommend is Calligraphy if you've never tried it.
Even though art is not one of my strong points, I really enjoyed it when I did it back in Nara!
It's a really hands-on and satisfying task. From grinding the ink stick and mixing it with water, to failing to successfully write even the most basic of kanji. But that doesn't matter, it's good fun and I'm sure most of you would enjoy it!
Another favorite activity of mine is sake tasting (even on a weeknight, don't judge!).
They offer a "Premium Japanese Sake Tasting Experience" which I've not tried directly with them, but I have done elsewhere in Japan and when Japan say something is a premium experience, you know it's going to be good.
It also includes a few different types of Japanese snacks you can devour while you listen to the staff teaching you the history of sake in Japan.
The most popular activity there is sushi making. You get to spend an hour or so with a real sushi chef learning how to prepare the food and the best part of all? You get to eat what you made at the end of it all.
Other things you can do there are Japanese tea tasting and origami. With each activity costing between ¥6,000-¥8,000 though, it seems a bit expensive… But you can sometimes find upgrades online so you get both the sushi making and tea tasting together at a better price, for example.
5. Musashi Ninja Clan Shinobi-Samurai Honjin Dojo
What a mouthful.
What a cool concept!
Get a real ninja experience from real descendants of a famous ninja clan.
You can dress up in a ninja outfit and not only learn about the culture, but you also get to practice some of their training and throw ninja stars.
It's even suitable for kids which I'm sure will be exciting news for many of them!
This is something I've heard good things about and wanted to do for a while now. When I finally get around to it I'll make sure to upload any embarrassing photos here!
The standard price is ¥15,000 for a single person and ¥12,000 per person if there's more than one of you booking. You also need to book in advance, I don't think they do walk ins on the day as there's so much to prepare!
Tokyo Tower At Night: When Does It Light Up And What Time?
Tokyo Tower lights up every day from sunset until midnight. It's regular light up is called the landmark light but as of 2019 there's the "Diamond Veil" shows that are shown on Friday and Saturday every week from 10 pm-midnight.
At night is when you're likely to get the most epic shots of the tower but there's a lot more to Minato city than that.
If you happen to be staying in a hotel near the area then you should take a short trip over to Roppongi. It takes about 20 minutes to walk there and about the same to get there on public transport so I'd probably just walk.
Just throwing it out there, you'll find some seriously good food in Roppongi.
But most people head over that way for the nightlife.
It seems like there's a bar or a club on every corner which is perfect if you're into that scene. I've had a few interesting nights out there which I'll save for another post about my favorite bars/clubs in Tokyo.
Is Tokyo Tower Taller Than The Eiffel Tower?
Yes. Tokyo Tower stands at 333 meters tall or 1092 feet while the Eiffel Tower is a respectable 324 meters. Interestingly, the Tokyo Tower was the tallest structure in Japan for many years until it was dwarfed by the Skytree at 634 meters tall!
Can You See Mt Fuji From Tokyo Tower?
Yes, on a clear day you can usually see Mt Fuji from Tokyo Tower. I recommend getting to the top deck early on a clear day to get the best view.
Can You Climb Tokyo Tower?
Yes. There are 600 steps to climb, weather permitting, and you even get a certificate for completing the entire journey.
I guess the answer also depends on your definition of climbing though doesn't it? If you're more adventurous than me and were imagining climbing ladders or the thrill of hanging off the tower… You're probably disappointed but, we can't have everything right?!
Can You See The Tokyo Tower From Roppongi?
Yes. From the Tokyo City View sky deck, you can get an amazing view of both Tokyo Tower and Tokyo Skytree. It costs ¥2,000 to get to the top but it's well worth it.
So, Is It Actually Worth Visiting?
Absolutely. It's worth going any time of year and you'll have some unforgettable moments whether you make it in winter or spring.
Spring is king though when it comes to this icon!
If you want to take the best photos and make the most of your time in Tokyo, you won't regret this trip.