Tokyo is home to a lot of breathtaking sights.
If you are in need of a location to visit alone or with family and friends to get your fill of sensory treats, then Ueno is the place to be.
Ueno (上野) is a district located in the Taitō Ward of Tokyo. It is popularly regarded as the dwelling of Ueno park, housing a lot of Tokyo's finest cultural sites.
From the National Museum of Western Art to the Tokyo National Museum and the National Museum of Nature and Science, you will find yourself surrounded by so much cultural history and fascinating tales.
There's also a public concert hall that provides exciting performances for entertainment seekers.
The area hosts various Buddhist temples as well, which includes the Bentendo temple that's dedicated to the goddess Benzaiten, located on an island within Shinobazu Pond.
Is Ueno Worth Visiting?
Ueno is definitely worth visiting. The district of Ueno has so many attractions in a comparatively compact area that it's perfect for groups of all sizes and ages. With Ueno Park, the zoo and a number of quaint cafes and restaurants, a day in Ueno should be on everybody's itineraries.
So if you want to check out a place brimming with cultural sites, marvelous art exhibitions, natural wonders, and delicious food and drinks… Ueno is the place for you.
Things To Do And See In Ueno
1. Ueno Park
The weather contributes significantly to the beauty of Ueno Park with each season offering various festivals and events, celebrating the joy and blessings of nature.
In spring, one of the festivals that takes place is the cherry blossom festival, which occurs in April and celebrated in Ueno park. Surrounded by over a thousand sakura trees, visitors can witness the magical sight of the gorgeous pink petals dancing in the breeze.
In summer, Toro Nagashi (a lantern festival) kicks off and is held at the Shinobazu pond in the park. Then, the masses perform the Japanese tradition of floating paper lanterns down the river in memory of those they have lost.
In autumn, a doll memorial service is done in September at Kiyo Mizu Kannon-do temple located in Ueno Park.
Every year, people from across the globe gather to make offerings of dolls. An end-of-year celebration occurs in December, and people make their way to Ameyoko to purchase food that will be served during their own end-of-year festivities at home.
In winter there's the peony festival that takes place from January to February that is held in the Ueno Toshogu Peony Garden, much like the one that is held in the spring as well. To protect the precious flowers from snow, straw umbrellas are fixed in the park, and visitors can watch the numerous kinds of peonies and see how they bloom during the winter.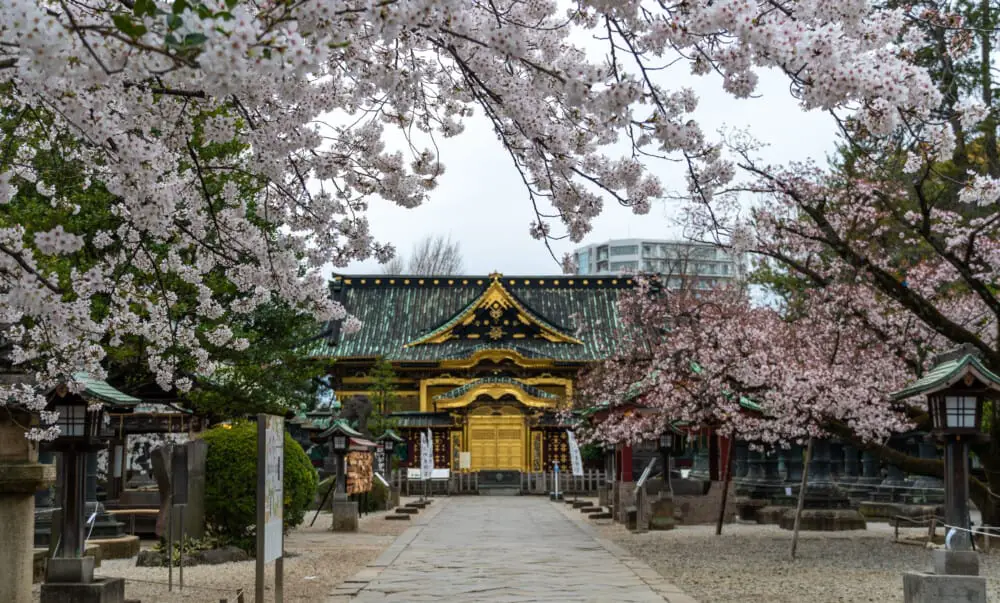 2. Visit the Museums
If you're not sure what to do first, culture and history are always good places to start. Thankfully, Ueno is fully equipped with numerous museums so you won't be disappointed.
In short, there's the Tokyo national museum, Ueno royal museum, and the Tokyo metropolitan art museum which are certain to keep your interest for a good few hours.
3. Ueno Zoo
Families are not left out of the fun, as Ueno zoo is not only just the first-ever zoo to open up in Japan, but it's also home to fluffy and adorable pandas and the Japanese serow and squirrel!
The zoo is ideal for a fun and carefree outing for the family, as you don't have to bother with packing meals or drinks.
There are several eateries and shops to be found throughout the park (Ueno Zoo is actually inside Ueno Park!), like the Starbucks, Cafe Hibiki, Ueno no Mori park-side cafe, and others, providing you with comfort and convenience as you relax.
4. Ameyoko
For those of you who are searching for a place to shop and eat, Ameyoko shopping street is exactly what you need.
Constantly busy and packed with people on the lookout for a good deal, items ranging from clothes, groceries and sweets can be found here. Whether you want fresh apples, fish, a pair of sneakers or Asian ingredients, they're all available to buy here.
If you get hungry on your shopping run, worry not, as there several food stalls in and around the area. Food like yakitori (grilled chicken on skewers) and takoyaki (yummy octopus dumplings), Turkish kebabs, bubble tea plus many other delicious Japanese and international treats can be acquired. 
Another interesting shopping street to check out in Tokyo is Nakamise in Asakusa. When I wrote a list of my favorite things to do in Asakusa it was actually a part of my number one pick!
5. Neko Maru Cat Cafe
Open from 11am until 8pm, Neko Maru cafe is a cute spot where you can get a decent meal and play with some kitties at a fairly affordable price! It's a cool place for cat lovers as you can pay to stay there with all-you-can-drink soft drinks all day if you wanted to.
6. Visit The Shrines
If you're in the mood for something older and quieter, there are shrines with hundreds of years of history like Kanei-ji, Hanazono Inari shrine, Tosho-gu shrine, and Shinibazu Pond's Benten-do.
These spots can all be visited on foot, as well as the Rakugo theaters (traditional Japanese storytellers), and a couple of smaller shrines are in and around the district.
Features like these are what make Ueno such a great place to connect with the traditional Japanese culture.
7. Find Souvenirs
Nothing serves as proof of a wonderful vacation quite like souvenirs, and Ueno doesn't miss the opportunity to provide those for you.
The historic district is littered with traditional Japanese sweet shops, as well as department stores with luxurious brands and huge electronics shops, giving you a ton of options to choose from.
Takeya is a huge shopping mall, as well as a well-known tourist spot that has a wide variety of products available at low and affordable prices, as well as tax-free for foreigners.
The mall consists of eight buildings, each with a different theme so you can easily locate what you want, or feel like you're taking multiple trips inside of one mall!
There's also free wi-fi, so you can take some time out to plan your next steps. Fans of otaku culture will also enjoy Yamashiroya, which stocks up on tons of cool toys and collectables.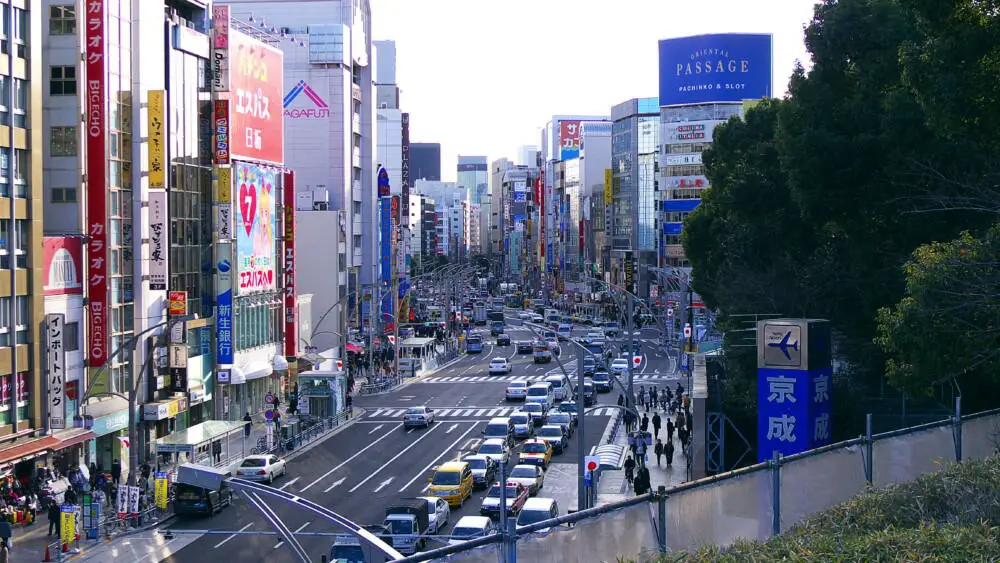 8. Join In Group Activities
If you would rather be part of a group activity and make friends along the way, you could join a group tour and take part in things like a classic bento cooking class, a walking tour between Asakusa and Ueno, or one within Sendagi, Ueno, and Yanaka.
You could visit an origami workshop and create papercrafts or join a calligraphy workshop as well. T
his will give you a chance to get closer to the locals and learn directly from people who have spent their lives in Ueno.
9. Ueno's Summer Festival
Another highlight of Ueno is its summer festival.
Although a lot of people are attracted by the zoo and exquisite museums, Ueno is also the primary location of one of the major summer festivals in Tokyo, known as Ueno Natsu matsuri.
The festival takes place over a period of five weeks, usually between July and August, and features breathtaking sights and sounds as mid-summer is celebrated. The festival is practically a concentration of all other festivals of Japan, each day of the celebratory month offering music concerts, gorgeous artworks, and amazing food.
The highlight of the whole shebang is the parade – consisting of a march of dancers of various sorts, drummers, cheerleaders, and floats.
At the end of the day, there's an activity that involves toro-nagashi (floating lanterns), which people set off down the lake, watching as it illuminates Lake Shinobazu.
What To Do In Ueno At Night?
Fans of nightlife, like myself, are not left out when it comes to Ueno. The district has a lot on offer for those who prefer to roam around after dark.
10. Try Out The Restaurants
If you are the type who prefers to walk from restaurant to restaurant in search of something delicious to satisfy your palette, there are several tempura restaurants that provide excellent foods that have only refined with age, such as tensuzu.
This place also serves ramen, oden, sushi, all cooked to perfection by a master chef, amongst other traditional Japanese delicacies.
If tonkatsu or yoshoku is more up your street, there are locations plenty of spots where you can grab a great bite to eat.
11. The Bars
Bars and izakaya (a Japanese-style bar where drinks are accompanied by snacks and dishes, usually pretty cheap) are found in abundance.
Tachinomi kadokura is a mere minute walk from Ueno station and is possibly the most famous standing bar close to the station. Hamukatsu (ham cutlets) is among the specialty dishes served along with drinks, and you will not find another spot like this.
12. Slurp Ramen
I can't think of many things better than slurping on a big bowl of ramen after a few drinks with my friends! If that's your idea of a good night, you're in the right place!
Packed with renowned ramen shops like Kamo to Negi, which is known for its famous duck soup ramen, you will definitely find a top-class ramen restaurant to get your fill.
The best (and worst for greedy people like me) part about these stores is that the food not only tastes great, but it looks amazing as well… So you might suffer sensory overload while sitting there staring at the menu with the smells wafting through the air.
13. Gyaran
Anyone with a sweet tooth should head to Gyaran (which is a coffee shop gallant in English), a grand location with a classy interior that gives off waves of nostalgia.
It's usually open until 11pm and it'll cure all of your sweet cravings!
Cakes, fresh fruit parfaits, and other treats are available and they have pretty good coffee. They're open till eleven at night, so if you're up for a late-night coffee hangout, Gyaran is the place to be.
Is It A Good Place To Stay?
With all of the activities available, its close proximity to Akihabara and being in a fairly central location in Tokyo, Ueno does make a good place to stay. While its overall aesthetic isn't as wild as places like Shinjuku, the relaxed vibe makes a nice change for a few nights.
One of the most important details when deciding where to stay is accommodation.
Your hotel in a big city should be somewhere comfortable, relaxing and close to major transportation stops, and Ueno is perfect in terms of that.
If dropping by both Akihabara and Asakusa are a part of your itinerary, then basing yourself in Ueno makes sense, as it's between the two locations, and you can easily get to both these places from there. 
Tokyo Station is also a mere three kilometers from Ueno, so a single train ride is all you need to get to either Shibuya or Tokyo station.
Like any major district in Tokyo, there are hotels for any price point. Whether you pick a cozy hotel like Ueno First City Hotel or a classy hotel like Hotel Sunroute Stellar, you know you'll get good service and a clean hotel in Japan.
Personally, I used the APA Hotel Keisei Ueno-Ekimae which is cheap, comfortable and right next to Ueno park. I always recommend the APA chain to anyone looking for a decent hotel on a budget, from my experience they're always clean, cheap and pretty comfortable!
How To Get To Ueno
It's very important that nothing hinders or keeps you from getting the most out of your trip to Ueno – especially transportation.
My advice to anyone visiting Tokyo for the first time is not to panic, public transport looks scary and super busy but you can never go far wrong! Especially if you get used to using Google Maps! It's the single best tool for travelling.
The distance from Tokyo station for Ueno station is between three to four kilometers, and there are several ways to make the journey.
Japan has a great metro system that runs through practically every town and city in the country. To get to Tokyo station, all you need to do is follow the Yamanote Line (JR). 
The Yamanote line is the most commonly known, convenient, and efficient JR line in Tokyo. The rail makes a rectangular loop around the city, making stops at twenty-nine stations.
All the station announcements are made in English, and digital signboards are available in each compartment.
When you have to use the Yamanote line daily, it can feel like a nightmare during rush hour. But if you're just on holiday, enjoy the fact that everyone around you is super busy and relax!
Ueno station is actually one of the most important junctions in the railway system, and from Ueno, you can find your way around Tokyo pretty easily.
Because the park is located just outside the Ueno train station, it's a perfect location for a first-time visit to Japan.
If you're coming from Haneda airport, you can get to Ueno by train in less than an hour. If your flight was to Narita airport, it'll take you about an hour and a half.