Having spent a fair bit of time in both Izu and Hakone, I want to provide a real opinion by someone who's actually stayed there instead of just sharing facts and stock images. I'll consolidate my findings and experiences to show what makes them both different, but great options.
In short, if you're sightseeing and love the great outdoors then choose Hakone. Hakone features epic lakes and extraordinary mountain views unlike any other in Japan. If you want a romantic or relaxing beach getaway then Izu is the place for you.
Before we continue, I just have to say I adore both places and it's really difficult for me to call one "better" than the other. That being said, if it's your first time in Japan I recommend Hakone over Izu simply for the chance of witnessing the iconic view of Mt Fuji from Lake Ashinoko.
Izu has more than its fair share of quirks so keep reading if you want to find out my top reasons for staying there!
Why you should stay in Hakone
There are many big reasons you should stay in Hakone. Here are just a few.
Lake Ashinoko
For the lucky ones among you (damn you, not jealous), catching an early morning glimpse of Mount Fuji from Lake Ashinoko is reason enough to visit. For most of us (still not jealous) even experiencing the lake on a cloudy or foggy day is incredible. Kayaking here feels like you're on the set of a movie!
There are plenty of bicycles available to rent from convenience stores in the area and riding on the bike friendly paths around the lake is good for people of all ages. You'll never be too far from a cafe or restaurant on the east side of the lake so it's a fairly relaxing activity unless you do it in the middle of summer like I did!
In my opinion, staying in a hotel near the lake itself is a must and I recommend the Hakone Hotel for its amazing views of the lake. We enjoyed many a misty morning watching the little fishing boats getting to work before the water got busy with sightseeing cruises and people kayaking!
Pro tip, don't swallow copious amounts of lake water in the kayak as your partner splashes you with the paddle. Do not recommend!
Hakone Shrine
One of the big selling points for me was the Hakone Shrine. There's just something about torii gates and water that gets me excited!
This one doesn't disappoint. Situated in the lake it's one of the best views in all of Japan in my opinion. Seeing it with your own eyes is something else, no photos can really do it justice. It's atmospheric location brings an air of mystery and really radiates the vibe of the olden days. If you really want to feel a unique part of Japanese culture, Hakone Shrine is a quality option.
The Oldest Railway In Japan
Hakone is home to the oldest railway in Japan. The Hakone Tozan Railway connects Gora to Odawara and travels through the mountains via bridges, tunnels and steep hills.
If you're a fan of trains they alone will be enough to hold your interest but even if you're not, you can think of them as sightseeing trains. You'll see some eye-catching views and get up close to some charming villages on the way. Many of the 11 stops are worth exploring so I definitely recommend using these trains, especially if you have the Hakone Free Pass!
Become A Pirate
No, seriously. Hop on a pirate ship and sail the seven….
Okay, I'm playing. But there really are sightseeing cruises that look like pirate ships on Lake Ashi!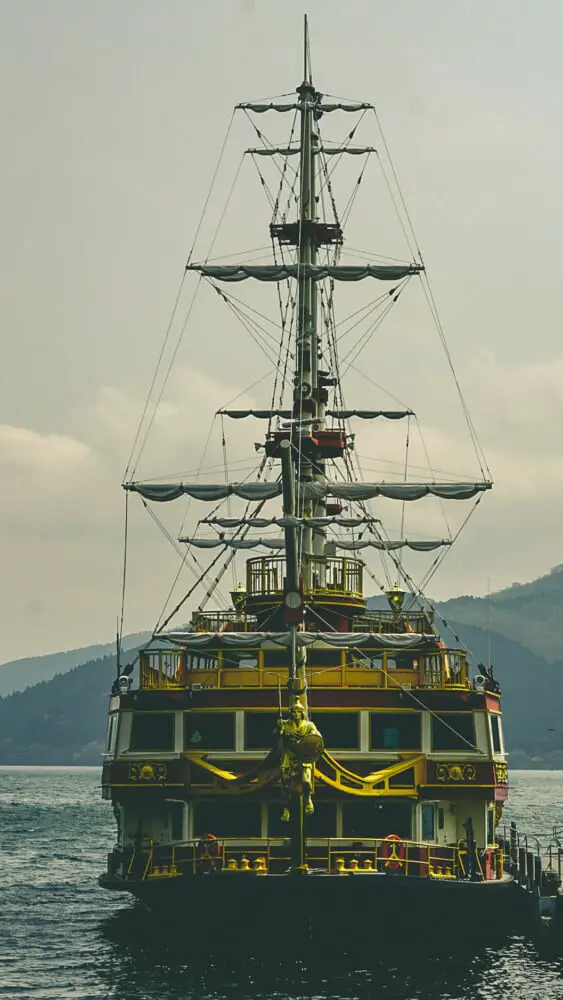 They travel between Motohakone and Tōgendai so it's a genuinely convenient mode of transport to get to the Hakone Ropeway!
As for the cruises themselves, they're generally pretty crowded but offer great views of the surrounding areas. On a clear day you can occasionally spot Mount Fuji so I'll let your inner child build your own story of adventure for that one.
Why You Should Stay In Izu
The Izu Peninsula is a real jewel. With 8 different cities and the seemingly endless coastline, it highlights how diverse the landscape of Japan can be.
From the volcanic mountain range of Amagi-san to the tranquility of Shimoda's Iritahama beach, there's not much you can't do in Izu.
Here are some of my top recommendations to do in Shimoda, which is probably Izu's best city.
The Beaches
No journey to Izu is complete unless you go to the beach!
The most popular of which is Shirahama Beach… And with good reason! The white sand and turquoise water is an inviting escape from city life. Have a barbecue on the beach or get in the water and take some surf lessons, it's a great spot to spend the day.
My favorite beach is Iritahama. Quieter than Shirahama, this beach is good for couples or to hang out with friends. You won't find the typical noise of a lively beach resort here but it's got a few cafe's and a 7-Eleven nearby… Perfect for a quiet afternoon!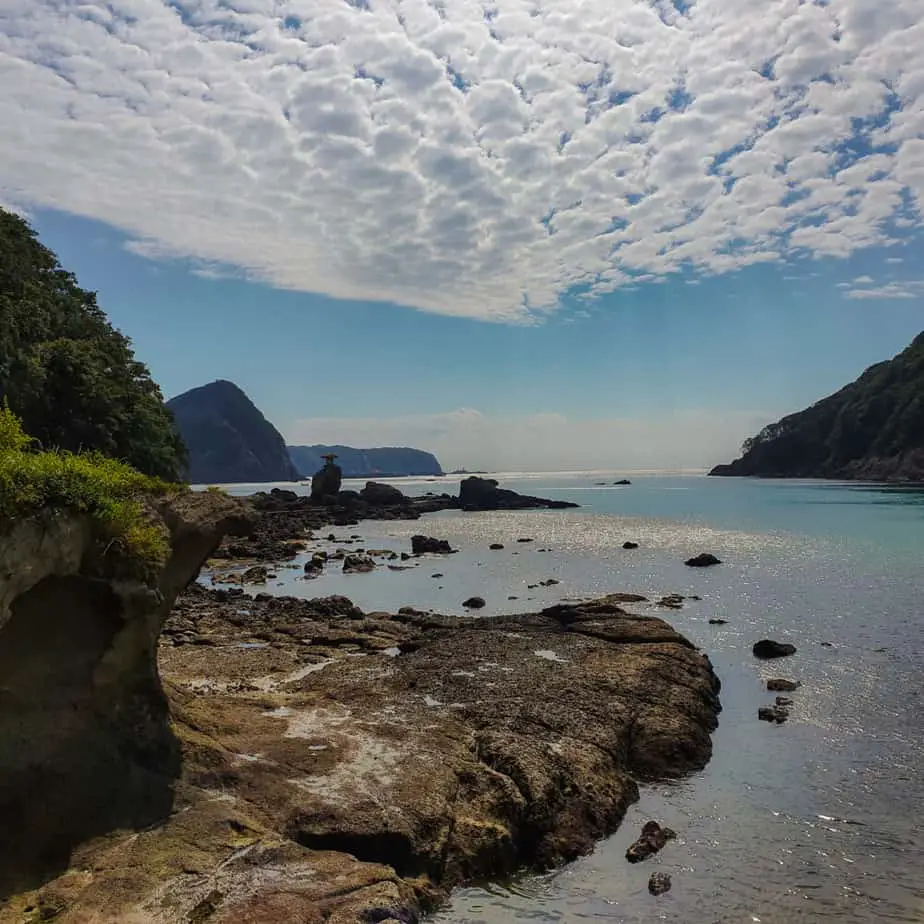 Perry Road
Think of a kind of mini Kyoto with not as many tourists and right near the sea.
Perry Road is immaculate. It has an interesting blend of old/new unique to the area. Eating top Italian cuisine in Page One's retro-Japanese building would be surreal for anybody!
Even though it's small, we spent a good couple of hours in the area visiting the cafe's and the antique shop. It's an idyllic spot and we really enjoyed eating ice cream and looking at the canal and its many bridges!
For an amazing view of Shimoda's port, be sure head over to Shiroyama Park to the south of Perry Road!
Become A 19th Century Commodore
Alright, this again?
Yes, you can take a sightseeing cruise that looks just like the Susquehanna. The 20 minute cruise is a cool way to take a look at the coastline from one of the famous Black Ships. Any kid will love these rides and at ¥1,000 per adult or ¥500 per child for the cruise, it's fairly inexpensive!
The Onsen/Hot Springs Of Izu
Atami, Itō and Shimoda are like a gold mine of hot springs. Wherever you stay you'll be able to find a hotel with onsen for every budget.
There are plenty of hotels with onsen and ocean views so if your budget allows be sure to check them out.
I recommend checking the Shimoda Tokyu Hotel, it's fantastic and also has its own swimming pool as well as the indoor and outdoor hot springs. But whichever one you choose, I'm sure you won't be disappointed!
In Conclusion
Both locations are wonderful and offer so much that you'll love either one of them. They both have many activities that are cheap or don't cost a lot of money and for people with a bigger budget, there's some higher end accommodation in both too.
I hope this has helped you and whichever you decide to visit, have a great time!
Safe travels,
JKC