Shinbashi (also transliterated as Shimbashi) is a district in Minato, Tokyo situated near Ginza. This area is a hub of business and entertainment, such so that it is often referred to by locals as the 'salaryman' paradise. 
The Shinbashi area consists of an assortment of office towers, eateries, and bars, which feed the common belief that it is the 'real' Tokyo.
That being said, here's a quick list of my top 10 things to do in Shinbashi:
Check out the Old Shinbashi Station
Admire the Steam Locomotive at the SL Plaza
Visit the ancient Karasumori Shrine
Get sophisticated at the Sake Plaza
Recharge at the Oasis Sauna Astil
Get your fill in Shinshuu Osake Mura
Eat some classics at Shinbashi Dry-Dock
Feel like a local in the Izakaya restaurants at the New Shinbashi Building
Feast on Mexican food at Don Blanco
Go to Ishii for the sake (hoho) of it 
Shinbashi's central position and its ton of options for post-work recreation make this the place to be after a long day at the office.
It comes as no surprise then to see Shinbashi is always bustling with people, especially during rush hour. That's part of the charm of Tokyo and why I love it so much.
This guide will help you understand Shinbashi's charm and help you understand what it has to offer to visitors. 
Let's go and explore in more detail!
Shinbashi: A Brief History
The name 'Shinbashi' means 'new bridge', which refers to a bridge constructed across the Shiodome River in 1604. This 'new' Shibaguchi Bridge replaced an older bridge, thus earning the name that is still used for it today.
Shinbashi shed its obscurity by being among the earliest projects in Japan's urban development. 
Its history is entwined with the making of Tokyo's first railway terminal, the Tokyo to Yokohama line, which stood from 1872 to 1914 in the region that is now adjacent to Shiodome. 
The area was (and still is) recognized as a major hub for railways, which has aided in its development to becoming the large commercial center it is today.
It should be noted that although Shinbashi is a significant hub for commercial activity, it is not as busy as Shinjuku or Shibuya. 
In the post-war years Shinbashi was the place to be. The presence of food places and bars gave options to the office workers to eat, drink, and be merry after the long hours at work.
This tradition has filtered into this day and age, which is why Shinbashi is known to locals as the 'salaryman's paradise'.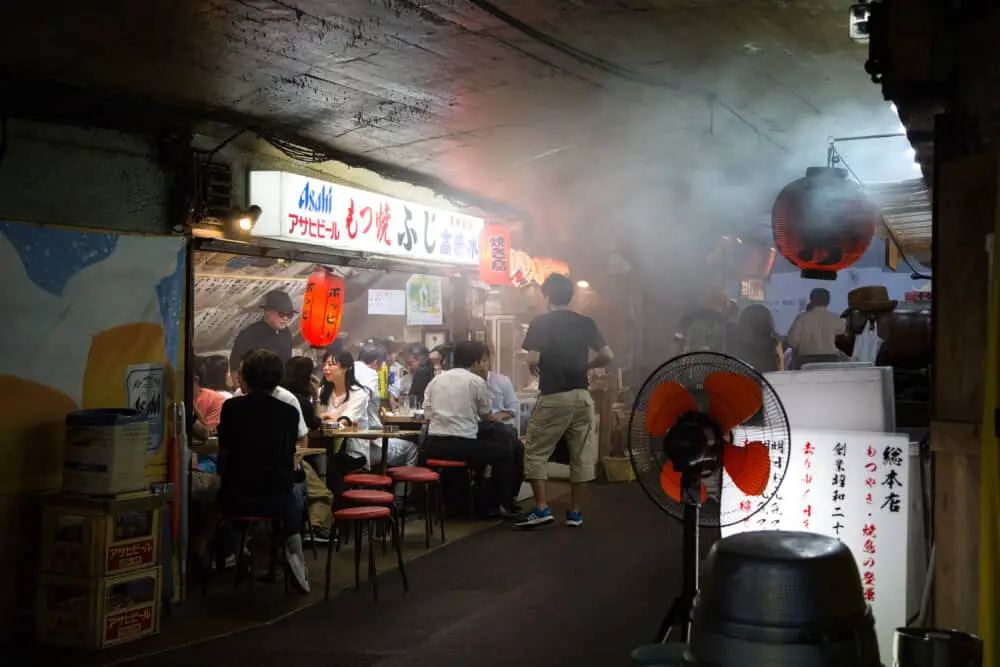 Things to do in Shinbashi
Shinbashi offers great sightseeing opportunities to delight locals and tourists alike. It is home to many cultural landmarks and skyscrapers, along with many bars and restaurants where customers can relax and let their hair down.
Here is a list of places that make Shinbashi stand out as a place for work and fun.   
Places to Visit:
1. The Old Shinbashi Station
The original Shinbashi station was constructed in 1872 in the area known as Higashi-Shinbashi. Now it is the second-oldest station in Japan (after the Shinagawa Station).
Though the original station was brought down in the 1990s, there was reconstruction work conducted to restore it to prior appearance. The station is now a museum, housing original historical artifacts that were a part of the original Shinbashi station.
Each year people flock to see the old station and visit the museum.
In 1909 this station was replaced by the Karasumori Eki (Crow Forest) Station, which is still in use today. This new station is located just a five minutes' walk away from the original station. 
2. The Steam Locomotive at the SL Plaza
One of the most prominent landmarks of this area is the display of the steam train right outside the Hibiya Exit of the JR Shinbashi Station. The steam locomotive is the C11 292 model that was manufactured by Nippon Sharyo in the year 1945. 
The locomotive is decorated wonderfully with colorful lights that stay on all year round. It isn't hard to believe why this landmark remains to this day a very popular hangout point.
3. Karasumori Shrine
The Karasumori Shrine is located near the New Shinbashi Building at the southern side of the SL Plaza.
It is situated on a quaint little street that has a 1,000 year old history dating to the Heian period.
The Karasumori Shrine has a modern outlook that is an attractive mingling of traditional and modern elements. 
Each year in the month of May, this shrine hosts a local festival that is loved and attended by tourists and locals alike. 
4. The Sake Plaza
Sake lovers anywhere would love this place.
Sake is a traditional Japanese drink that is celebrated in this Sake Plaza.
The Plaza has four floors under the management of the Central Brewers' Union. Here you can find information and history books, cups, glasses, and a lot more featuring Sake.
For the price of ¥315 to ¥515, one can also try three to five different Sake drinks! How cool! 
5. Oasis Sauna Astil
Located in the Astil Shinbashi Building, the Oasis Sauna Astil is a well sized all-male sauna that contains several thermal pools, along with relaxation chairs as well as a TV. This is great for tired visitors who just want a break where they can relax.
Popular Eating and Drinking Spots at Shinbashi
Shinbashi is renowned for the eating and drinking culture that spans across post-office hours throughout the week. There are tons of great traditional and modern food joints and bars that will keep calling you back for more.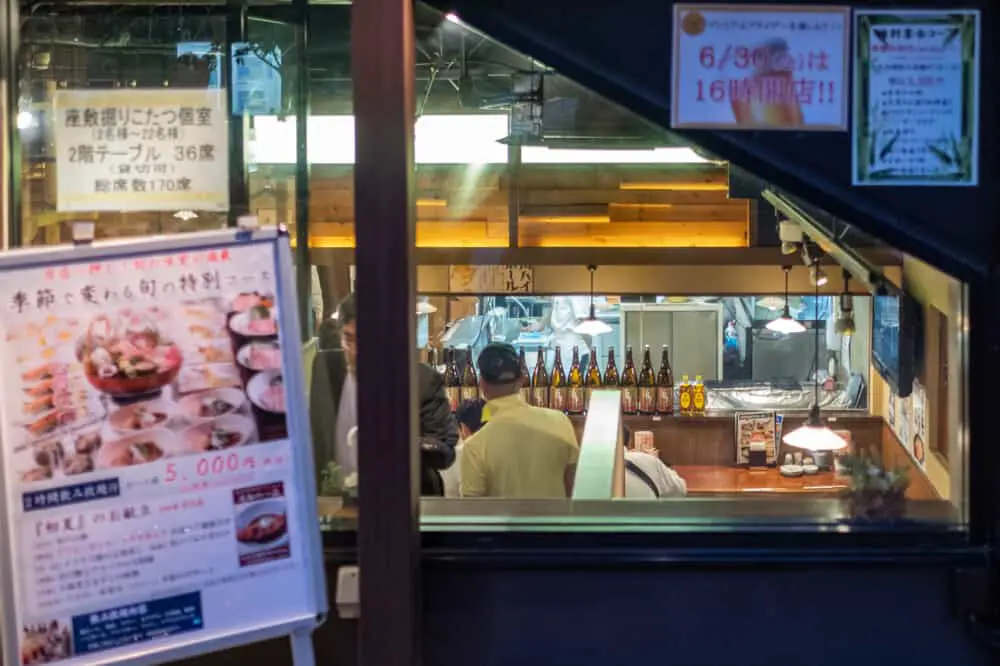 The rates in this area are comparatively low (you can find awesome food deals within ¥700), the quality of the food and drinks are great, and one can karaoke all night with friends. 
Shinbashi's food scene almost rivals that of both Kobe and Fukuoka in my opinion and fully deserves an article of its own!
Here is a list of some of the best places to be in Shinbashi. 
6. Shinshuu Osake Mura
This is a popular restaurant in Shinbashi. Though there are often long queues especially on the weekends, the beer selection is fantastic and it isn't hard to see why it is so popular.
It doesn't just have good ambiance and music, it's also considered to be a kind of local sake museum! 
7. Shinbashi Dry-Dock
The Shinbashi Dry-Dock is a beer joint, whose reputation has spread across all of Tokyo. It has a selection of 60 beers to choose from, as well as an array of wine choices.
It's also renowned for its menu, which ranges from traditional Japanese pub food to popular items from other cuisines such as hot dogs and fried chicken.
To ensure a place in this fine establishment, it's recommended that you make reservations.
8. Izakaya restaurants at the New Shinbashi Building
Izakaya restaurants are informal places to dine (and get drunk) in after work.
They are known for being incredibly budget friendly and cover small spaces. The New Shinbashi Building is situated on the western side of the JR Shinbashi Station and is known to have an assortment of izakaya restaurants in its basement.
Though somewhat cramped and filled with smoke, these restaurants are a representation of the heart of the area itself and feel strangely nostalgic to me.
9. Don Blanco
The Don Blanco is a presentation of Mexico in the heart of Tokyo, where the owners make frequent trips to Mexico itself just to ensure they are true to the authentic Mexican experience.
For diners wanting to spice things up, this is the place to be.
Situated in a southwest direction just two minutes away from the JR Shinbashi station, this is a good option for those who want to try different cuisine.
The menu consists of top-notch burritos and is especially renowned for the homemade tortillas. 
10. Ishii 
This mid-range restaurant is a fantastic option for sake fanatics.
Located in a tiny alley in Shinbashi, the Ishii is an izakaya which has a terrific menu that contains a range of fresh local fish.
The owner is incredibly friendly and although his English speaking ability is limited, he's enthusiastic and helpful. He's more than happy to recommend excellent sake and food to customers!
Trust me, you will want to come back for more!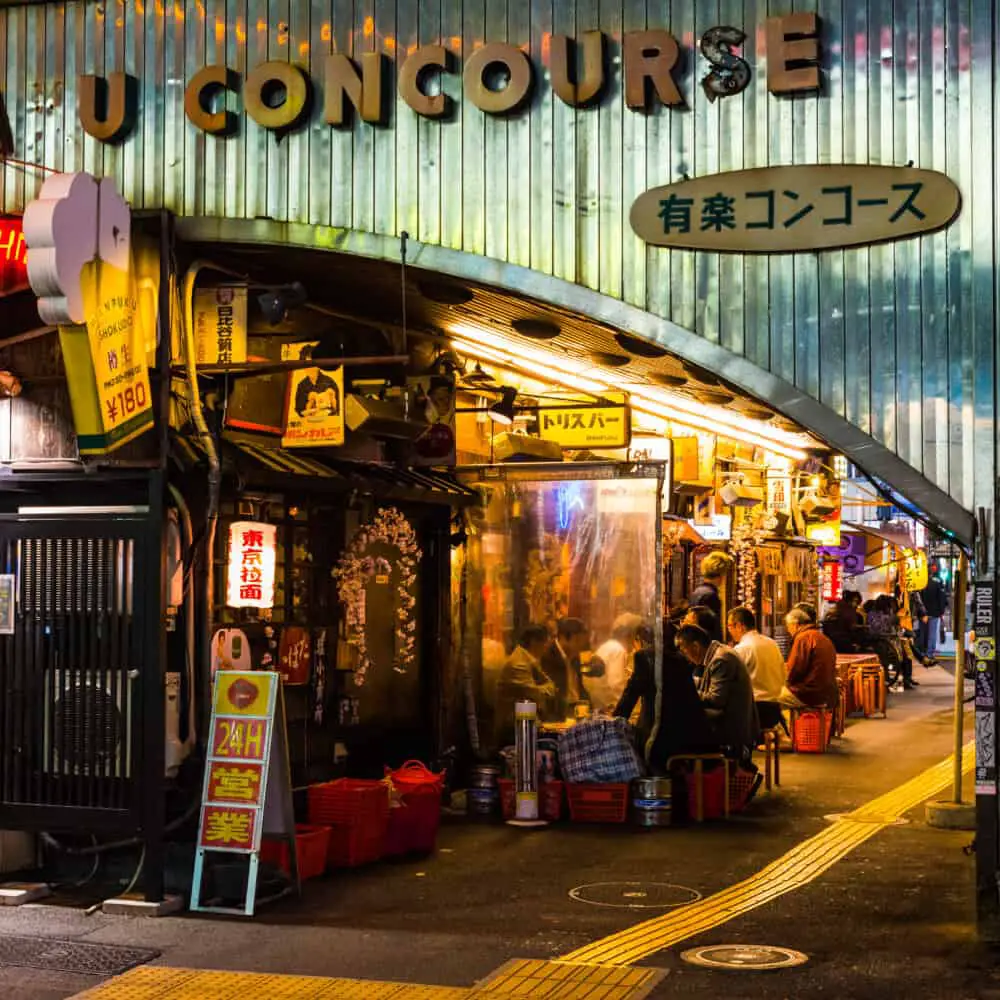 Places to Visit near Shinbashi
Here are some more places to visit that are situated within walking distance from Shinbashi. Visiting these iconic Japanese landmarks will help enrich your experience of Japan and make your trip more memorable.
Hibiya Park
The Yurakucho All-Women Takarazuka Theater
Shiodome skyscraper district
Ginza shopping area
The Tokyo Tower
There really are too many places to list here so this is just a tiny handful!
Check out my post on Tokyo Tower and the surrounding area if you're interested in visiting!
The Railway Itself
Shinbashi is catered to by a superb railway system. As you know, Tokyo's public transport system is basically second to none.
The multitude of lines going to and from the area gives people easy access to Shinbashi. The lines are as follows:
Yurikamome Line
JR Yokosuka Line
JR Yamanote Line
JR Keihin-Tohoku Line
JR Tokaido Main Line
Toei Asakusa Line
Tokyo Metro Ginza Line
The railway system has played a major role in developing Shinbashi's commercial core, especially over the past few decades. 
Even though it can feel intimidating to navigate at first, when you get used to public transport in Tokyo it'll make everything else feel ancient.
Conclusion
Shinbashi has always been a bustling area in its own right.
It has a quaint charm of its own and is entrenched with Japanese culture and history.
Though known to be a business hub featuring office buildings and skyscrapers, it is also home to a variety of entertainment options that are uniquely 'Shinbashi' simply because of the way they mix hard work during the day with pleasure in the evenings. 
The area doesn't just contain massive buildings. It's also filled with people with big hearts who will ensure you have the time of your life, and make tons of irreplaceable memories while visiting this amazing place! 
Shinbashi can't wait to see you!