Mt. Fuji is clearly one of Japan's most formidable features.
If you go anywhere within 80 miles of it, you just can't miss it.
Its 12,000 ft. summit offers breathtaking views of the country and the surrounding ocean. Furthermore, conquering the mountain will serve as a magnificent achievement that will stick with you for the rest of your life. 
To climb Mt Fuji you should take at minimum a backpack of no less than 29L, dedicated hiking shoes, and a waterproof jacket. The peak of the mountain averages -7oC/19oF so it's important to take extra layers of clothing to counter the freezing temperatures.
One of the advantages of climbing Mt. Fuji is its relatively small size compared to other behemoths like Mt. Everest. Fuji offers even amateur climbers the chance to climb in much better conditions and at a much safer altitude. 
If you're thinking of taking a stroll up Mt. Fuji in the near future, then it's important you have the right gear for your trip. Your trip is only as easy as the equipment you have on you, so being properly kitted out is vital.
Don't be like one of those people who decide to walk up in shorts and sandals, no matter how warm it is at ground level!
Figuring out what to wear when climbing Mt. Fuji might seem like a large effort, but as long as you plan ahead and use common sense it'll be a breeze.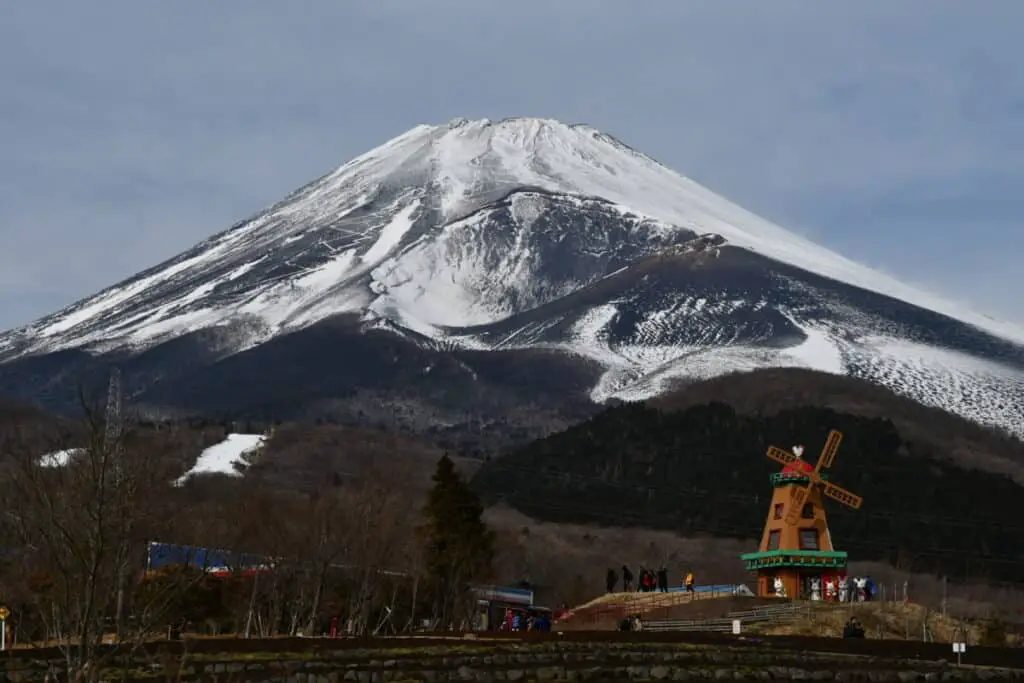 What Is Mt. Fuji's Weather Like?
Mt. Fuji's climbing season tends to range from July to September. 
The weather at that time of year is usually clear and dry for the most part – ideal for people from all over the world to try and reach its glorious peak. 
The average lowest temperature during these months ranges from 2.4°C/36.3°F to 0.4°C/32.7°F… A fairly comfortable temperature as long as you remembered to pack the right undies!
If this seems cold or all of this is a bit more serious than you imagined, you might be wondering if it's even worth it? Luckily for you, I wrote an article that goes into detail here!
You'll Need a Range of Clothing For the Weather
As good as the weather on the ground is during this time, it's still essential that you bring a range of clothing with you for your ascent. 
Mt. Fuji's immense height means that its weather can change drastically the higher up you climb. Temperatures can plummet and dark cloud formations could await you by the time you reach the top. 
Here's some essentials I recommend to weather the storm:
A change of clothing in case you're caught in a rainstorm
A hat to block harsh sunlight
A walking pole for increased stability 
Seriously, if you've never tried walking poles… Actually, don't, you'll want to take them with you everywhere!
Prepare for the Unexpected
The clothing you take with you must be relevant to the conditions of scaling a huge mountain. 
Because really, it is exactly that.
Mount Fuji takes on average 6-10 hours to climb so it's important to prepare for the unexpected.
Weather can change in an instant, and large storms could send piles of debris your way without warning. 
Dressing in anticipation for these events will make your trip safer, smoother, and quicker.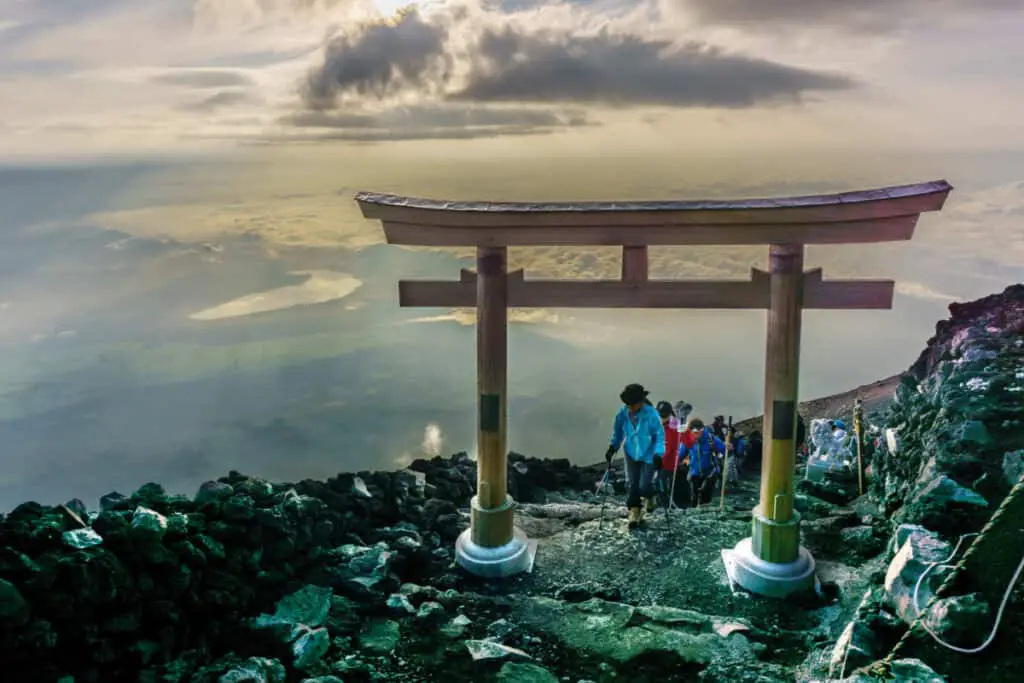 A Large Backpack is Your Secret Weapon
If your backpack is too small, it doesn't matter how good your equipment is. 
You'll be limited to only a few items due to the lack of space. 
For climbing a mountain as large as Mt. Fuji, we recommend a backpack size of 29L or more.
This will ensure that you have ample space for all of your gear and, at the same time, are not weighed down too much by an overly large bag. It goes without saying that this backpack should be waterproof and come with hip straps to ease the load on your shoulders.
If there's one thing you need to get right when climbing Mt. Fuji, it's making sure your backpack is up to par. 
I recommend something like this Diamond Candy backpack on Amazon. The price varies depending on the color and you can usually get at least one color on sale! They have all the features I need in an outdoor backpack and the colors are obviously just as important as the features, right?!
What Kind of Shoes Do I Need?
Shoes are another essential item. 
Your lower body is going to be doing a lot of work climbing Mt. Fuji so it is vital that your feet are protected by a pair of battle-hardened shoes.
The ideal shoe should have the following qualities:
Excellent heel support
Waterproof features
Sturdy, versatile build
Sneakers Are A No-Go – Try Hiking Boots Instead
The cardinal sin of mountain climbing is to attempt it in sneakers.
Or worse, sandals or flip-flops. I've seen people do this.
I guess I'm not really judging, I admire their confidence. Just don't do it!
Not only will these flimsy trainers easily perish in tough conditions but their lightweight build will genuinely increase your chance of injury. 
Hiking boots are the only way to go. Their sturdy build will keep your feet warm, dry, and hopefully free of injuries. The increased stability and traction will help you with those difficult corners and slippery paths.
You don't have to spend a fortune on buying top-brand hiking boots, just invest in a competent pair that do exactly as they say on the tin.
If you're after a pair of pricier hiking boots, though, I can recommend these KEEN hiking boots from Amazon for men. I can only assume the women's range holds up just as well! It's hard to find a pair of hiking boots that look decent but they do well in that regard too!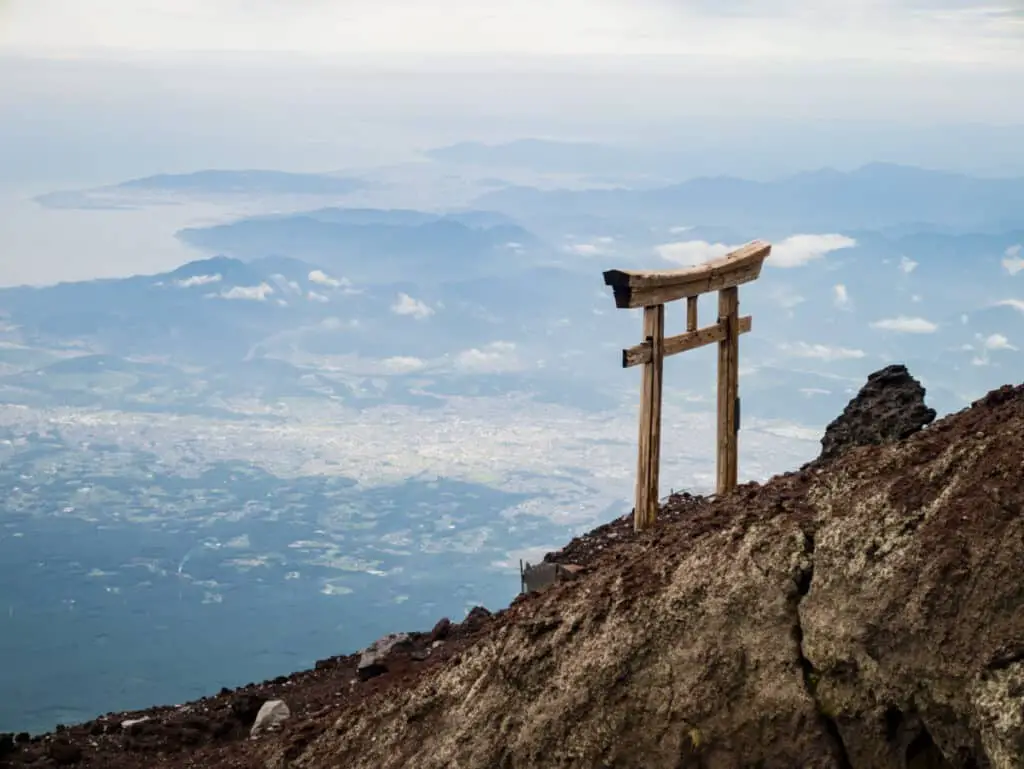 Your Grip is Essential – Wrap Up Your Hands
By now you should know that the conditions on Mt. Fuji vary greatly depending on where you are in your journey.
Even if it's roasting hot when you start your climb, you should still take a pair of gloves with you.
Not only will they keep your hands warm on your quest, but they will also protect your hands if you fall. 
If you can, try to get a pair of gloves with added grip as you never quite know what you'll find on your way! 
You are only as strong as your grip, so make sure you maximize it to its highest level.
Dark Times Await – Get a Flashlight
A  climb of Mt. Fuji takes around five to ten hours. 
That means a large chunk of your expedition could take place at dusk so it makes sense to get a flashlight so you can see what lies in front of you.
Poor visibility has led to many injuries and setbacks in the past and it can happen to you too if you're not careful.
A flashlight is often overlooked by people who climb Mt Fuji, but its presence is an important part of your journey. It doesn't have to be expensive either, though it wouldn't hurt to pay a little more for one. These GearLight flashlights are affordable and you'll thank yourself for getting them when mother nature turns the lights out!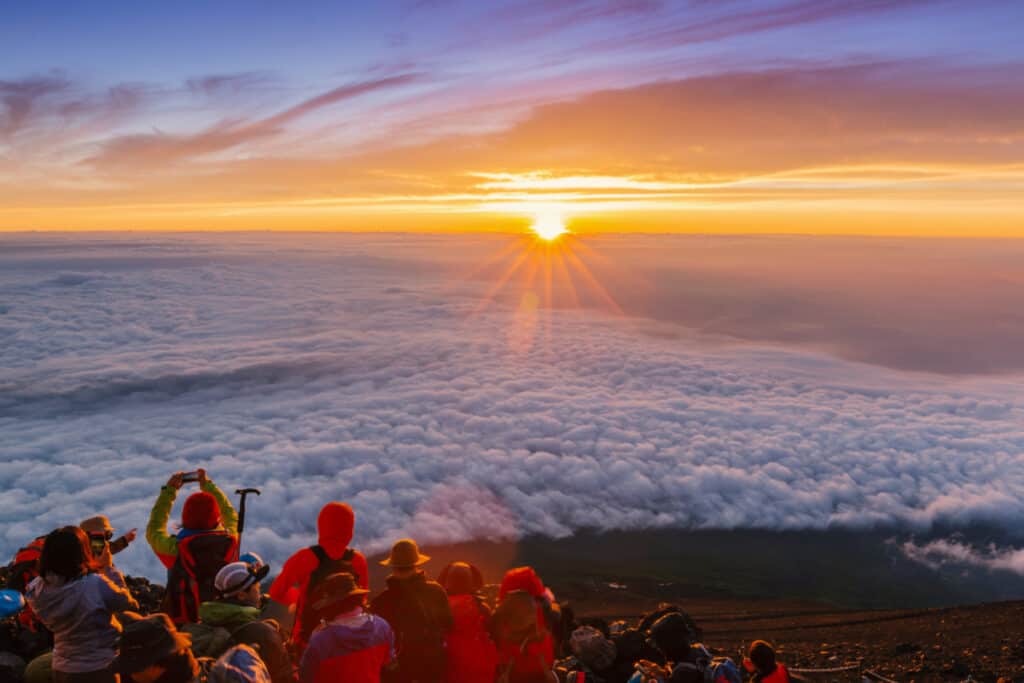 What Kind of Shirt Should I Wear?
Your shirt should be versatile and tailored to the conditions of the journey.
I recommend taking a shirt for the beginning of the journey and a shirt for the end of the journey as the weather is going to be much different at both points. 
A thermal jumper is perfect for the upper regions of Mt. Fuji as it keeps you warm while retaining your mobility. 
For the early stages of the climb, a short-sleeved, moisture-wicking shirt is ideal to help keep you cool and absorb the sweat from the heat. 
Brave the Elements with a Waterproof Jacket
One of the most exhausting parts of hiking up a mountain is having to deal with the harsh wind, rain, and altitude. 
Yes, even on little ol' Fuji-san!
These elements can be extremely taxing on the mind and body, so bringing a waterproof jacket is a sound idea.
North Face jackets, for example, are adept for both water and wind resistance. You may not feel like you need one at the start, but conditions can change rather quickly.
Amazon to the rescue again! Something like this for men or this one for women would be ideal and make a great choice of general wear jacket if you need to pick one up anyway!
What Trousers Should I Wear?
Anything that keeps you warm, flexible, and dry.
A pair of high-quality jogging bottoms or leggings should do the trick. These are versatile, affordable, and allow plenty of room for movement.
You can even add a pair of thermal shorts underneath to help keep your lower body warm. Knee pads are also a solid investment, however, they aren't an essential piece of kit. 
You don't need to overthink your choice in lower-body apparel. Keep it simple and you will be fine.
What Else Should I Have in my Backpack?
Face Protection
Mountains are notoriously dusty so make sure your face is protected. You don't want to swallow dust particles or small fragments of rocks, as this can seriously damage your health. 
Face masks also protect against nasty wind-chills. If the temperature is cold enough, you could be at risk of frostbite, so make sure your sensitive face region is well covered.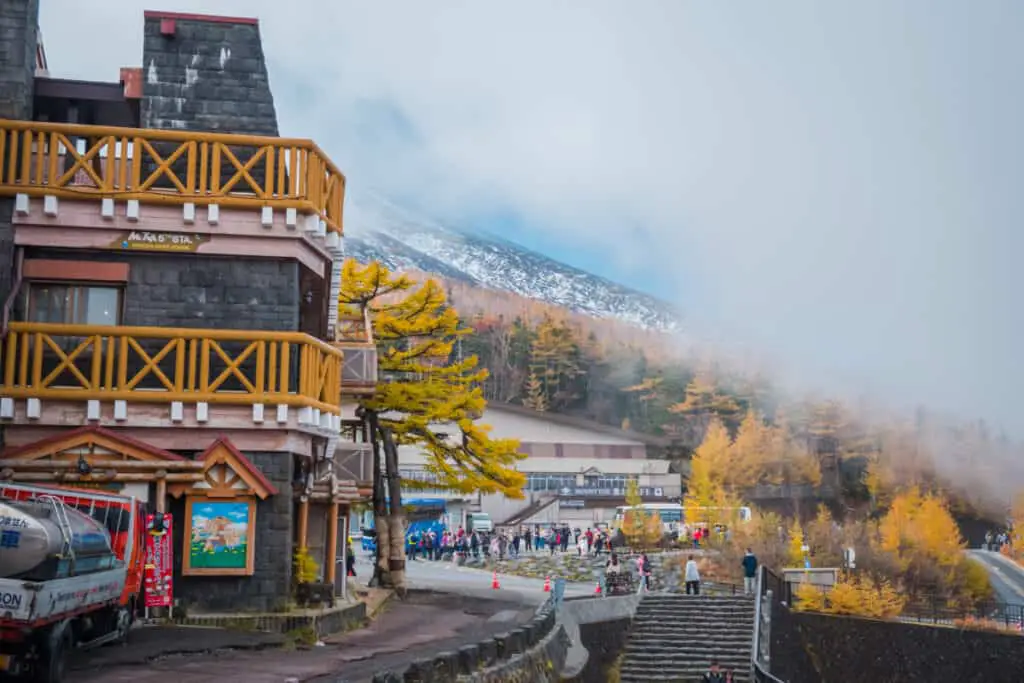 Large Water Bottles
The lifeblood of human existence.
Not drinking enough water is dangerous enough in everyday life let alone while climbing a huge mountain. 
A large water bottle is an absolute must in any backpack. Aim to take a drink of water at every rest station. This will help you stay hydrated at all times and will stop you from becoming overfilled with water. 
Back-Up Socks and Underwear
Such small articles of clothing can often go unnoticed. 
While not absolutely essential, they can go a long way in keeping you comfortable should the weather take a turn for the worst!
If your aim is to stay warm and dry for the entirety of your expedition then packing a secondary pair of socks and underwear will go a long way in helping you achieve that feat. 
Such detail may sound obvious but it is incredibly easy to forget these things as you get lost in the minutiae of your trip. Whilst you're busy planning ideal climbing routes and rest stops, remembering two pairs of underwear can quickly go under the radar. 
Take two pairs of these and your trip will feel so much more comfortable. 
Wrap-Around Sunglasses
When it comes to sunglasses, make sure that they're suitable for your journey.
Cheap, flimsy sunglasses are likely to be rendered useless by the UV awaiting you in the upper echelons on Mt. Fuji. 
Designer sunglasses are pretty pointless here… They're likely to get dropped or fall off during the journey.
Just get some affordable, wrap-around sunglasses since they usually have more grip, and let's be realistic here… Nobody is going to be sad losing sunglasses straight outta the 60s.
Visibility is a huge component of safety, so make sure you at least bring a pair of sunglasses.
Sunscreen
Although it may not feel hot at the top of Mt. Fuji, don't be fooled. You're still immersed in UV light, so make sure you have some protection against the Sun's powerful rays. 
I got caught out on the Matterhorn a few years ago without sunscreen in winter and the result led to some hilarious photos that I'm too embarrassed to share here!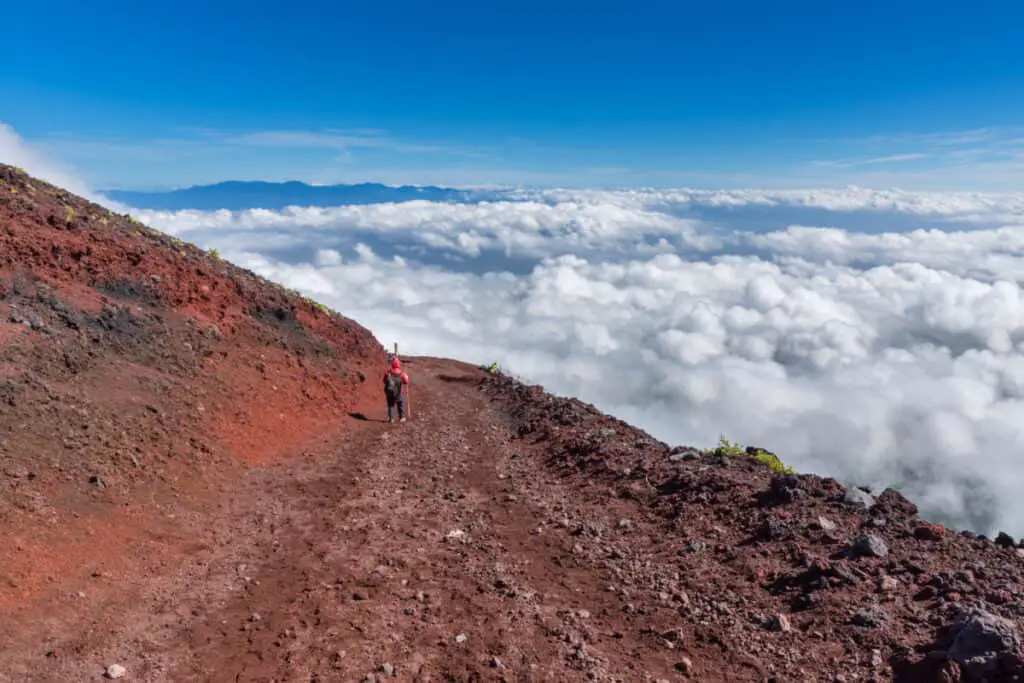 Conclusion
By now, you should be fully aware of what clothes to take during your voyage and why you need them. The items listed here are custom-built for your safety and protection, and all of them are an essential part of your attempt to conquer the beast that is Mt. Fuji.
For anyone wanting to find out a bit more about Japan, follow this link to find out what makes Japan unique!